Happy early Father's Day to Carson Daly!
The TODAY anchor got an early Father's Day gift when his three children gave him a sweet surprise in Studio 1A, complete with hugs and a cool T-shirt.
Carson thought he was just participating in a cooking segment about a healthy Father's Day feast prepared by his wife, Siri. She was asked what he likes to do for the special day, which is coming up on June 18.
"He is not the type to just go off and like golf on Father's Day,'' she said. "He wants to be with his kids."
The children then appeared with Siri's mother, as son Jackson, 8, and daughters Etta, 4, and London, 2, snuck up on Carson to make it a surprise Daly family gathering.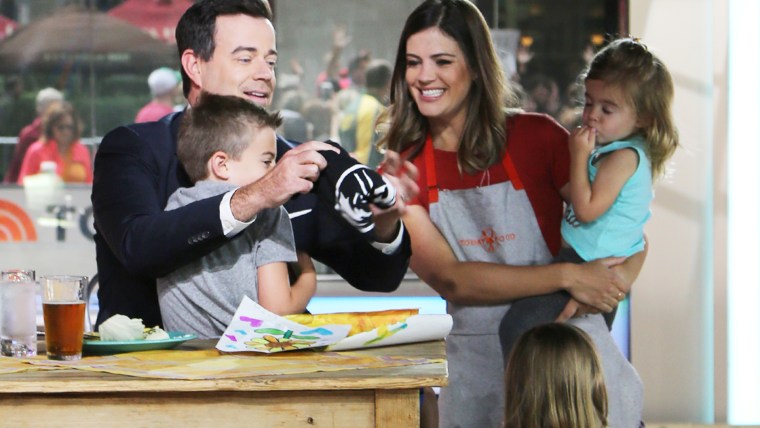 "You're supposed to be in school!" Carson joked. "So much for my strict 'no kids on TV' policy. Father's Day's like a month away, what's going on?"
He couldn't help but melt after getting hugs from the kids and a T-shirt that was the perfect gift for the "Star Wars" fanatic.
"Aw, this is nice,'' he said. "Wow, what a surprise."
"I'm good, right, we don't have to do anything else for Father's Day?" Siri joked.
Matt Lauer commended the kids on a job well done when it came to keeping the surprise a secret from Carson, and even let Jackson throw it to commercial while London hammed it up for the cameras.
"Best Father's Day ever!" Carson said.
Follow TODAY.com writer Scott Stump on Twitter.