We all know the tie-your-tooth-to-the-doorknob trick. But what about tying your tooth to a golf ball and teeing off?
Lots of kids look forward to losing their first tooth (or even their second, third and fourth!), but 6-year-old Maxton Price and his dad took the matter seriously.
"His dad likes to golf, and Maxton likes to golf as well," Maxton's mother, Tasha Price, told TODAY. "And my husband just had the idea to drill the hole through the golf ball."
Why, you ask? So that Maxton could take out his own tooth with the simple swing of his golf club.
RELATED: Tooth-down! See the way this tough little Seahawks fan yanked a tooth loose
While most kids would be shaking in their boots, Maxton was relaxed, which isn't unusual for him.
"He's a pretty calm kid about everything," said Price. "He and his dad had the plan for a really long time."
And it worked like a charm! Maxton took one breezy stroke and knocked it out of the park… or off the back deck. That's when they started to worry.
"After we hit the ball, we thought maybe the tooth would stay on the floss but it didn't," said Price. "My husband had to stay out on the back deck to look for the tooth. It took him about ten minutes, but daddy was the hero and he found it."
RELATED: Dad uses 'the force' of Millennium Falcon to yank girl's tooth: Watch her great reaction!
According to Price, the family took a big sigh of relief, but then Maxton had one other concern: the tooth fairy. He really didn't want to give up his tooth, after all, he'd put all of that work into getting it out such an adventurous manner.
So instead Maxton left the tooth fairy a note, requesting that she leave his tooth.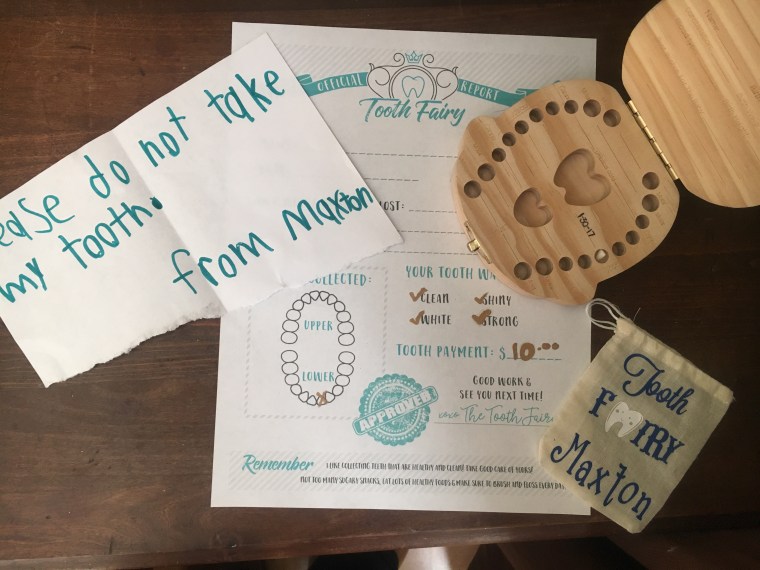 Thank goodness the tooth fairy was very understanding about the matter. She even left him a little box to store the tooth in for the long haul.
Tasha promised that the Price family will have another idea in the works for the next tooth. It turns out that Maxton also loves baseball — and that would certainly make for a home run.