Stephanie Land graduated from the University of Montana in the spring of 2014 with a B.A. in English, $50,000 in student loan debt and $10,000 in credit-card debt. With student debt so high, the freelance writer and mother of two has given up on her dreams of a house with a yard and nice car.
RELATED: Overwhelmed by student loans? Try these 5 steps to lower your payments
"I feel like getting my degree was a selfish act that took opportunities away from my kids," she told TODAY.com. Land, whose parents never provided her with any financial literacy training, now faces loan payments of nearly $500 a month — a burden that's unaffordable for her.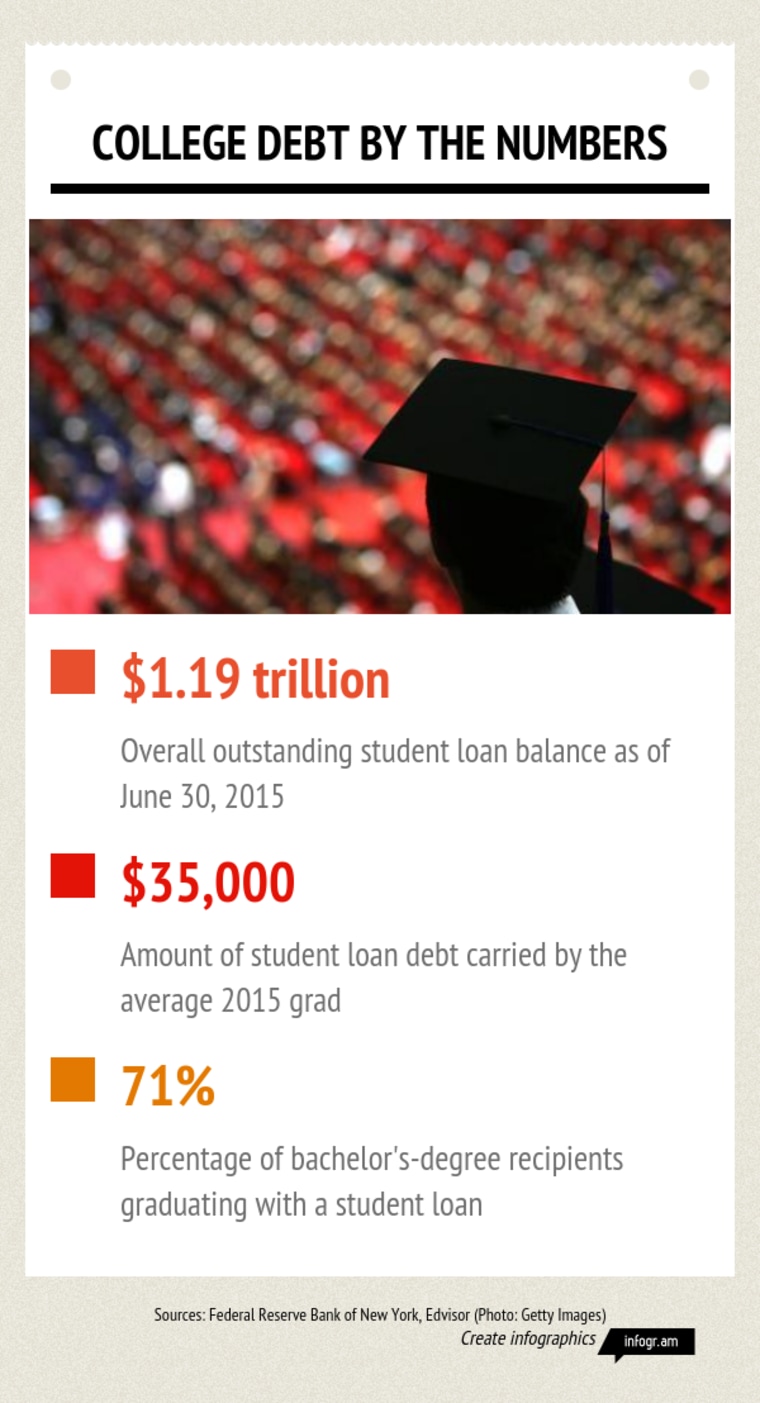 RELATED: Living in his in-laws' basement with baby: Why this dad was happy to downsize
Land's story, and the related unhappiness, has become common. In May, the Wall Street Journal's Real Time Economics blog reported that the class of 2015 entered the workforce as the most indebted class in history. Citing statistics from Edvisor, a group of websites about planning and paying for college, it revealed that the average new graduate is carrying over $35,000 in student loan debt, with nearly 71 percent of bachelor's-degree recipients graduating with a student loan. In 2013, college graduates also held $3,000 in credit-card debt.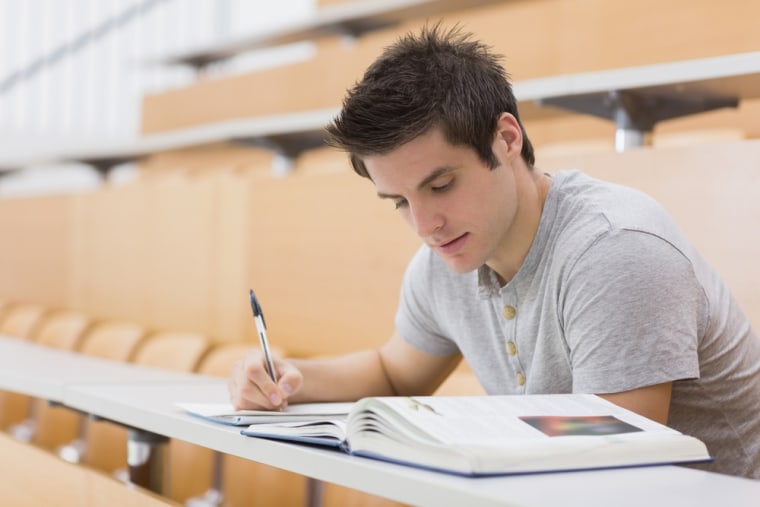 Like Land, many students leave undergraduate programs with considerably higher debt, and this debt adversely affects their future choices. But helping your kids avoid college debt is possible if you start before high school.
Student Debt Avoidance Starts with Parents
Start money conversations when you begin giving your kids an allowance. For example, "If you give your 5-year-old $2 a week, tie it to chores so they learn the concept of "earning" money," credit expert Beverly Harzog told TODAY.com.
"Allow them to earn extra cash with additional chores and show them how to save for what they want. This helps them internalize the basics and improves their math skills," said Harzog, whose latest book is on debt escape. Parents, she continued, should show kids the consequences of spending savings and add new concepts as they get older based on their maturity, without overwhelming them.
RELATED: 7 ways to stop student loans from ruining your life
"Since kids like talking about what they want to be when they grow up, use those conversations to talk about college money," she added.
While it's best to teach kids money strategies using real money, apps and games can help them learn important concepts, too. The key is to start.
That's why Angel Rich created Credit Stacker, her WealthyLife Financial Literacy Course that is used in schools to teach K-12 students to manage various credit types, interpret credit reports, achieve good credit and avoid debt hazards. Rich, an award-winning entrepreneur and former analyst at Prudential Global Market Research, agrees that children should be taught money management and debt avoidance.
RELATED: Student loan borrowers: Can you pass Suze Orman's test?
"Eighth grade is when teaching these skills become critical so students avoid graduating college with excessive debt," she said.
Create a College Funding Strategy Starting in 8th Grade
Rich advocates students' direct involvement in securing college funds. She provided TODAY seven steps they can take toward funding college with little debt.
8th grade: Create a short-term budget with your family to learn money management, and plan for college. Research college expenses (tuition, books, travel, room and board, etc.) to determine what types of schools fit into your family's budget. Based on that information, add additional college savings to the family budget.
9th grade: Review financial aid options such as the Free Application for Federal Student Aid (known as FAFSA), scholarships and grants. Determine your college financing needs and merit-worthiness for scholarships. If you're in the top 15 percent of your class for academics or athletics, there's a strong chance you can receive scholarships. But, you may have to cover the remaining tuition balance with student loans. Think of a niche activity that makes you eligible for unique scholarships in sports, arts and academics. Then, identify and begin preparing to win those scholarships. Do this throughout freshman and sophomore year.
11th grade: Get a part-time or summer job and open a young saver's bank account. Keep at least 10 percent of your income in savings for absolute emergencies and save an additional percentage for college. Continue preparing to win scholarships and update your family budget for increases in tuition and expenses for your target schools.
12th grade: Create a list of five to 10 schools that fit your interests, merits and family budget and begin applying for scholarships and grants. Apply to your top three to five schools, requesting a waiver to avoid application fees if you're eligible based on family income. Research available scholarships through your high school guidance office and begin applying for them, especially local scholarships. Get as many as possible to cover freshman year.
At college acceptance: Make a concrete list of items you need for freshman year and seek additional scholarships and grants. Only buy what you need for your dorm; borrow some things and forgo others. Plan travel costs to and from college. Determine the least expensive route and how often you plan to visit home. Use student discounts to save money everywhere. Apply for additional scholarships and grants based on acceptance to school.
Freshman year: Get a work-study job to provide money for living expenses and get a $200 credit card. Instead of having them send care packages and money, have a parent agree to pay your credit card bill, on time, for two years. This will help you manage money and build credit. Continue working and applying for any scholarships and grants you're eligible for throughout sophomore year to cover tuition and expenses for sophomore and junior year.
Junior year: Get a $1,000 credit card to use for all expenses and establish better credit. Again, instead of sending you money and care packages have a parent agree to pay 50 percent of the bill until graduation and pay expenses on your credit card. Keep your work-study or other part-time job to pay 50 percent of your credit bill and other living expenses. Apply for scholarships and grants for senior year.
And as a bonus, Land suggests that if your high school offers the option, investigate dual enrollment programs, so you can offset college costs by obtaining some college credits while still in high school. "I wish I had done this because many of my classmates graduated high school with Associates Degrees, too," said Land, who will encourage her daughters to take this route.
RELATED: How to avoid student loan default
By employing this strategy, said Rich, "At graduation, you should have a high credit score, a college degree and little to no student loan or credit card debt."