/ Source: TODAY Contributor
Nothing seemed to calm the baby. Nancy Stebler swaddled the infant girl tighter. She stood up and rocked her. Then she sat down and rocked her. She shushed and cooed. But the baby trembled, went rigid and squealed with discomfort. The infant was in the throes of heroin withdrawal and while Stebler's cuddling soothed the girl, the baby still struggled.
"She had a very hard time going through withdrawal," Stebler tells TODAY. "It was very sad to see. When you could calm her down it was such a relief for her."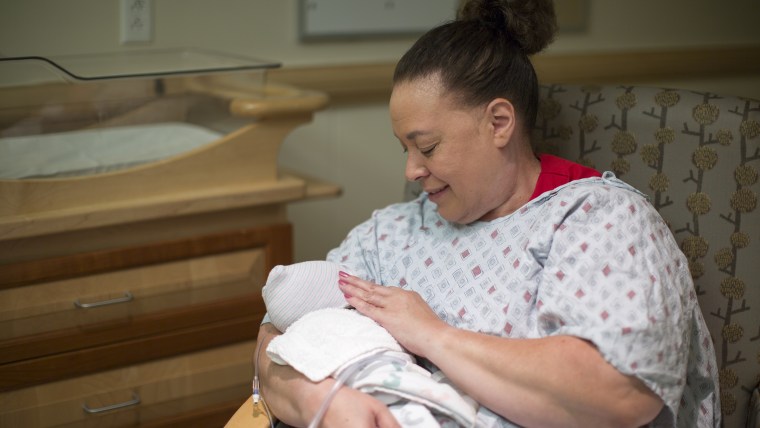 Stebler volunteers as a baby cuddler in the Cuddler Program at Magee-Womens Hospital of UPMC in Pittsburgh. She and other volunteers hold babies who are experiencing heroin withdrawal after being born to mothers who used during pregnancy. Nurses remain too busy to be able to spend much time with the babies, but babies withdrawing from opioids have a great need for comfort. Hospital staff notice that babies in withdrawal who are held regularly seem to need less medication and go home sooner, on average, than those who are not, says Maribeth McLaughlin, chief nursing officer and vice president of Patient Care Services at Magee.
"[Cuddling] is helping them manage through these symptoms," she says. "They are very irritable; they are hard to console. This is about swaddling them and giving them that comfort and safe, secure feeling."
The program has been in place for 10 years since hospital staff started noticing an increase in babies born addicted to opioids. Baby cuddle programs exist at hospitals across the country, especially at those in areas experiencing heroin epidemics. Hospitals in both Winchester, Virginia and Cincinnati, Ohio provide cuddle programs for their babies experiencing withdrawal. The cuddle program in Winchester has cut a baby's stay almost in half — from 40 days to 21.
Western Pennsylvania and Pittsburgh have seen a surge in heroin use, accounting for 209 deaths last year, according to the Allegheny County Medical Examiner's Office. But Magee also receives referrals from other states, such as Ohio and West Virginia — states also facing increased heroin addiction. On any random day, there are at least five to seven babies withdrawing from heroin in the NICU.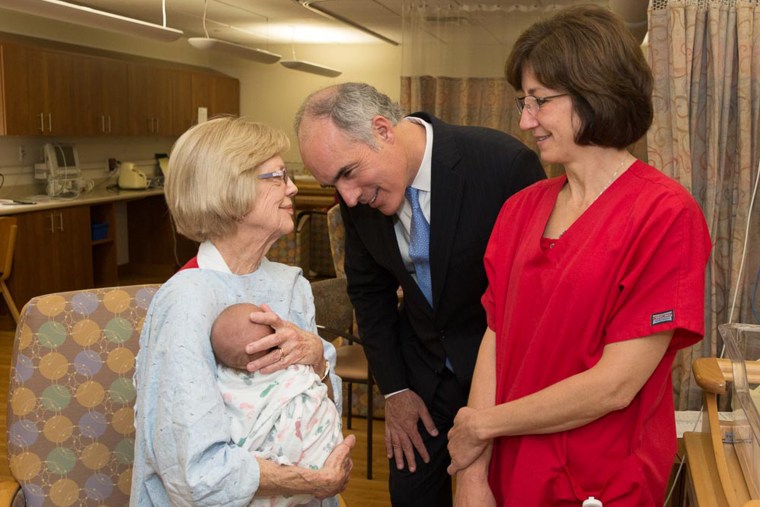 The babies experience what's known as neonatal abstinence syndrome (NAS), a collection of symptoms associated with withdrawal from heroin or other opioids. Babies with NAS feel very irritable, cry excessively in a high pitch, experience muscles stiffness and tremors, struggle to digest breast milk or formula, have loose, watery stool, suffer from skin irritation, vomit and spit up often, and feel frantic to suck.
The severity of the symptoms vary from baby to baby based on how long the mother used drugs while pregnant and how prematurely they were born. Doctors give them medications to help ease their symptoms but there's something about being held and comforted that bolsters their health.
Cuddling helps "to keep them comfortable and less irritable. We can see the reduction of the medication and often in the length of stay," says McLaughlin.
Stebler, 52, from the northern suburbs of Pittsburgh, has volunteered for almost four years. After her now 26-year-old twin sons left home, she wanted to devote some time to other children. When a spot opened in the Cuddler Program, she took it. While she's held dozens of babies over the years, that one especially fussy little girl stays in her mind. She keeps in touch with the baby's adoptive parents, sending birthday cards and receiving updates about the toddler.
"She has turned into a beautiful sweet, sweet little girl," she says. "It is a very rewarding thing for me [to see] her life."
While volunteers don't forge bonds with every baby, they do feel they are making an important difference in the babies' lives.
"Hopefully, cuddling gives them a little bit of comfort," Stebler says. "Maybe it would make them a better or stronger or happier person and, for me, that is the best thing you can give a person."
People interested in volunteering can sign up here. But it's one of the most popular volunteer programs and the waiting list is long.
Editor's Note: This article was first published on June 2, 2016.