/ Source: TODAY Contributor
Less than a year ago, Leslie Feinzaig was dozing in a new-mom sleep-deprived haze after the birth of her first child. Earlier that evening she and her husband had been discussing their hopes and dreams for their new daughter, Dora — and Feinzaig jolted wide awake with an idea.
"I imagined my daughter getting a letter that said, 'Congratulations on being the founder and CEO of your own company!'" said Feinzaig, 37, of Seattle. "I decided I would build her a toy so that she could play 'entrepreneur' just like she will also play doctor, teacher, ballerina and scientist."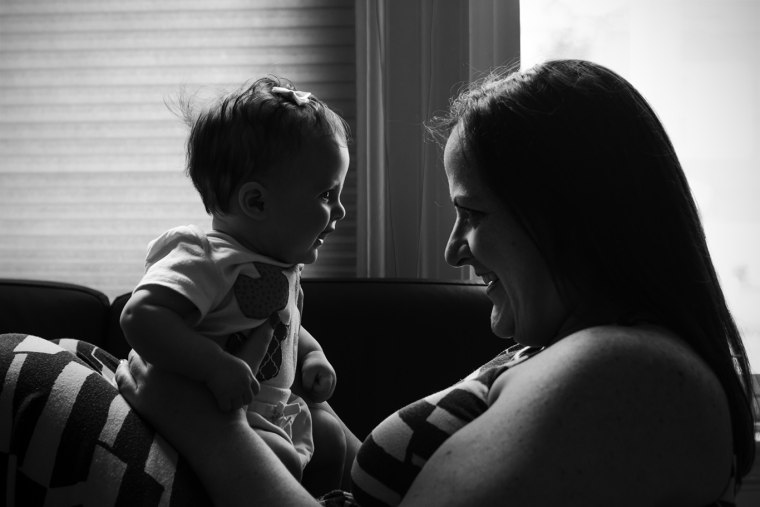 That idea led Feinzaig to create Venture Kits, activity kits that contain everything children need to start small businesses and earn some money all on their own. Launched last fall, the kits include game-like guides to entrepreneurism written for kids.
Never miss a parenting story with TODAY's newsletters! Sign up here
Two versions of the kit are available to target different age levels: Treats To-Go, a baking business for kids ages 10 to 13, and Art Auction, a real art-house business targeted to ages 7 to 11. More kits are coming soon, starting with Talent Show, a live entertainment business kit for kids age 8 to 12.
The kits retail in the $25 range, and they've been getting positive reviews from tiny CEOs.
Flora Bradley, 11, of Seattle, asked for a Venture Kit as a gift over the holidays.
"It seemed like a fun way to interact with my friends and make money," she said. "I feel with other kits it might just give you a recipe, but (this) actually helps lead you to make a business that you will continue. It leads you to become an entrepreneur."
It's a nifty idea — but is it all that different from the lemonade-stand model, complete with a card table and hand-drawn sign? Feinzaig said there's nothing wrong with lemonade stands; this approach just adds more structure to the experience.
"This is the next step up," Feinzaig told TODAY Parents. "Every invention, every discovery, every work of art, every new venture starts with an entrepreneur and an entrepreneurial spirit. Kids have a passion to learn and create."
RELATED: Lessons from a lemonade stand
Feinzaig noted that the effort of starting a business flexes all parts of kids' brains: it nurtures their creativity, challenges their problem-solving skills and promotes their communication and people skills.
More than anything else, she said, parents might be surprised to watch their budding entrepreneurs in action. Mom Elizabeth McQuillan sure was.
"My 8-year-old just got off the phone after a 45-minute pricing interview with my mother-in-law, and has also recruited a girlfriend to do customer sourcing," said McQuillan, who lives in Massachusetts. "We'll see how far she gets with this, but ... I'm loving this idea of plan first, do the math, then execute and review.
"The suggestion to reinvest in the business with any profits was a great conversation starter. Over the summer I had to put a stop to the endless lemonade stands. Suggesting that she pay for the endless demand for supplies helped my cause!"
Kids also can get involved in picking, designing and testing new kits by joining Venture Kits' Board of Kid Advisors, which has more than 100 members nationwide.
Feinzaig, a native of Costa Rica, moved to the United States 11 years ago to get her MBA at Harvard University on a full-tuition scholarship. She stayed after earning her degree to get work experience on a visa. Now a permanent U.S. resident, Feinzaig is focused on building her Venture Kits business and helping kids learn entrepreneurial skills through what she calls "hands-on, screens-off play."
"My goal is to inspire a whole generation of children to try entrepreneurship," Feinzaig said, "so that when all those kids grow up, no matter their gender, creed, race, religion or sexuality, they can all have an equal chance at becoming tomorrow's leaders."