/ Source: TODAY Contributor
A hospital stay can be tense, scary or boring, especially for kids. But you can help brighten Valentine's Day for the young patients at Children's Hospital Los Angeles simply by going to the hospital's website and choosing one of three cute animal valentines to be delivered to their bedside — for free.
"As you can imagine, it's a bummer for kids who are stuck in the hospital and can't participate in the fun events that their classmates are experiencing at school," hospital spokeswoman Monica Rizzo told TODAY Parents. "So we bring the fun of exchanging Valentines to them!"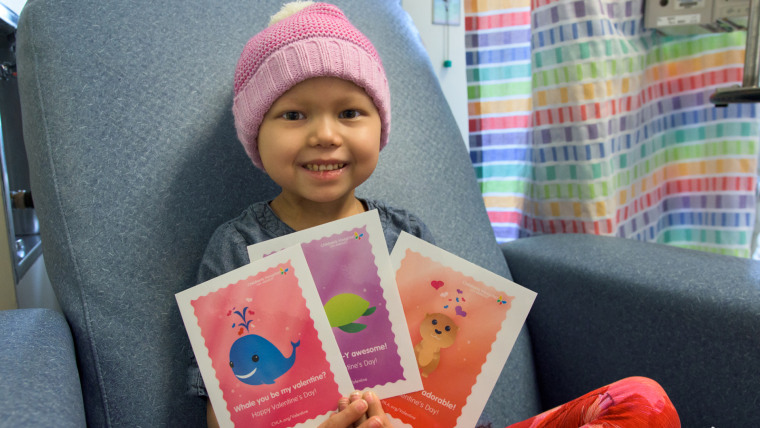 The process couldn't be simpler. Click the site, select from three cute animal valentines — choose a turtle, a whale, or an otter — and add a personal note. And all the young patients, whether there for a serious illness or a temporary condition, receive valentines. Last year's campaign generated 21,000 cards.
"The kids love the Valentines," Rizzo said. "Sometimes a sibling is visiting the hospital and we make sure to give those kids Valentines, too."
Never miss a parenting story with TODAY's newsletters! Sign up here
Last year, the hospital enlisted Ben Higgins of "The Bachelor" to deliver the valentines.
"He not only handed out the Valentine's Day cards to the kids, but he brought roses for the moms and the nurses," Rizzo said. "Needless to say, he was a huge hit!"
And the valentines don't come alone. Boutique hotelier BLVD Hotels, which has two Los Angeles locations, has agreed to donate $1 for every valentine sent by supporters, up to $10,000.
"I can tell you that the cards and the sweet messages people write on them are very well received," Rizzo told TODAY. "It makes the kids feel special knowing that people outside of the hospital took the time to send them a valentine."
Click here to send your Valentine to the children's hospital!