You can spread a little sweet puppy (and kitty) love this Valentine's Day, thanks to an animal-loving girl from California.

Expressions of "Pugs & Kittens" can be found in this year's mix of Sweethearts, the heart-shaped candies with printed love messages that have been turned out by the New England Confectionery Company for more than a century.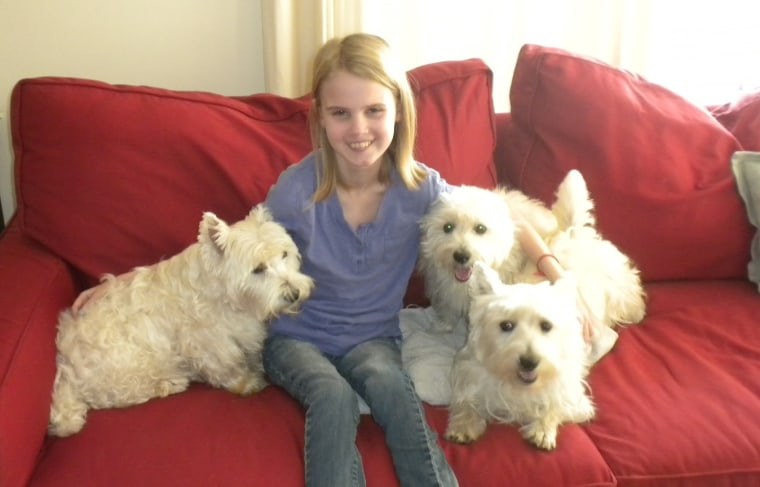 The new saying comes from 11-year-old Grace Forgea, one of three youngsters who won NECCO's inaugural box-design contest that put the winners' words on the iconic little conversation hearts for a season.

Grace, a sixth-grader from Santa Barbara, California, loves to paint and draw and walk her three West Highland white terriers. The aspiring designer or artist had not seen animal-themed hearts done before (there was a pets edition back in 2007) and felt that those lovable, furry creatures deserved some V-Day affection, too.
"I love animals and that's what Sweethearts are all about —love," said Grace, who also volunteers with a Westie rescue group. "You don't only have to love a person on Valentine's Day."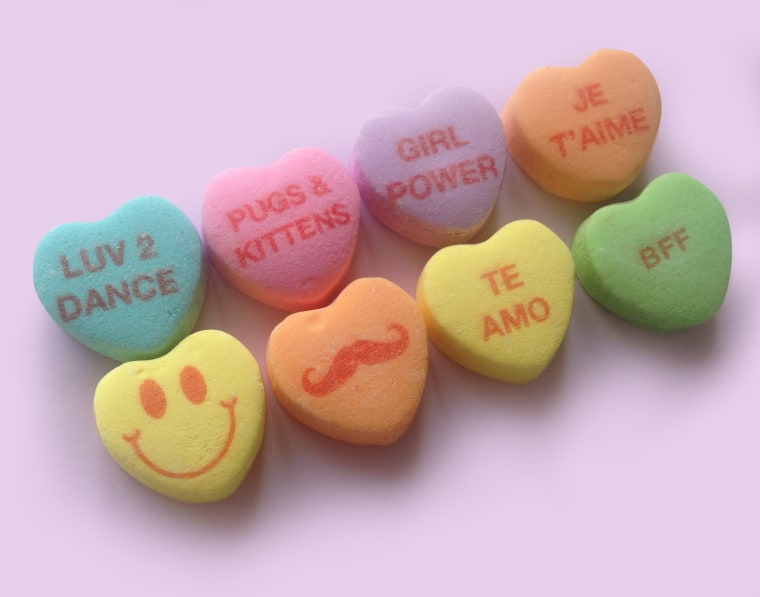 Grace won last spring during her third year of being home-schooled because of health concerns. Earning the top prize for her age group was a "huge boost of confidence" after spending so much time alone, said her mother, Justine Forgea.

"She knew she was competitive and her artwork was as good as anyone else's artwork," Forgea said. "Without being in a group of people, she felt like she could participate in something bigger."
For the "Color Your Own" contest, in which entrants color a black and white Sweethearts box, Grace tried to come up with a saying based on her beloved Westies, but nothing seemed to work. So she put her own animal-themed spin on a tried and true expression.
"I took hugs and kisses and made 'Pugs & Kittens,'" she said. "I thought it was cute and different."
Finding out she won "blew my mind," Grace said, adding that it "will be so awesome and crazy" when cupids across the country see her message. She hopes it reminds people to love their pets and to consider rescuing a dog, as her family did twice.
Grace, whose improved health allowed her to return to school for sixth grade, used some of her $1,000 prize to go to on an all-day Westie rescue mission over the summer with her mom. They retrieved a Westie puppy from a shelter and brought it to Westie Rescue of Orange County & Beyond.
"This is just another one of her amazing feats," Forgea said.
Grace's cute play-on-words "was something we couldn't wait to put in the mix," said Mary Lane, NECCO's social media specialist and a contest judge.
"Pugs & Kittens" joins the other contest-winning phrases: "Luv 2 Dance" and "Girl Power."
"It was really cute and really adorable to see such lighthearted and sweet phrases come in as the winning submissions," Lane said.
The company's new sayings for 2015 are: "BFF," "Te Amo," "Je T'aime," along with the smiley face and the oh-so-trendy mustache symbols.
This Valentine's Day, Grace is planning to share the 5 pounds of "Pugs & Kittens" hearts she won with her schoolmates and shower her three dogs, Chester, Lucy and MacIntosh, with treats of their own.
"They're smart little pups," she said. "I love them."
Lisa A. Flam is a news and lifestyles reporter in New York. Follow her on Twitter.