/ Source: TODAY Contributor
This past September, writer, filmmaker, and activist and mom Valarie Kaur found herself doing something she never imagined: tentatively dialing her cell phone to call the man who murdered her dear family friend, Balbir Singh Sodhi.
Kaur, who called Sodhi "Uncle," decided to make the call with Sodhi's brother, Rana, to try to break what Kaur calls the "cycle of violence" that "feels endless," she wrote in a blog post on her website.
Kaur did not know much about Sodhi's murderer. What she did know: on September 11, 2001, the United States suffered terrible losses at the hands of terrorists. Four days later, she suffered an additional personal loss when Sodhi was gunned down in a hate crime in Mesa, Arizona, by a man named Frank Roque.
According to Kaur, the night of September 11, Roque told a waiter at Applebee's, "I'm going to go out and shoot some towel heads," and "we should kill their children, too, because they'll grow up to be like their parents." Four days later, Roque drove to Sodhi's gas station in Mesa, Arizona, where Sodhi was planting crates of flowers in front of the store. Roque shot him five times in the back before moving on to other locations where he shot at more people.
That crime was echoed last month when a Sikh man wearing a turban was shot outside his Seattle-area home by a gunman who allegedly shouted, "Go back to your own country." The victim in that case was struck in the arm and is recovering. In another attack that the FBI is investigating as a hate crime, a gunman in Kansas shouted racial slurs and opened fire on Indian men at a bar, wounding two and killing Srinivas Kuchibhotla, 32.
Roque was sentenced to death for Sodhi's murder, but his sentence was later reduced to life in prison. Sodhi's murder was the first in a slew of hate crimes against Sikh and Muslim Americans in the wake of the Sept. 11 attacks; however, his killing also "turned a generation of young people like me into activists," said Kaur.
Now married and a mother to a 2-year-old, 35-year-old Kaur continues to try to teach the world how to heal and forgive and respond to hate with what she calls "Revolutionary Love."
This fall, Kaur appeared on the Together Tour, a speaking tour including a diverse group of storytellers with the goal of helping others find their purpose in life. On the tour, Kaur told the story of how she and Sodhi's brother, Rana, came to make the call to Roque in his prison cell after their annual remembrance of Sodhi's death.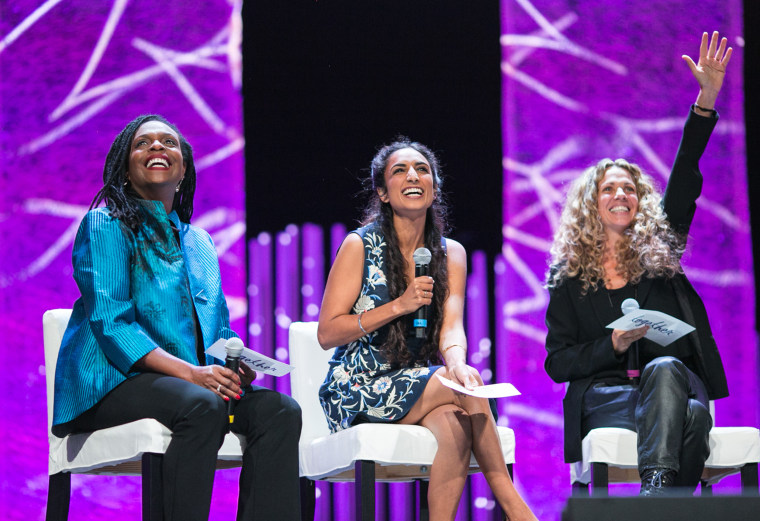 "It was the one thing we had not yet done. To test our own ability to love, even someone who hurt us," explained Kaur in her blog.
"At first, I thought it was a disaster," she said, because Roque did not seem to take any accountability for the murder. He said he was sorry for "what happened," but claimed he did not act of his own free will, but as a result of being broken down by the events of Sept. 11, 2001. Kaur said when she pressed him, Roque said he was sorry for what happened to Sodhi, but "that we must also be sorry for the thousands who died on 9/11," making Kaur wonder if the phone call was a mistake.
But then, Rana spoke. He thanked Roque for saying that he was sorry, and he reminded Roque that a few years before, he had spotted Roque's wife and daughter in town and invited them to his home for dinner, and Roque acknowledged that this had touched him. This exchange between Rana and Roque created a critical shift in the conversation, Kaur said.
"I want you to know from my heart, I'm sorry for what I did to your brother," Roque said then. "One day, when I go to Heaven to be judged by God, I will ask to see your brother, and I will hug him, and I will ask him for forgiveness."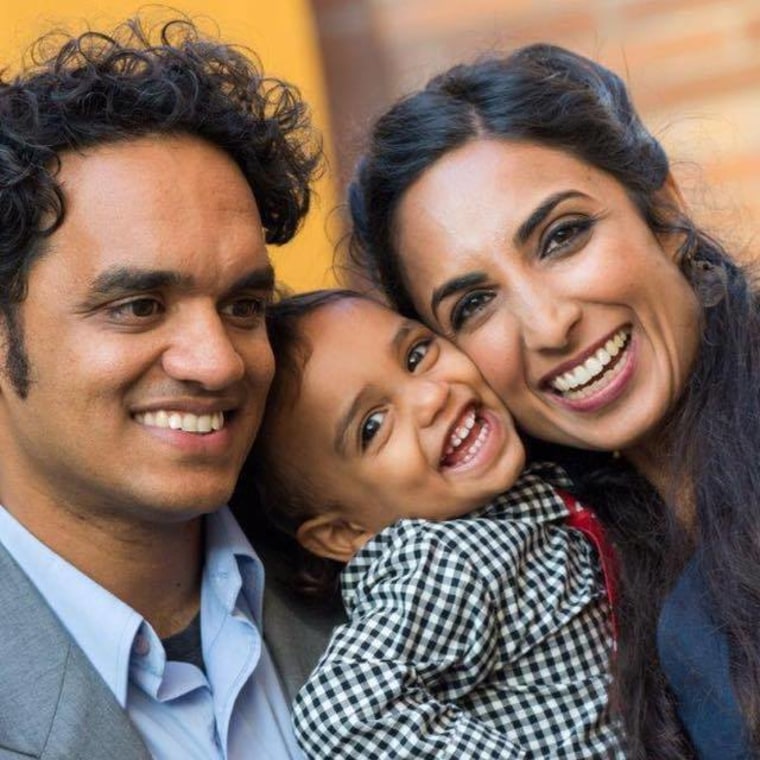 "We already forgave you," Rana answered. He told Roque that if he could take him out of prison now, he would, and that if he ever does leave prison, they can go together to tell the world their story.
"The meeting was not an end but a beginning: It opens the door to reconciliation, and a new chapter in our story," Kaur said.
Never miss a parenting story with TODAY's newsletters! Sign up here
Kaur told TODAY Parents, "Forgiveness is not forgetting; forgiveness is freedom from hate. We don't need to teach our children to forget, bury, or deny our pain when someone hurts them." Instead, she advises to teach our children three steps to find healing after someone has hurt them:
1. Hold the hurt. "Ask your children where it shows up in their bodies, how it lodges in their throat, and makes their fist clench, or shortens their breath," said Kaur. "It's important to notice the hurt, because if we push it down, it will show up later."
2. Let in love. "But we cannot remain inside the hurt; otherwise, it will corrode into hate," Kaur explained. "Ask your children to imagine a place or person who loves them and notice how it feels in their bodies, how it softens their shoulders, makes them warm, gives them a deep breath. When we let in love, it's like the warm water that slowly melts the ice in our bodies — and allows us to feel empowered again."
3. Choose art and action. "Ask your child to write a poem, paint a picture, create a story, or start a campaign that makes meaning out of what happened. When they share it, they may discover they are not alone and have the power to create something loving that sets others free," said Kaur.
These steps seem simple, and sometimes, Kaur said, they only take a few minutes. "Other times, in the face of horrific violence, these steps take years," she said. "But I have witnessed children and adults arrive in a place of love even after being hurt. This is the true meaning of forgiveness."
These three steps can also apply to adults. The key, Kaur said, is finding empathy, even for people who hurt us. "Invite children to tell the story of someone who scares or hurts them through pictures or words. In doing so, you are asking them to exercise their moral imagination," Kaur said. "When children adopt the perspective of someone who is mean or hurtful to them, they are usually able to find a kernel of empathy that drains that person's power over them."
Kaur added that in the wake of recent hate crimes, it is imperative that parents model the qualities they want their children to live. "Children learn not from what we say, but what we do," she said. "If we want to teach our children how to become upstanders in a time of widespread hate and fear, then we must make it part of who we are in the world."
She encouraged parents to be engaged citizens, and to involve their children in that role. "If we invite children into our world — ask them to dial the number to Congress when we call and listen in, or join us at the local march — then we expand their moral imagination," she said.
"We show them the way it looks and feels to be an upstander. We set the conditions for them to ask meaningful questions, not in a manufactured, talk-down way, but through sharing experiences together. And we build a foundation for courage and resilience in them, so that when they see a child bullied in the schoolyard or hear a racial slur, the impulse to exercise their voice will come naturally to them. Because it's already been cultivated by the way you are in the world together as a family."