Gabi Finlayson had the perfect outfit picked out for the school dance last weekend: A lacy, light pink sleeveless dress that fell to mid-calf.
"It was everything I wanted," the 16-year-old Utah girl told TODAY.com. "It was so perfect. It was really timeless looking."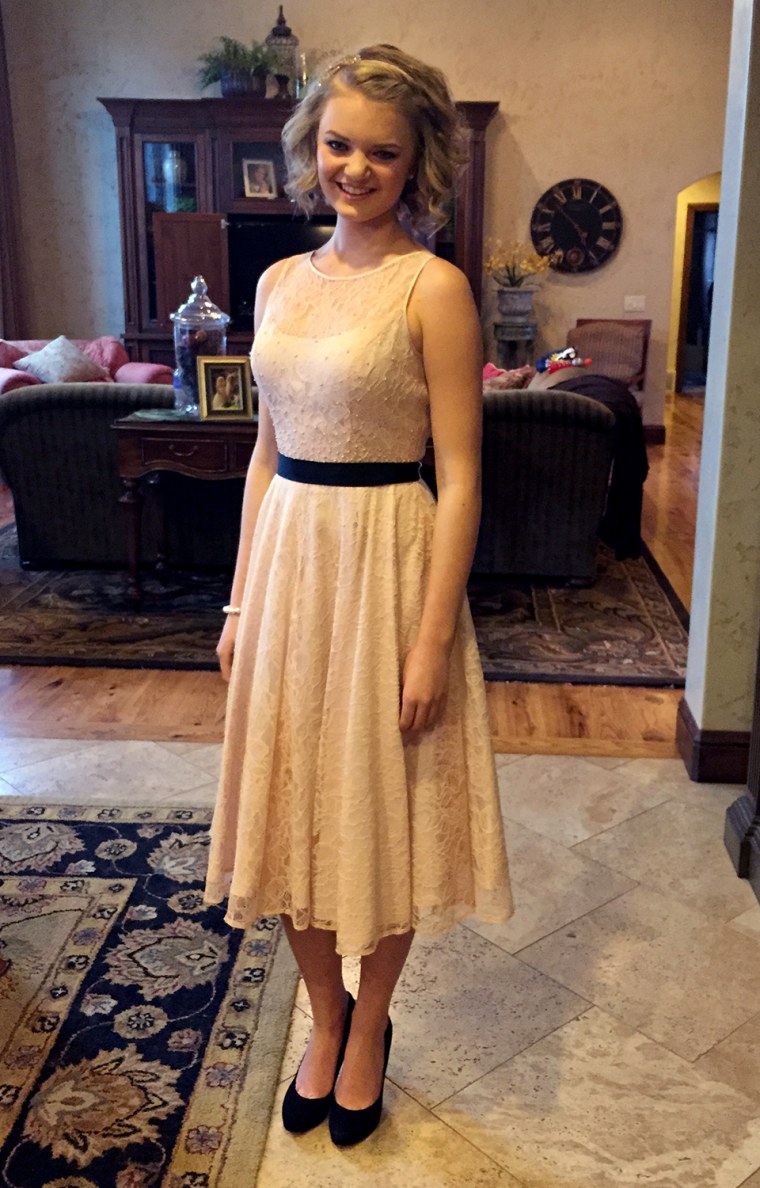 School officials saw it differently. Upon checking in, Finlayson was asked by a dance chaperone if she had a shawl she could use to cover herself. School officials later explained the dress failed to meet a dress code rule requiring dresses to have straps at least two inches across each shoulder.
Both Finlayson and her mother believe the dress fully met that requirement. But because Finlayson didn't want to draw further attention to herself, she went back to her car and retrieved her winter coat, which she wore over her dress all evening.
"I still stayed at the dance because it had been something I looked forward to, but I did feel really embarrassed and ashamed," she said. "It was hard for me because that was a night I was supposed to feel really beautiful and special. This was really hurtful and it made me feel like I wasn't good enough."
Saturday's dust-up is the latest battle in school dress code fights drawing attention nationwide. Throughout the country, there are no common standards for what is considered appropriate. Instead, some parents say dress codes are subjectively applied.
But at Lone Peak High School in Highland, Utah, the site of last week's dance, district spokesman John Patten said what happened to Finlayson was simple.
"The people at the door who were checking for dress code violations noticed there was something about hers that didn't meet the published dress code," he said. "The school also has shrugs that they bought at a department store that they offered as well. Fortunately, there was a solution at hand and she was admitted into the dance."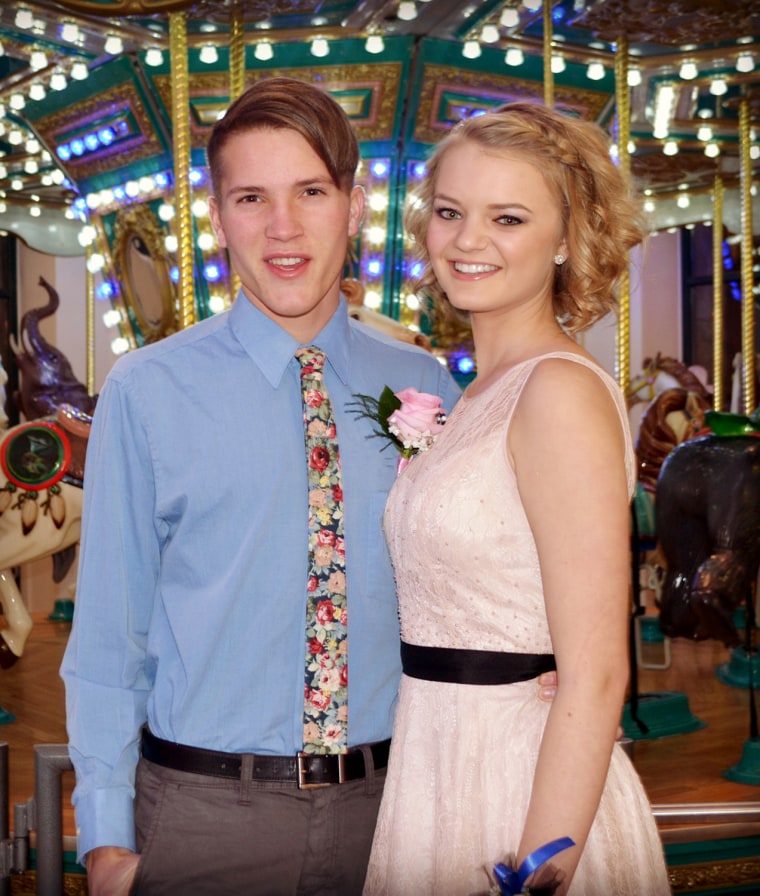 Finlayson said she was not offered one of those school-issued coverings. She also noted that she did not see the dress code rules applied uniformly to other girls wearing thinner straps — or dresses with hemlines that fell far above the knee.

Her mother, Kristy Kimball, said what she finds more troubling is how the school's conservative dress code unfairly targets women, and also objectifies them. 
"The message is sent to her and other girls in this community that what they wear affects boys' thinking, and that they're somehow responsible if boys have sexual thoughts about them, and that boys will think you're a slut if you wear certain things," Kimball said. "There's a hyper emphasis on dressing modestly as a girl because you don't want to be responsible for what a boy thinks. It's a subtler version of victim blaming."
Dianna Larkin agrees. The Florida mom's 16-year-old daughter Miranda had her own run-in with school officials on the third day of the school year for wearing a skirt considered too short. Miranda was sent to the nurse's office and ordered to change into what her mom called a "shame suit" because of its bright neon yellow color and the words "dress code violation" stamped on it.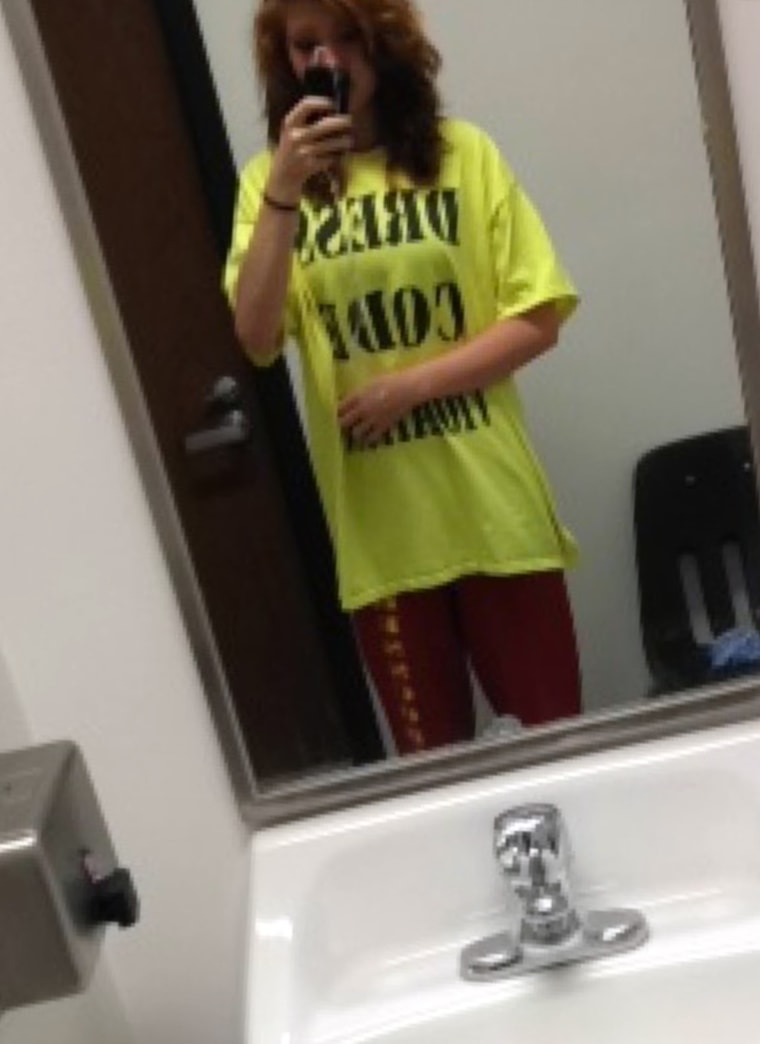 Larkin called the punishment unacceptable but, like Kimball, was equally troubled by a bigger issue it raised.

"Dress codes cause girls to be sexualized and demoralized way more often than what guys experience," she said. "They make girls hypersensitive to their own sexuality. Whereas before, they're like, 'Oh, I look pretty today.' Now it's like, 'Is my skirt too short? Am I showing this?''"
Anna Huffman, a high school senior in North Carolina, has long challenged the principles of her school's dress code policy, questioning why far more girls than boys get sent home for violations.
"Is a girl wearing a mid-thigh dress so distracting that she needs to miss class time?" she said. "The length of the dress should not supercede the education."
Huffman, a member of the North Carolina Teenage Republicans, said she finds it ironic that the same business skirts and dresses she wore last year as a page in the state legislature or to meetings with locally-elected leaders could also land her a visit to the principal's office.
"If I can wear dresses that are three to four inches from my knee in a professional environment, then I should be able to be able to wear it to school, definitely," she said.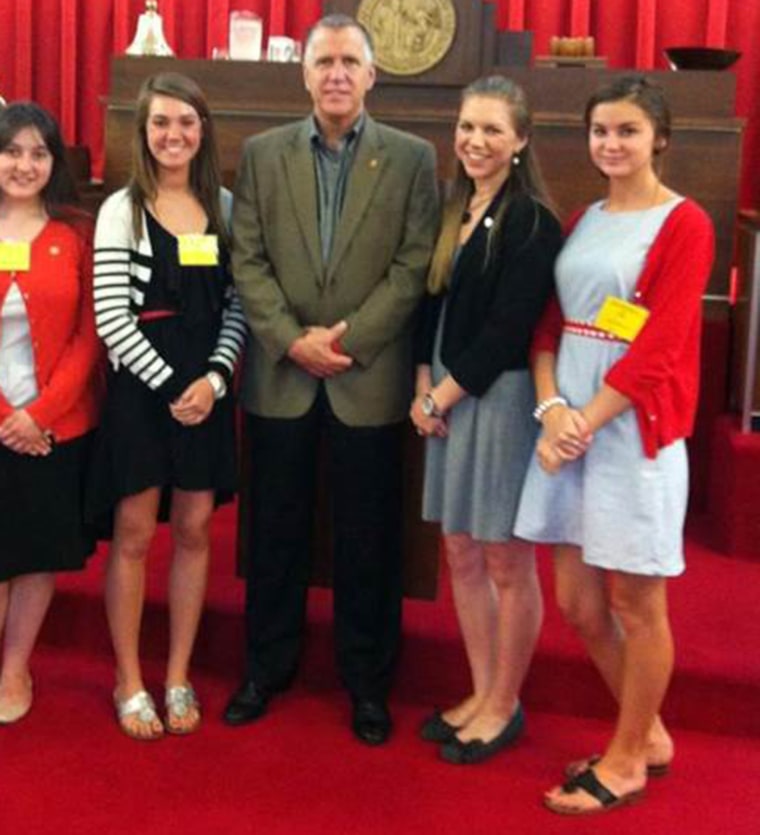 For Finlayson, last weekend's dance was something she had long looked forward to, even after transferring earlier this month to a neighboring school. She said she still believes the dress, which she and her mother spotted during a trip to Paris over Christmas break, was appropriate for the event, and now hopes her experience will inspire others in similar positions to stand up for themselves.
"It was obviously really embarrassing at the time, but I would like to be an advocate for other girls who might feel insecure or self-conscious," she said, who started an Instagram page to help empower other young women. "I see this as an opportunity for me to share my feelings and this situation and help others."
Her mother also expressed hope this raises awareness about undue pressures on young women.
"Girls are under so much pressure in our society to look thin enough, to be pretty enough. And to layer on top of that, this idea that normal body parts, like a shoulder, is somehow pornographic and will make people think sexual thoughts?" Kimball said. "It's really tough for girls to come away feeling confident in their own skin these days. 
"And that's all I want for my daughters, for them to feel confident and comfortable in their own skin and not be self conscious or ashamed or embarrassed of who they are."

Follow TODAY.com writer Eun Kyung Kim on Twitter.