/ Source: TODAY Contributor
In the span of 24 hours the Carling family's lives changed dramatically. On Oct. 19 a judge finalized the adoption of the 9-month-old twins that Kaley and Jeremy Carling had raised since their birth. On the very next day, a different judge finalized the adoption of two other children the couple had been fostering for more than a year.
Finally, the Carlings were the legal parents of four children, ages 2 and under.
"I have only seen my husband cry maybe three times in 12 years and Oct. 20 when they were finalized is one of those times," Kaley Carling, 29, of Farmington, Utah, told TODAY. "We felt an overwhelming sense of relief."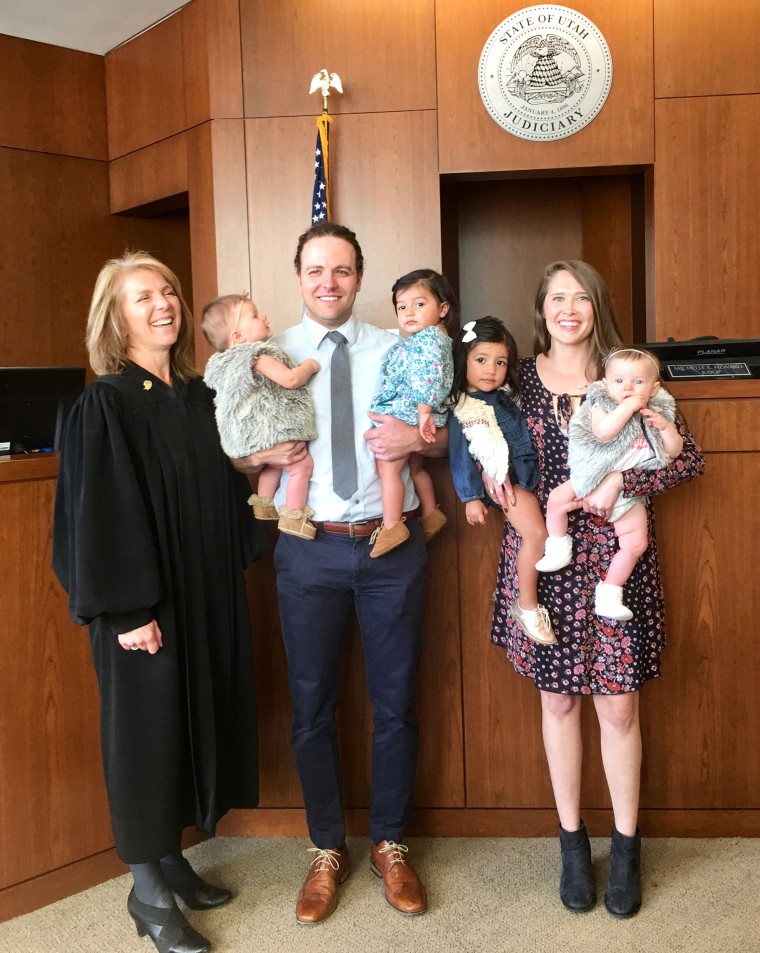 Related: Adopted boys finally unite with their parents after painful 3-year wait
The couple had struggled to conceive. Kaley Carling has rheumatoid arthritis and lupus and she relies on medication to manage her health. When they tried conceiving she had to stop taking her medication; she lost weight and they still couldn't get pregnant. The couple decided to take a break from trying to get pregnant for five years.
"Things went differently and we decided to roll with it," she said.
In the meantime, the Carlings asked friends and family if they knew anyone looking for a couple to adopt a child. Someone connected them to a young woman who was pregnant with her fourth child and said she was interested in the Carlings adopting her unborn child and possibly her toddler. But in July 2015, she changed her mind.
The couple felt heartbroken but they decided to become certified foster parents to provide love and support to children in the foster system. Her dad is adopted and Kaley Carling always liked the idea of fostering and adoption.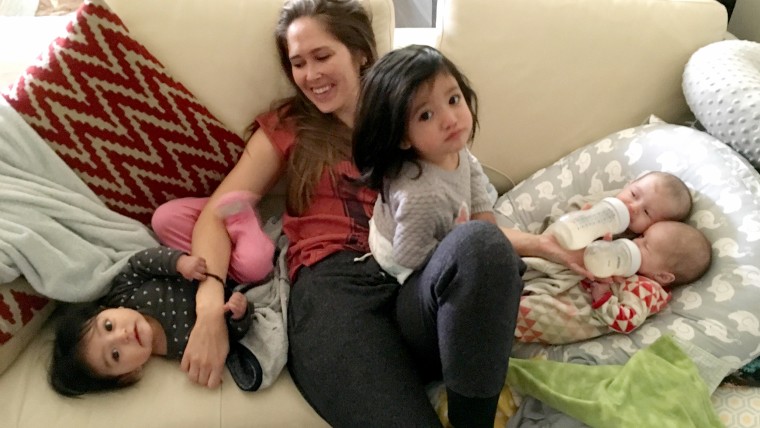 Related: Princesses surprise 5-year-old girl in court to make her adoption magical
"We had the room," she said. "It was either going to lead us to our family or worse-case scenario, we provide shelter and love and food and all those things for a child until we get our family."
Then on August 11, 2015, they received two phone calls that transformed their family. The first call came from the foster agency; it had two sisters who needed a home, Haven, 13 months old, and Indie, a newborn.
"We just knew immediately. It just felt right," Carling said.
That same day, they received a call from a woman pregnant with twins who was interested in having someone adopt them. The couple decided to meet the mom to show their interest. They were unsure if they could adopt Haven and Indie because one of their family members was considering adopting them. And with their past adoption falling through, they wanted to look at all their options.
Never miss a parenting story with TODAY's newsletters! Sign up here
The twins were born at the end of January and the Carlings brought girls, Weslie and Sunny, home. At the time, the Carlings were still fostering 18-month-old Haven, and 5-month-old Indie.
"I look back and wonder 'what was I thinking? I think that's insane.' Now it is just our life," she said.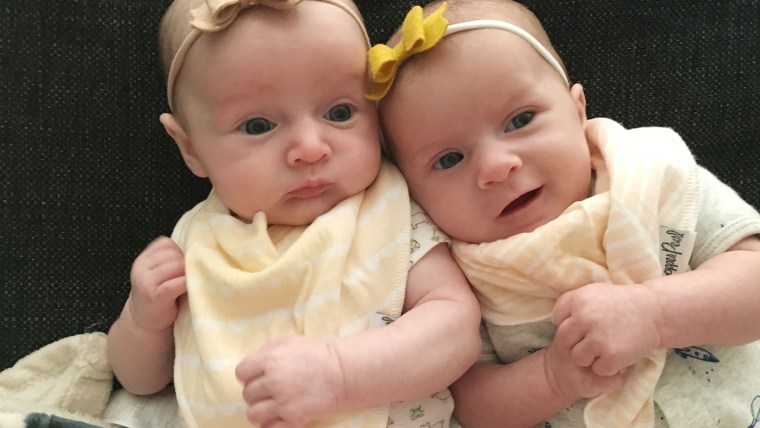 Related: Pediatric nurse's bond with sick preemie leads to adoption
While life with four children under 2 feels chaotic, the Carlings can't imagine life without their four daughters. When they learned that Indie and Haven's relative gave up custody, they decided to move forward with adopting all of the girls.
"It feels great to have everything cemented. We just wanted to live so long just as a family without anything to change that," she said.
Kaley Carling stays home with the girls and feels fortunate to have the love and support of Jeremy and both their families and friends.
"Every once in a while, we look at each other and say 'there are six of us,'" Carling said. "I went from being the last of my friends to have kids to being the one with the most of the kids."