/ Source: TODAY Contributor
A year ago, Jake and Beth Lacourse learned that their daughter Becca had the most aggressive form of Usher syndrome, a rare disease that affects hearing, balance and vision. Not only is Becca profoundly deaf, but she will likely go blind by the time she is a teen. About half the 16,000 people who are deaf and blind in the United States have Usher syndrome.
"It was probably the hardest time of my life," Beth Lacourse said. "We were just a mess. I didn't want to leave the house."
As the Massachusetts family grappled with Becca losing her sight, father Jake channeled his frustration into inventing a product that could not only help Becca, but many other children suffering from vision loss.
Never miss a parenting story with the TODAY Parenting newsletter! Sign up here.
"We recognized there was nothing really out there for her," Jake Lacourse told TODAY. "We wanted to create a special toy for her."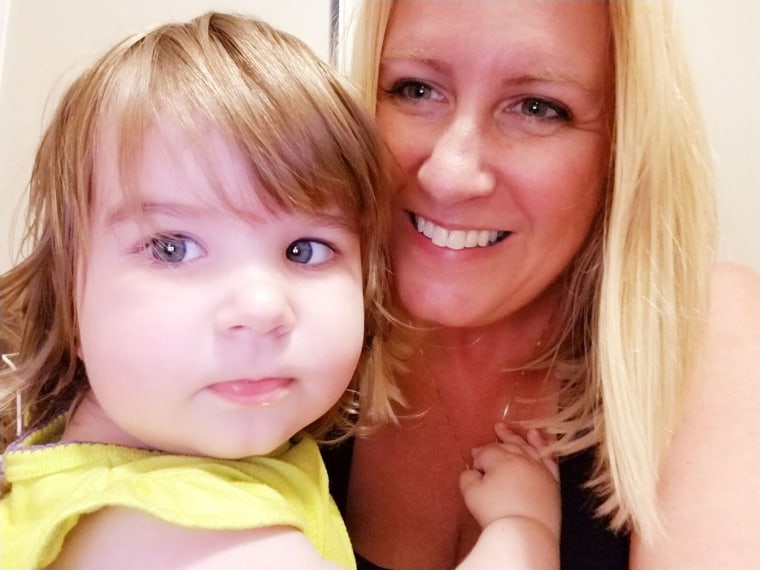 Jake created a prototype toy called the BecDot: a 3-D printed rectangular box that introduces children to braille words and letters.
The toy works with an app that allows parents to program in words, and teaches children how to spell the words in Braille. When a toy cat with a digital tag on it is placed on the toy, the braille spells out C-A-T, and Becca can run her fingers over the word and learn its meaning.
Jake compares BecDot to alphabet blocks. The aim is to help children become familiar with braille letters and words.
"They are going to recognize those shapes," he said.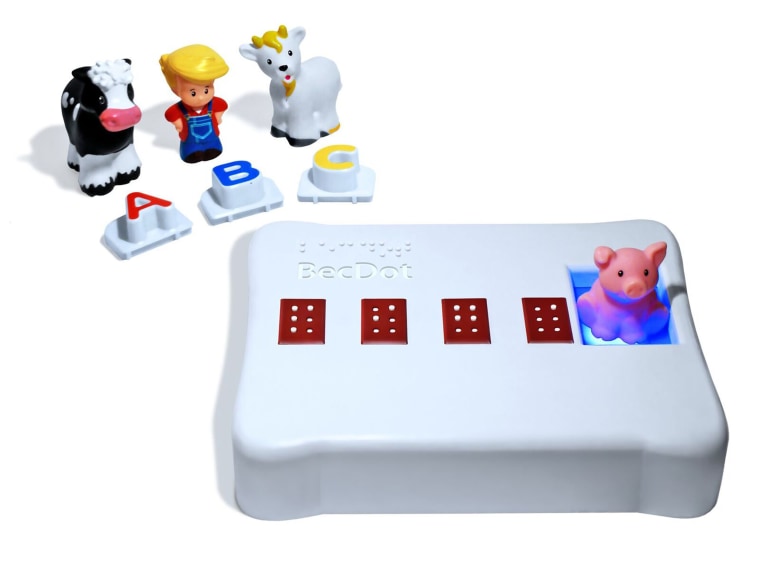 Braille toys can be costly, and Jake Lacourse understands that many parents can't spend big bucks on a toy their children would easily destroy or lose. He's hoping the final version of the BecDot will sell for around $100. During his development process, Becca showed him exactly why a sturdy toy is important.
"I left it on the (unlit) wood stove and she walks over and grabs it and throws it on the floor," he said with a laugh. "That was the first test, and it did not pass the first test."
After learning an important lesson about durability, Jake re-designed the case, and Becca has yet to break this one.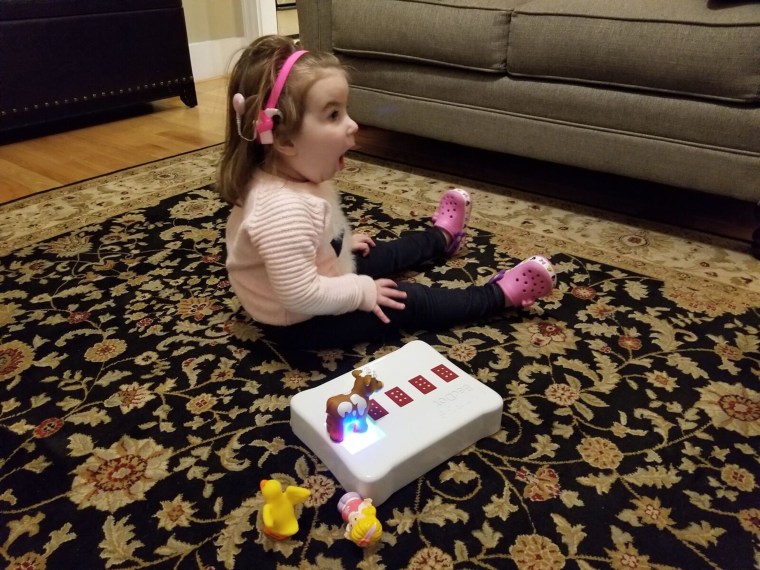 Jake is still working on the toy design, and has sent it to several schools for blind children to get their feedback. He said he may try to start his own company or partner with an existing manufacturer to get the toy to market.
Jake Lacourse took the BecDot to the recent Consumer Electronics Show in Las Vegas where it won the Not Impossible Limitless Award, recognizing inventions and people who "bring positive change to the global community." While Becca's dad feels humbled by its success, what he really wants is for children to use BecDot.
"The world isn't going to adapt to Becca," he said. "I wanted to adapt the world for her, but realized I could actually help a lot of other people as well."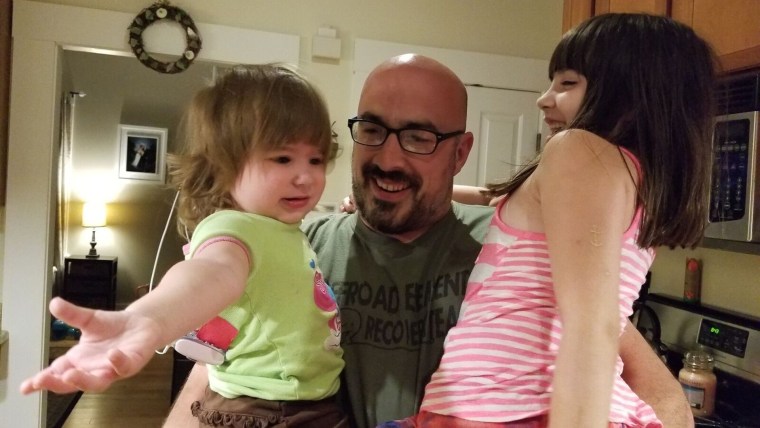 This isn't the only invention Jake, a product engineer, has worked on to help his daughter.
He modified a smart watch so that when she moved her arm, Becca saw a picture of her mother. He also designed a puzzle for the living room so that when Becca completes it correctly, the lights in the room become brighter.
"He is always working on ways to improve her life," said Beth. "He is so passionate."
Related video:
For more stories about parents making a positive difference, follow TODAY Parents on Facebook!