Not long after Samantha Geston gave birth at her home in Santa Cruz, California, her family gathered around the new mom and lit a candle.
There was one more thing to be done for the delivery to be complete, and the flame would slowly accomplish what doctors with clamps and scissors perform in seconds: sever the baby's umbilical cord.
Cord burning, a practice that's been around in various cultures for many years, is getting new appreciation from some families who say it's a way to cherish the moment and get loved ones involved in the milestone for baby and mom.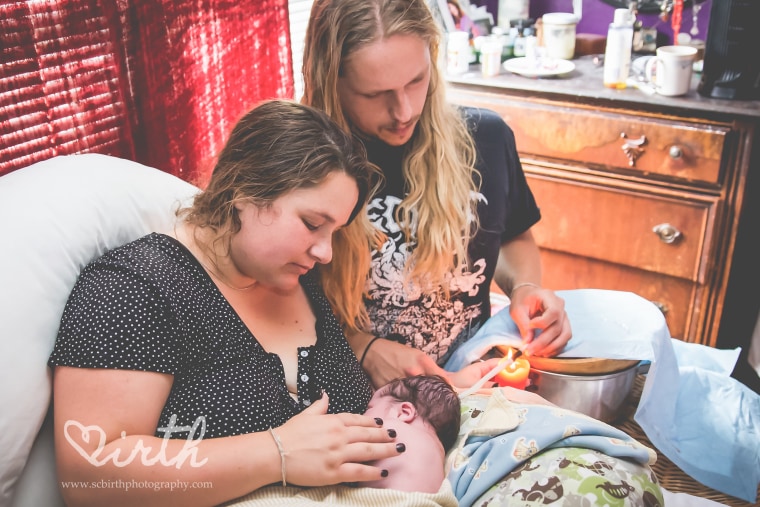 With her family at her side, Geston watched as her daughter, her husband, his parents and her parents took turns holding the candle underneath the umbilical cord until it burned through – a process that took about 20 minutes.
"Everyone took a part in it, everyone helped sever that connection, and it wasn't rushed or forced. We took our time," Geston, 24, told TODAY Parents.
"It was really magical and everyone was so happy and it was just the perfect way to end a beautiful pregnancy and a beautiful birth."
Geston cradled her son in her arms away from the flame and said she didn't have any concerns for his safety. Baby Beren peacefully slept and nursed throughout the ceremony, while his foot-long cord was stretched out away from him and the placenta rested in a bowl on a side table by Geston's bed.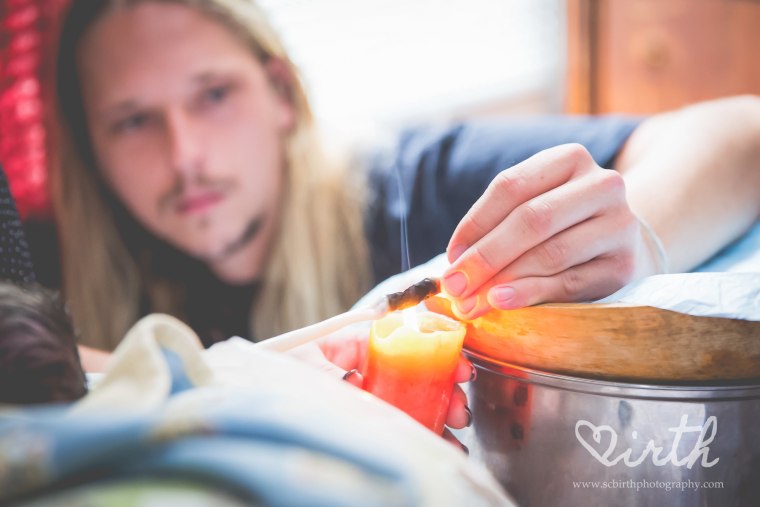 Many parents also use a "burn box," which has grooves to hold the candles and collects the dripping wax.
As Paige Driscoll, who owns Santa Cruz Birth Photography, snapped photos of the intimate moments, she was thinking about her own upcoming delivery.
Driscoll, who is due to give birth to her fifth son this month, was inspired to try cord burning after watching some of her clients choose the unconventional path. She looks at it as a bonding experience for everyone involved.

"After seeing so much love filling the room… I knew it was something that I wanted for my birth. I wanted it to be like a family event, I wanted my four boys to be involved in the birth of their baby brother," Driscoll said.
"Too many times during birth, everything happens so quickly, so this is a really slow and gentle process that slows everything down and makes it so memorable."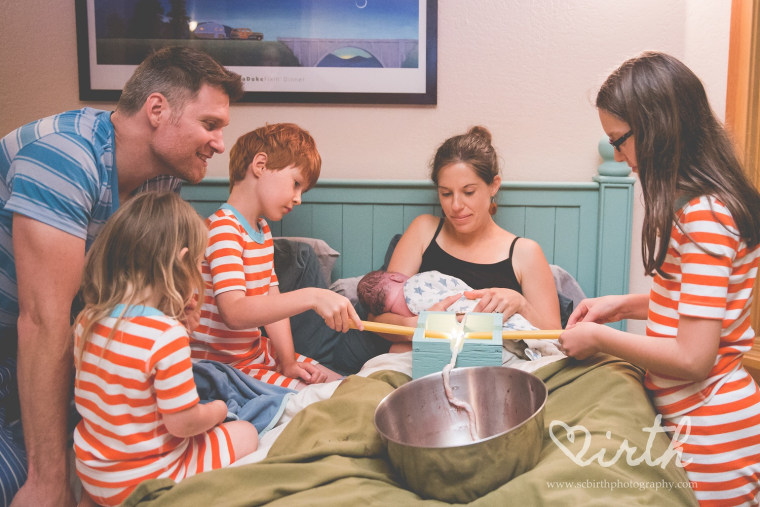 In addition to slowing down the separation between baby and mom, some cultures turned to cord burning to lower the chance of infection and bleeding after birth, said Dr. Iffath Hoskins, vice chair of patient safety and quality in the department of obstetrics and gynecology at NYU Langone Medical Center. The high heat can sterilize the tissue and cauterize blood vessels, creating a clot that acts as a "plug."
In modern medicine, none of these issues present a concern, Hoskins noted.
"(But) when all is said and done, if parents want cord burning, there is no reason to prevent them from getting it done provided it can be done safely," Hoskins said. That means taking all possible steps to avoid burns to the baby and no open flames in a medical or hospital setting, she added.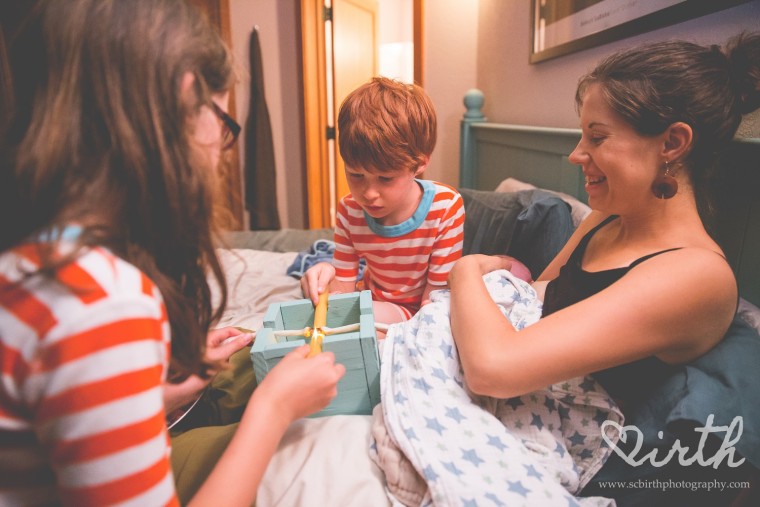 There's also the issue of exactly when it's best to cut the cord for the health of both mom and baby. Doctors usually perform umbilical cord clamping less than a minute after birth, but the ideal timing has yet to be established, according to The American College of Obstetricians and Gynecologists.
The World Health Organization recommends clamping one to three minutes after birth to allow more blood to flow to the baby from the placenta.

If parents choose burning, the cord isn't severed until much later – up to one hour or so after birth. But once the cord stops pulsating – indicating the blood flow between the baby and the placenta has stopped -- the extra time taken for the cord burning would not have any effect on the newborn, Hoskins said.

Geston said people are usually shocked and "a little bit grossed out" when she tells them about cord burning. Even her husband didn't understand at first.
"But by the end of it, I think he understood the reasons why I wanted to do it, that I wanted to slow things down," she said, adding it was he and his father who ended up severing the cord.
"The final moments when (they) finished the burning were something that they will all cherish forever."