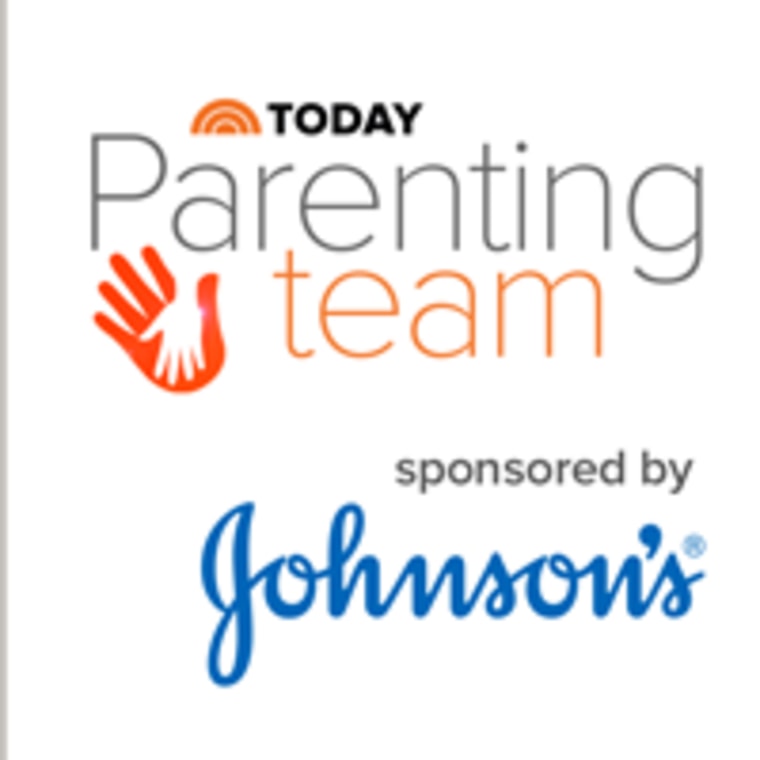 Do you wish you had known a few things before you brought your baby home?
Maybe more than a few things?
So did the hundreds of contributors who are part of our new TODAY Parenting Team. (Want to join us? You're invited!)
In our first question to the team, we asked:
"What do you wish you had known about the first days, weeks or months with a baby?"
The range of answers we got is nothing short of brilliant. Here's everything the baby books don't tell you. We've rounded up the top 109 things TODAY parents wish they had known, from practical tips to emotional advice. Whether you're a new parent, a veteran parent, or somewhere in between, there's something in here for you.
And if any of these scenarios ring true to you — as we're sure they will — please engage in the conversation.Join us on the TODAY Parenting Team, because every parent should be part of a "village."
1. Stock up on those mesh panties they give you at the hospital. (Angie Goff)
"They are ugly as sin but unbelievably comfortable. Let's hear it for power panties!"
2. Don't lose sight of your own identity. (Jenny Fenig)
"Love yourself so much that you're not willing to lose yourself. Because when you lose yourself, everyone loses. Your family needs you. Most of all, you need you. So, be kind to yourself."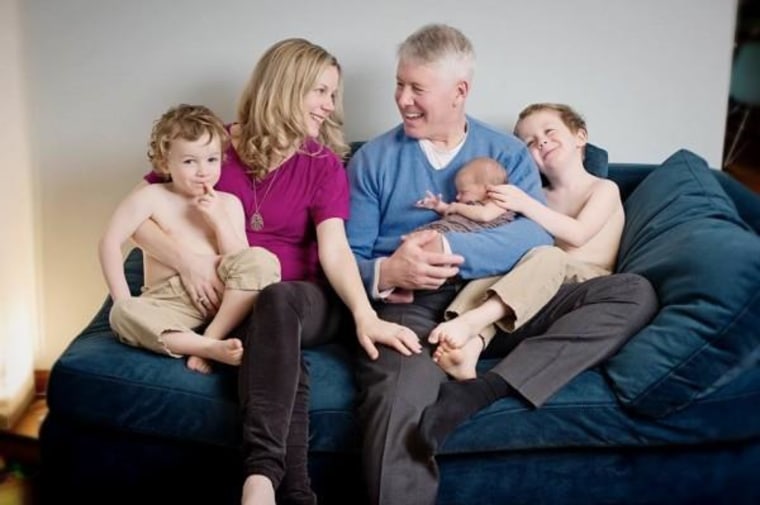 3. Don't worry if you feel clueless … it's normal. (Savannah Guthrie)
"I am living proof that you can manage as a parent even when you feel (and are) clueless and incompetent and inadequate. Somehow, you muddle through and before you know it, you do kind of know it."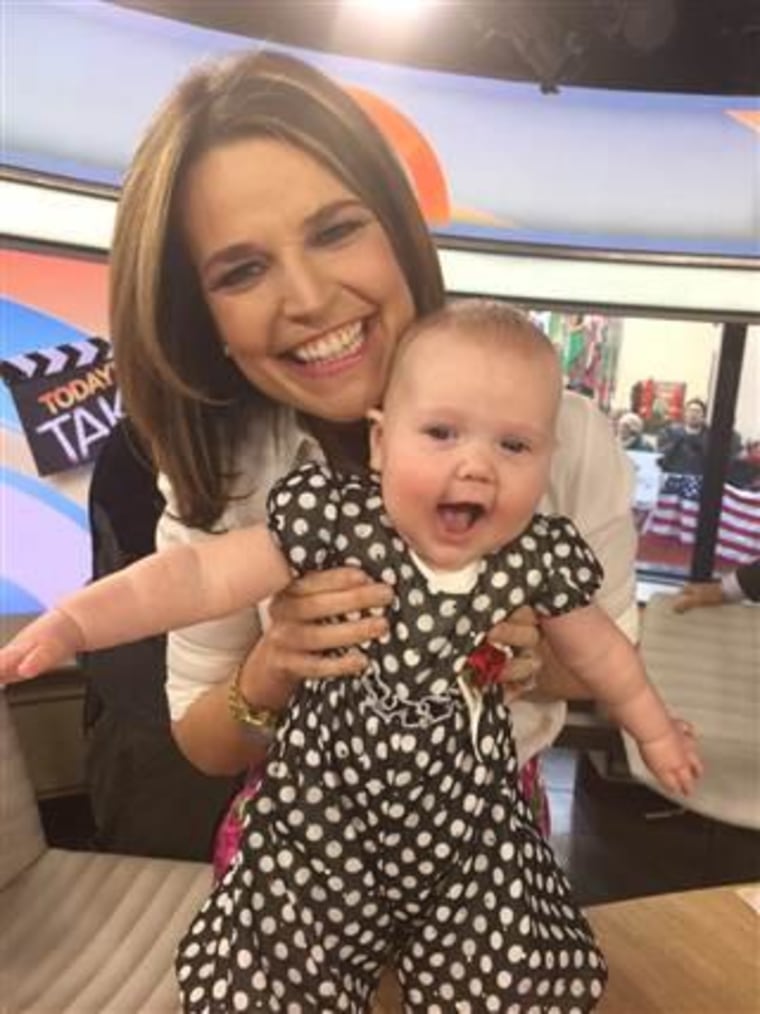 4. Don't try to assemble your breast pump for the first time at 4 a.m. Bad idea. (Patrice Poltzer)
"Cue the hysterics."
5. Know what you don't know. (Danielle Campoamor/ A Twenty Something Nothing )
"I had this perception of what a mother was before, of course, I became one."
6. You don't have to enjoy every moment. (Glennon Doyle Melton/ Momastery)
"Why is it that the second a mother admits that it's hard, people feel the need to suggest that maybe she's not doing it right?"
7. You're never alone, even if you might feel that way sometimes. (Rebecca Dube)
"If you have a question, someone has an answer. If you need a hug, someone is out there with open arms —at least virtually. Parenting can be a hard, lonely business. It can also be the most wonderful, joyful thing. Often it is all of those things within a five-minute span."
8. Trust your gut. (Bree Sunshine Smith)
"My insecurities, my imperfections, my mistakes, my victories, my talents, my spirit, my instincts are all uniquely woven together to be the very best mommy Cole could ever have."
9. It's OK to relax! (Jenna Bush Hager)
"I felt I should be constantly doing something: cleaning, laundry, writing thank you notes, instead of just napping with and staring at Mila."
10. Cut yourself some slack. (Susie Garlick/ DiddleDots)
"Create your own cover, as well as your own story with all of the ups and downs that come with raising a family. In the end you will have taught your children that creating your own story is priceless."
11. Expect to feel lonely and lovesick at the same time. (Errin Spencer/ Mommamamom's blog)
"I love enough. I do enough. I give enough. My children are going to be enough."
12. Don't listen to other people's "horror stories." It will only scare you. (Traci/ A Day in the Life of a Drama Queen's Momma)
"Each experience in labor and delivery is unique. It doesn't matter what your mother, or aunt, or best friend went through..."
13. If you don't want to be judged, stop judging. (Megan Egbert/ HipMomBrarian)
"I wish I would have known that nobody gets it all right, not in parenting or anything else, which is what makes us in this together."
14. With a second baby comes all new mistakes. (Jenna Wolfe)
"Someone once gave me great advice when it comes to life: make as many mistakes as you want along the journey, the key is not to make the same ones twice."
15. There is such a thing as too much information. (Jill Morgenstern)
"Dad gets to be right too, even if he's never even laid eyes on a baby book. Dad gets to be right sometimes even when he's doing things 'wrong.'"
16. Repeat after me: It's just a phase! (Natalie Morales)
"What did I learn? What every parent learns at some point -- it's just a phase! Though a long and painful one that lasted almost a year. ... I know now that through it all my kids love me with all their hearts, even though they don't always show it."
17. Collect memories, not objects. (Doyin Richards/ Daddy Doin' Work)
"In twenty years from now, will they (or anyone else) care that I bought their shoes at Payless instead of Bloomingdales? Of course not."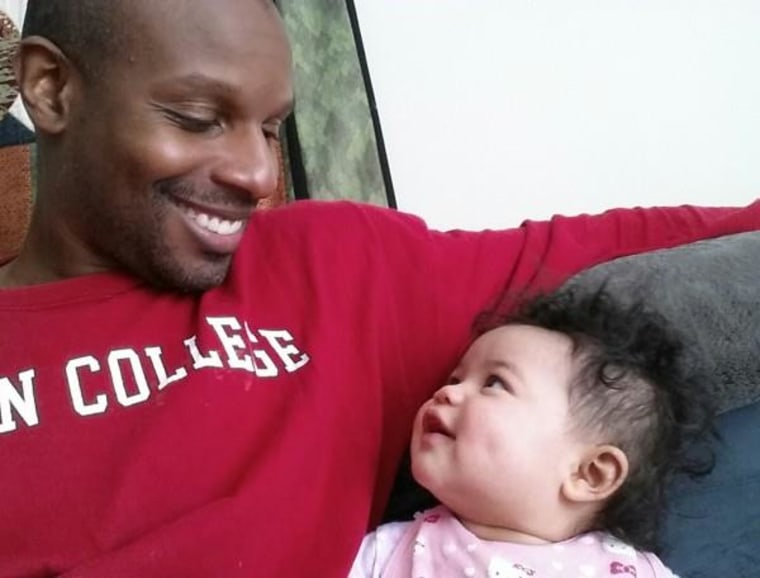 18. Don't feel guilty about leaving your baby to go to work. (RoShelle Salinas)
"I don't feel bad about leaving to go to the office every day, especially when my son says 'mommy work and me school.' I'm proud he sees me as a working mother and is already making the correlation that you have to work to earn money to live."
19. Take pictures with YOU in them. (Just Pencil Me In)
"You will never get those moments back. Don't let them pass by without capturing your presence."
20. Your capacity to love will grow bigger. (Justin Ricklefs)
"You see a bit more of it when you hold your son during a thunderstorm. Or comfort your daughter during a bad dream. Or watch them sleep for minutes on end every single night before you go to bed."
21. Say "no" to visitors; "yes" to babysitters. (Lynn Perkins)
"Take every opportunity to rest and recover and line up extra childcare to help."
22. Don't be shocked when you become an expert liar. (Christine Burke)
"You will craft intricate lies to explain how Santa gets into your house ... and why the Elf on The Shelf didn't go back to the North Pole for the 4th day in a row. You will become adept at boldfaced lying to your children yet expecting total honesty from them."
23. Don't isolate the baby: he won't break. (Darlene Rodriguez)
"Babies are strong, pliable, malleable. They should be held by different people and the occasional snotty nose toddler's germs will make your baby's immune system stronger."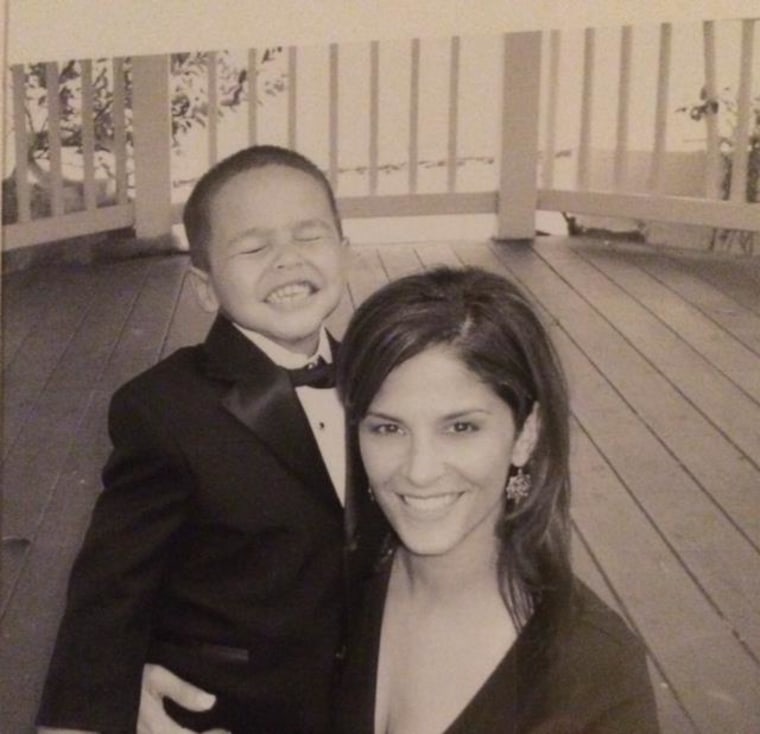 24. Don't pay professionals because you can do it yourself. (Jenny Sanchez)
"I painted a mural in [my daughter's] room, took my own first birthday shots and made my own smash cake. Don't spend a ton of money on things and professionals when you can do it yourself!"
25. When baby first comes home, just do what feels right. (Michelle Thayer)
"In time I did what I felt was right—when I was awake she spent time in her bouncy chair or in my arms, she spent nights in her crib, and once she was big enough she spent time in her swing."
26. Make a to-do list of tasks big and small before you go to bed. (Gina Pomponio/Mommy Posh)
"You'll sleep better knowing that you've already planned for the day ahead and you'll rise in the morning knowing that you've already taken care of the leg work to get a jump start on the day."
27. Mom friends are the bomb. (Sheinelle Jones)
"They will tell it like it is, because they get what you're going through — and they will be your support when you can't see straight."
28. Plan ahead for the help you'll need in weeks 6 to 12. (Randi Zuckerberg)
"Instead of planning for those first few weeks, I should really have been optimizing for weeks 6-12, when I'd really need the most support, and wouldn't have droves of people offering it up to me."
29. Don't downplay the baby blues: They're real. (Kristen Sullivan)
"What I want other first time moms to know is that it's NORMAL, and it's okay! It doesn't mean you love your little one any less."
(Editor's Note: This page at Postpartum Progress has a really good description of what Postpartum Depression feels like and links to resources to get help. Please check it out.)
30. Expect that each baby will be unique. (Laura/ Inspiration for Moms)
"Whether you have one child or five, being a mom means learning that you don't know it all."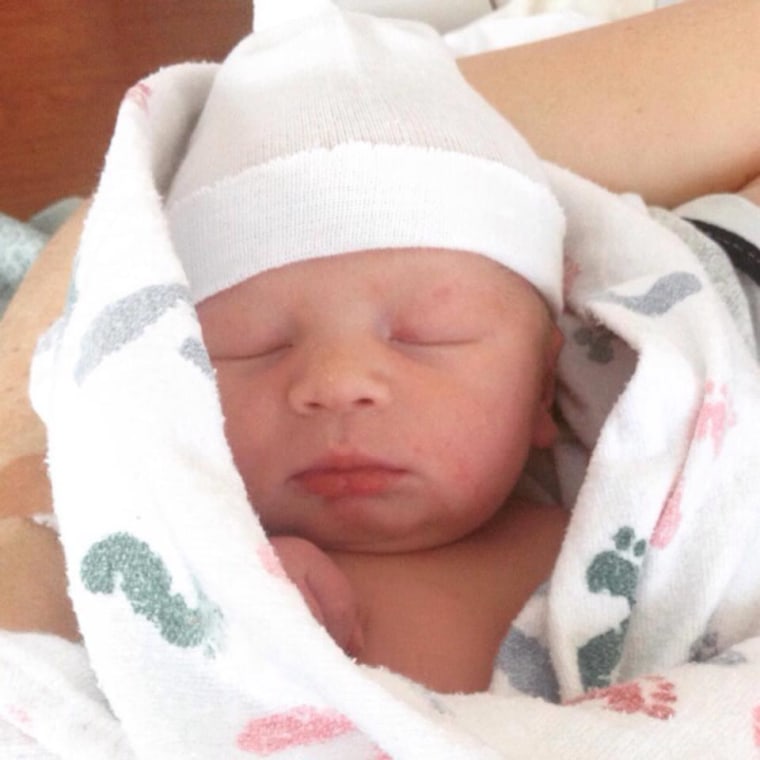 31. Have Daddy-baby time. (Doyin Richards/ Daddy Doin' Work)
"Whatever it is (story time, playground time, bath time, feedings, etc.) find something that only you and your baby do together. It will only intensify your bond."
32. Savor the moments your little ones are at home. (Heather Riley)
"I'm now the mom with kids in school all day looking at the tired moms in the grocery store with little ones remembering those days and how I thought they'd never end."
33. Everyone feels unprepared. (Erin Seay-Taylor)
"Just do the best you can. And know as they grow, that is the same advice you will give your kids."
34. Give up on the Wonder Woman thing — Mom-of-the-year isn't real! (Amy McCready)
"Just fill their tiny selves up with all the love you have to give — and create a reservoir for yourself as well."
35. You won't instantly know what your baby needs. (Emily Burmeister)
"No one ever said, 'you will question it all, you will fail, you will suck at this, you will wonder why you ever thought this was a good idea.'"
36. You'll never learn everything there is to know. (Katie Lockwood, MD)
"Even years later as a pediatrician parent, I found myself worrying about things as benign as hats, because when it is your child, everything is important and all worries seem legitimate."
37. All that working mom guilt? "Let it go." (Jen Brown)
"Make sure whenever you do get home to immediately get down on the floor and play with your child. No cell phone, no interruptions, just good quality time."
38. The chores can wait ... take a nap! (Michael Gargiulo)
"What was I running myself into the ground to do? Fix a light in the basement? Pay a bill? Clean the kitchen? Was any of that worth not being there 100% for our new son ... the answer was obvious."
39. In the end, the best moments always outweigh the worst. (Liz/ A Mothership Down)
"He will feel so snug and perfect and you will want him to stay just like that, forever maybe. It's a fleeting moment. And in that moment you will think to yourself, I couldn't love anything more than I love this little person."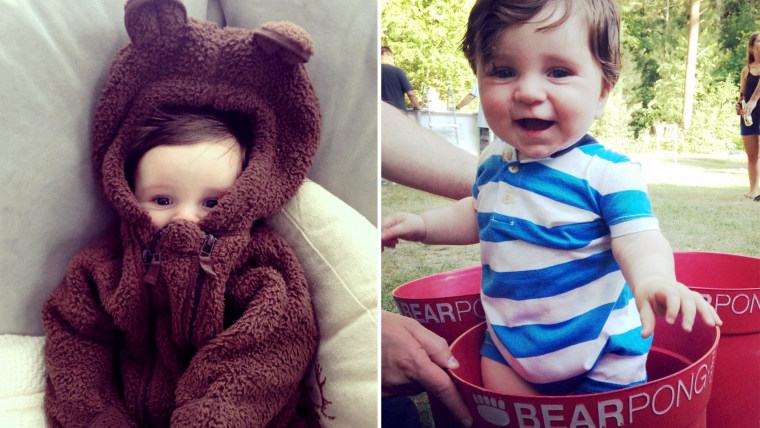 40. Your birth plan is great in theory. (Mandy Baldwin)
"I wanted a natural child birth with no pain meds. I lasted 8 hours in the hospital until an epidural was given."
341. It's OK to let your baby cry. (Melissa/Consumer Queen)
"I sat in a rocking chair outside the door in the wee hours of the morning rocking back and forth, sobbing because I felt like a horrible mom for letting her cry like that after all she had been through."
42. Parenting isn't pretty. (Mom Tattles)
"You will eat the goldfish crackers you find in the car around your child's car seat."
43. Get your "baby squad" in place beforehand. (Mom Meets Blog)
"By the time I mistakenly poured baby formula into my morning Cheerios, I knew it was time to ask for help!"
44. When you think you are done, have another baby ... a puppy. (Kavita Varma-White)
"My phone is filled with pics of my newest fur baby, and my kids are so thankful they are no longer the subject of my Mamarazzi social media posts. There's a new kid in town, and I wish I had known how great it would be … I would have done it years ago."
45. Save your money! Only buy what you actually need. (Jane Weaver)
"The gliding rocker became the most expensive cat bed ever."
46. A picture is worth a thousand words. (Kara DeSantis)
"Don't sweat the small stuff."
47. Do not diet. (Jenny Kanevsky)
"Make people bring you food and don't eat (just) your vegetables. You need a steak, you need pasta and you definitely need ice cream. You can have a side salad, but do not diet."
48. Personal hygiene is overrated. (Amanda Mushro/ Questionable Choices in Parenting)
"After a particularly long spell of not showering I thought 'Why the hell would I go DAYS without showering with just ONE kid?' Flip side, our water bill went down significantly."
49. Have compassion for your parenting learning curve. (Robin Berman)
"If you had any expectations about how good you might be at first time parenting, or about how easily it would come to you — throw them out. That serves no one. You are learning together, and your connection is what matters."
50. The colic WILL end. (Kimmy U)
"People were giving me those sympathetic, 'she must be a new mom' looks, and I was so embarrassed!"
51. Throw your Type A personality out the window. (Jenny Kanevsky)
"You can prepare. Let me rephrase, you will try to prepare. But there will always be unanticipated events."
52. Don't lie to seem like you have it together. (Ryan Osborn)
"When people ask, 'How is everyone doing?' Don't be afraid to say, 'We're exhausted and need help.'"
53. Spend the first month in your underwear. (Jill Simonian/ The Fab Mom)
"Living, breathing and eating in my scanty 'wardrobe' encouraged me to accept my changed body. I was inspired to not judge myself every time I passed a mirror."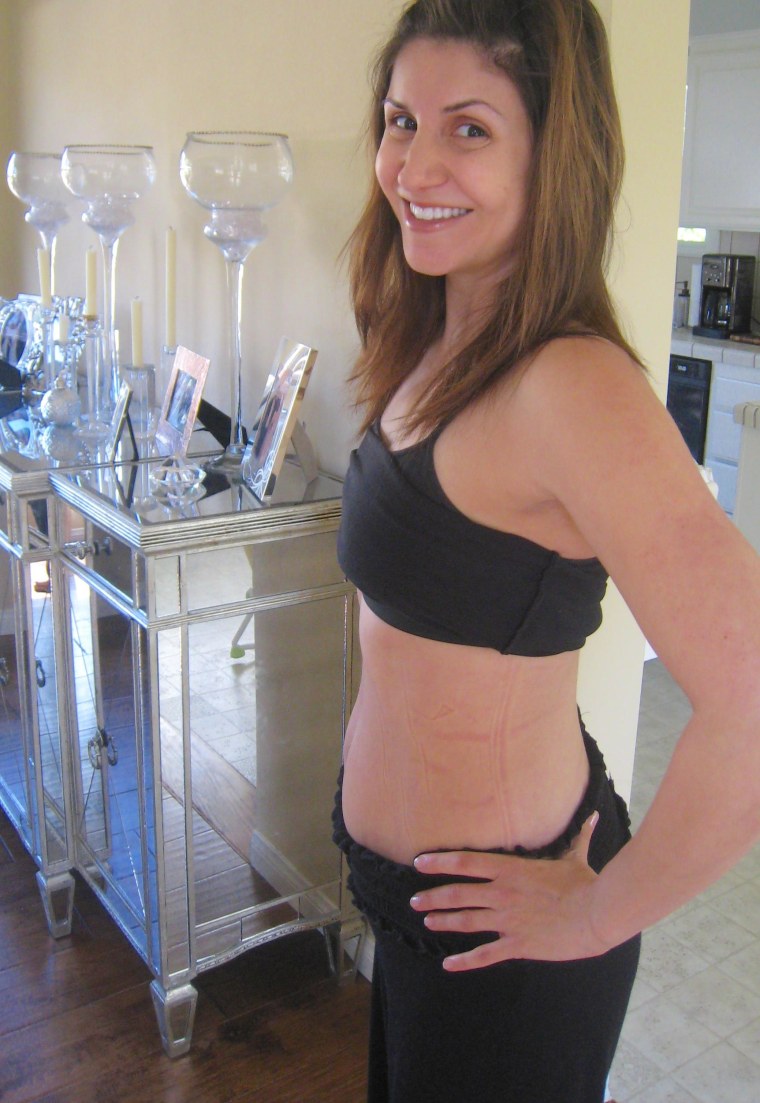 54. Giving birth is the happiest and scariest day of your life. (Liz Moctezuma)
"A multiple pregnancy and C-section aren't a walk in the park."
55. Prepare for intense emotions. (Ashley Duncan)
"I [wish] I had known the emotions I would feel after having the baby were as intense as they were those first 6 weeks postpartum!"
56. The first night at home will be tough ... but it will get better! (Marianne Jones)
"She cried, I cried, as I wished for nothing more than to be back at the hospital surrounded by my nurses who brought me huge cups of water every hour, stopped in to offer help with the baby, and made me feel like I was in a hotel!"
57. Stop playing the comparison game, especially with a preemie. (Kelly Heilmann)
"She's just getting the hang of rolling belly to back — and that's OK! I wish that I had given my daughter credit for her early arrival, and lowered my expectations of her and her development to that of her gestational age (not her chronological age)."
58. Parenthood is the greatest teacher of all. (Adventures by Tampa Mama)
"I was heartbroken, angry, mad, sad, livid, and torn. I didn't know anything to do but love."
59. Being clueless pays off in the long run. (Willie Geist)
"Every stretch, every smile, every touch, every meal, every burp, every oddly-shaped head or bellybutton, and even every crinkly diaper was cause for parental celebration."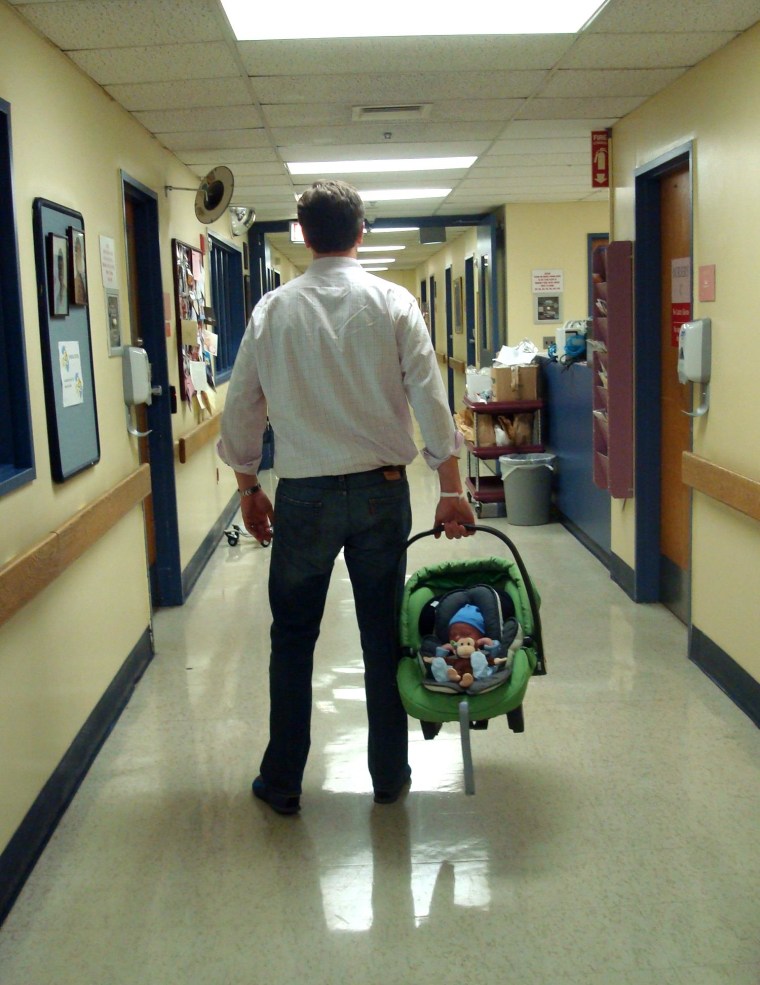 60. Don't look at other cute babies. (Or you'll want another one.) (Alicia Ybarbo & Mary Ann Zoellner/ Sh*tty Mom)
"When we see, smell or hear newborns we want run home and have 10 more of our own. Instead, we pull the alarm and call for backup. The cure for screaming ovaries? Chips and salsa, following by a margarita (or two)."
61. Set boundaries from the beginning. (Kathleen Lorkowski)
"My best advice to new parents (and not so new ones) is that you are your child's parent, not their friend."
62. You don't have to "lean in" to be a working mom. (Rachel Campos Duffy)
"Motherhood is beautifully life-changing. Instead of fighting its constraints, surrender to them. Realize that they are making you more patient, more wise and better prepared to pursue your dreams."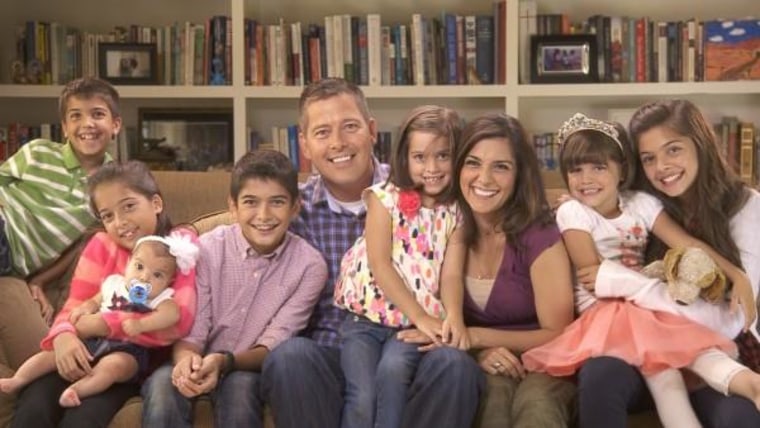 63. Stop over-thinking things ... and STOP GOOGLING. (Siri Pinter)
"I read books, I called my pediatrician, I compared my baby to the babies in my weekly email updates and I GOOGLED. Oh, Internet, you are so wonderful and terrible at the same time. And while I was doing all of this, my baby was growing up just fine, and very fast."
64. With boys, pee will go everywhere. (Lola Lolita/ Sammiches & Psych Meds)
"Cold air and bath water are instant triggers. I completely underestimated the number of times I'd be scrubbing pee out of my carpet and off my walls as a new mom."
65. Just laugh. (Ryan Osborn)
"Have a sense of humor. Parenting is ridiculous and funny. No one is fully ready for it and the only way to cope is often by laughing."
66. Know how to get rid of unwanted visitors. (Jenny Kanevsky)
"Family and well wishers can bring food, slow down to a crawl and wave from the car, maybe even come in. For ten minutes. Then you yawn a lot and start nursing. Whip out those giant lactating breasts. If they don't leave then, get a restraining order."
67. Make friends with your pediatrician's nurse. (Brandy Yearous/ Super Mom)
"Do not be rude or snippy with her if you had to wait in the lobby. It is not her fault, she doesn't do the scheduling. She does hold the keys to your doctor's day though!"
68. It's OK to not fall head over heels immediately. (What's in Your Genes?)
"Now I'm the kind of person that needs to warm up to someone a bit before I get close to them. What made me think it was going to be any different with my baby? Add postpartum depression to the mix and that made for one sad and guilty Mama."
69. Remember, social media is not real life. (Britta Merwin)
"Facebook posts and photo albums are like a highlight reel. You capture wonderful moments of joy but a lot of life happens between the moments on that highlight reel."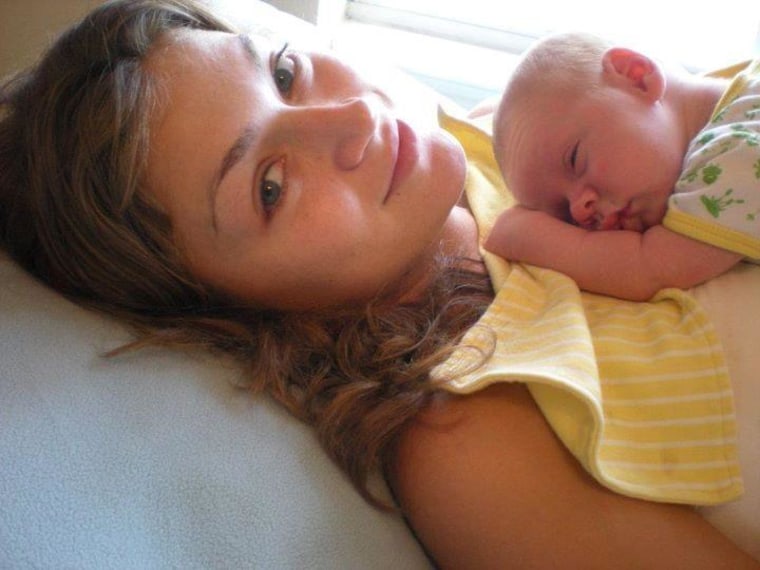 70. Every experience is a new learning opportunity. (Peter Laitin)
"Not knowing and experiencing what you don't know is what makes a great parent."
71. Don't be a helicopter parent. (Ali Wilkinson/ Run, Knit, Love)
"When they climb up to the top of the play structure, I shield my eyes from the sun and smile up at them proudly. When they have battles with sticks, I try to let it happen. When they want to play in the backyard and I'm in the middle of dinner preparations, I let them go. Because when it comes down to it, I have to trust my kids."
72. Let your body heal. (Tabytha Cantrell)
"It ended up taking me a little over 3 weeks until my body started to feel somewhat normal. So for anyone who suggests you sleep and rest when the baby rests, go for it. The dishes and laundry can wait for another day."
73. Make some noise! (Brandy Yearous/ Super Mom)
"Keep the TV on, play some music and run the vacuum. Your little one will get used to your family patterns. You will thank me later when your baby doesn't cry for every single little peep you make."
74. Remember: We're all in this together. (Kristen/ Oykristen)
"Let's end this cycle of mom angst and celebrate the sisterhood we've entered into. Whether you're a new mom, a wondrously wizened mom, a single lady, or someone who detests the thought of ever producing spawn, your camaraderie makes a spectacular impact."
75. Support your best friend in her time of need. (Wishful Crafting)
"When I got the phone call at 5 in the morning that her water broke, I dropped everything and booked it to the hospital. 12 hours later, Hadleigh Marie was born. And we were both in love."
76. Diaper cloths are great blankies. (Yael Federbush)
"Since most parents don't keep much in the crib to avoid choking hazards, instead of a blanket, throw in a diaper cloth they can snuggle with. It's small and easily replaceable. If you lose their lamb or bear blanket in the airport you're in trouble, but you can have 10 diaper cloths."
77. Trust one person: yourself. (Summer Bearden)
"Your mommy instincts know what your baby needs. Just trust them and try not to worry about every single thing; you will get the hang of it!"
78. Forgetting things is normal. (The Fog)
"Every conversation you have after giving birth will be a fog and disconnected. You can never finish complete thoughts or sentences because someone will interrupt you or your exhaustion will wipe your brain clean."
79. Point it down! (The Whole Family Project)
"With having worked with young children previously and changing hundreds of diapers before my own children, I learned quickly that you have to make sure the 'weewee' is pointing down when you finish up!"
80. The five magic letters: R-E-L-A-X. (Rachel Essling)
"I wish I wouldn't have been so tense, watching the clock, making sure I am holding him the right way, or worried about feeding in public. My advice is RELAX. I wish I could go back and tell my new mom self that exact word."
81. You'll love your baby more than anything or anyone ... even your puppy. (Anna Ross Kinard)
"You hear all these scary stories about lack of sleep, labor, all the crying, and about the horrific dirty diapers. People tend to leave out the story of the new love you find."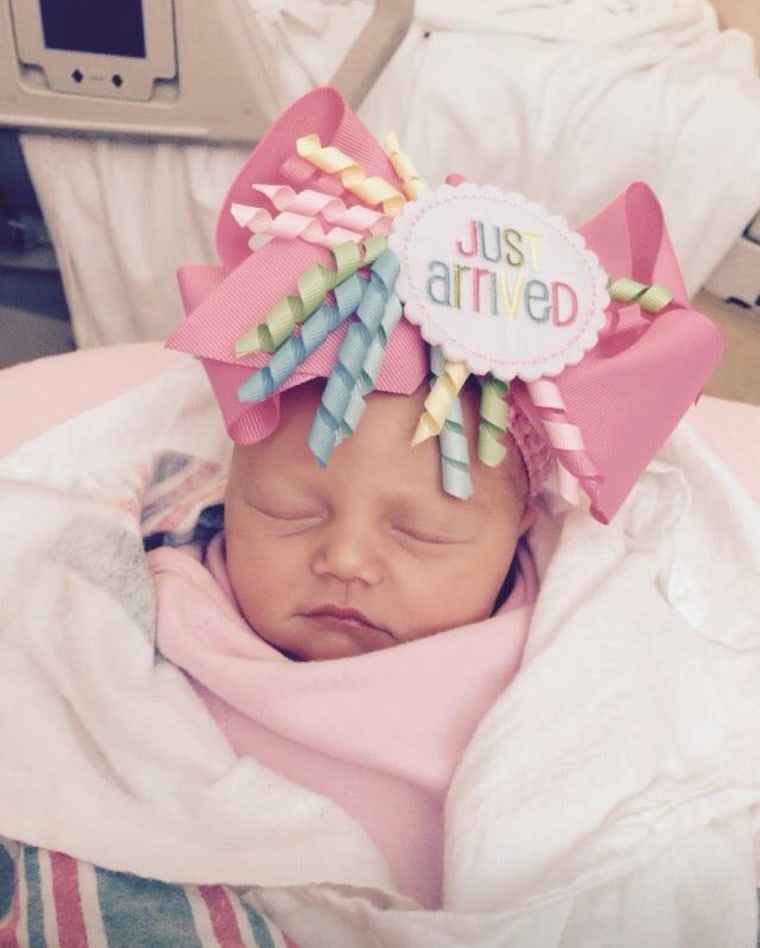 82. Enjoy the ride. (Joni/ Sound Heart, Sound Mind)
"It's a lot more fun than you ever expected..."
83. You can't hold the baby all day. (One Husband, Two Braids, Three Kids and 40,000 Adventures)
"Never have I been so thankful for Target and the array of options available in the baby recline and relaxation section. We bought a swing and a bouncer. Both of these items were a saving grace for bath time (mine!), when she was fussy in the wee hours of the morning, when I was cooking dinner."
84. Forget all the gadgets; it's getting baby home that matters. (Sarah Maizes)
"As the mother of a child who I had to leave behind in the NICU, I can tell you with great authority that there is only ONE thing you need that first night home from the hospital. Your baby."
85. Just because you've had two before, don't expect the third child to be easy. (YourTangoExperts)
"I wanted the third from the depth of my soul, I felt a calling to have him. Yet, when he came I struggled to manage it all. Three kids under five proved to be messy, frustrating and more challenging than I had heard."
86. One day at a time is a great mantra. (Rhonda)
"Take things day by day, don't be closed to opinions of other moms, and take advantage of the little things, lots of pictures, and all the free advice given to you."
87. Disable the "witching hour." (Yael Federbush)
"Get your baby to go to sleep BEFORE the witching hour hits. During this time of day the baby is tired, not ready to go down for the night but needs a little nap. Most babies will sleep if you take a walk outside or drive in your car."
88. Listen to what your baby is telling you. (Welcome to My World)
"After spitting up for days they might need a different formula. If they throw those peas at you they probably don't like them so move on to another green veggie and save the peas for another day."
89. What to know about those first diapers (Tammy Fine)
"Poopy diapers — no one ever told me that until your baby starts eating solids, what comes out of them will be equally unsolidified."
90. Buy more yoga pants. (Scary Mommy)
"Seriously. Invest in some great yoga pants."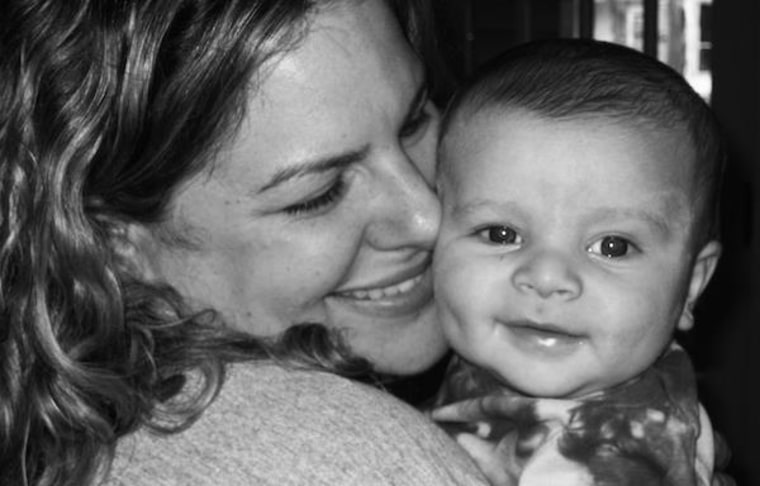 91. Instead of perfection, seek laughter. (Amanda Mushro/ Questionable Choices in Parenting)
"There is no perfect mom and there will be chaos for quite some time. Laugh at it and be like the rest of us and start a Mommy Blog."
92. You don't need all the stuff. (Germaine)
"You get a lot of stuff at your baby shower; you don't need to use everything all at once!"
93. Let the laundry pile up. (Robin Berman)
"Now with a grown son, I don't remember the belated thank you letters, or the piles of laundry that sat too long, but I still do remember the stillness of nursing my child in the middle of the night, of sending him waves of unconditional love as if we were the only two people in the world."
94. You are not a failure if you can't breastfeed. (Becky Johnson)
"What was most important was that I was happy. If I am happy, my son will be happy. Simple as that."
95. Let dad do it. (On his own.) (Scary Mommy)
"Don't micro manage dad. Let him do it. Go sit down."
96. It's OK to let the other twin wait. (Tammy Fine)
"With multiples... you won't always have the ability to do man-to-man coverage and will move to a zone defense. My pediatrician gave me great advice. Let them wait a minute or two."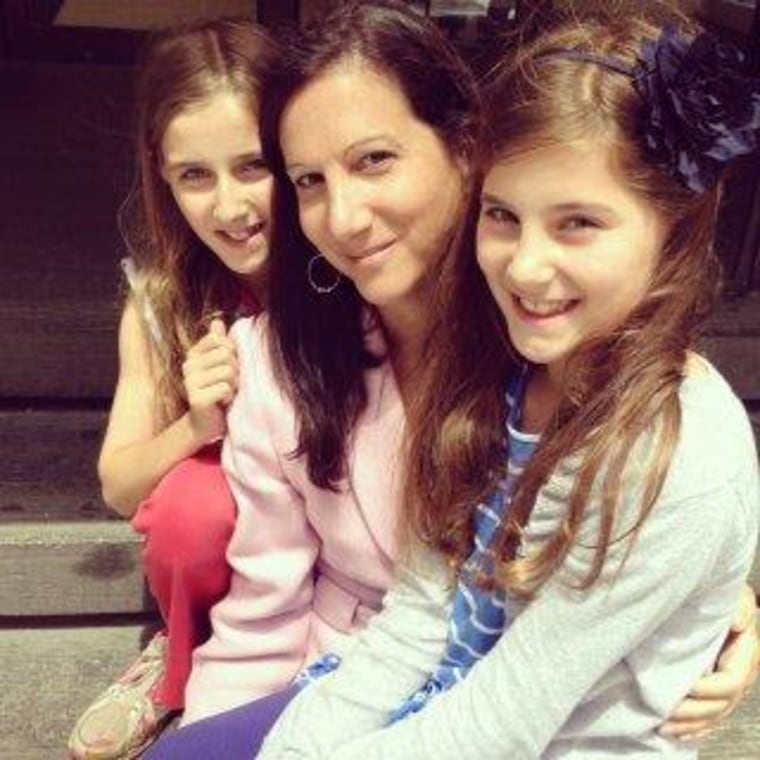 97. Internet search engines are the enemy. (Barbie Boone)
"I stopped reading all the blogs about sleep regression and feeding schedules and realized one thing. Those were some very knowledgeable people talking about THEIR babies."
98. Babies don't make a whole lot of sense. (Crazy Life of Smash)
"Guess what? There is no right way. Every 'way' has a fault. Do what works best for you and ignore anyone else who tries to tell you otherwise."
99. Tune out the negativity. (Deidre Kuechler)
"We were so wrapped up in the negative things we had heard that we didn't think it was possible to have such an amazing baby."
100. Unplug before you finally get some sleep. (Gina Pomponio/Mommy Posh)
"A good nighttime ritual's purpose is to let you sleep well and that means no notifications, sounds, lights or other interruptions."
101. Let your dog and babies adapt to one another. (Sueann Kropidlowski)
"I found myself raising my voice if [the dog] got too close but one day I thought to myself, 'would I act this way if it was a small human wanting to be included?' My answer, never would I dream of it! I changed my thinking and my actions that very moment."
102. Stop stressing about getting older. (The Excertasing Mama)
"I thought about pushing a stroller and changing diapers and thought to myself 'what kind of life is that?!' Well now I know."
103. Go on, cry yourself a river. (Amanda Mushro/ Questionable Choices in Parenting)
"Tears, lots of them. Some from your newborn and some from your toddler, but a whole lot will be from you. With a mixture of pregnancy hormones, exhaustion, and a dash of the terrible twos, it can be a real sh** storm."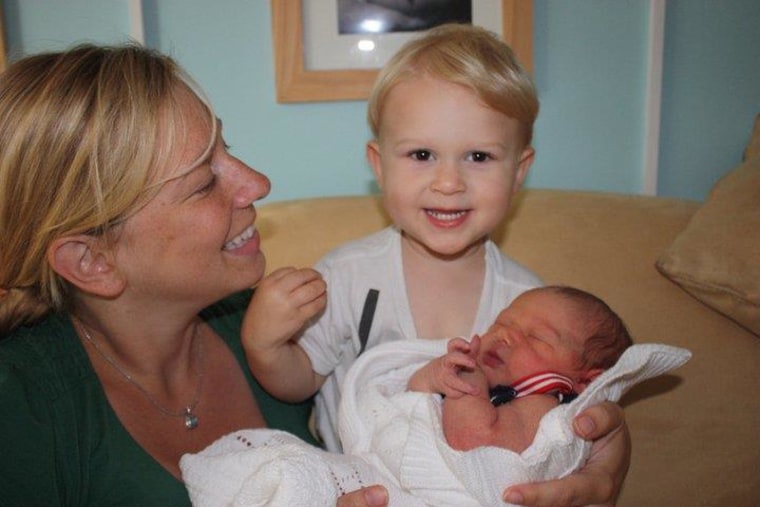 104. Rely on your community. (Down South Sass)
​"The best resource to have to make everything better: A Community. A Team. (Like TODAY Parenting Team!)"
105. There is no one right answer. (Katie Brewer)
"You keep trying until something works."
106. Take your infant everywhere. (Scary Mommy)
"Your baby will never again be this quiet or portable, so leave the house while you still can. See movies, eat out and run errands — those days are numbered!"
107. Let other people hold your baby. (Justine Bell)
"I just felt I had to do it myself, almost as if I would miss out on something if someone else were there."
108. Nothing lasts forever. (Cierra)
"I wish I would have known to just take a deep breath and remember, it all passes."
109. Life isn't scripted. You can't plan your family. (Kerry Sheeran)
"The family I had designed couldn't hold a candle to the one I got.​"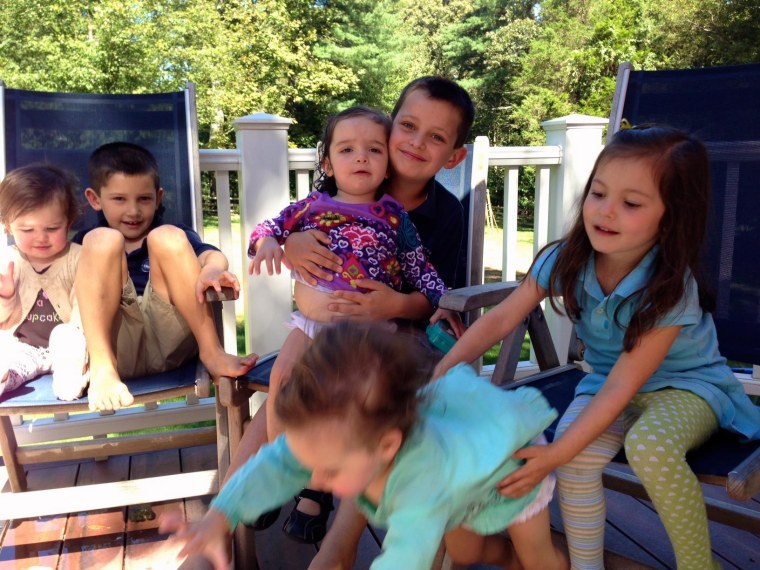 This story was originally published on March 13 at 3:10 p.m.