Forget double trouble — this family is experiencing double double trouble.
Britney and Frankie Alba, of Tuscaloosa, Alabama, are parents to two sets of identical twins, born 13 months apart.
Britney, a fourth grade teacher, and Frankie, a firefighter, are parents of sons, Levi and Luca, 18 months, and daughters, Lynlee and Lydia, 4 months.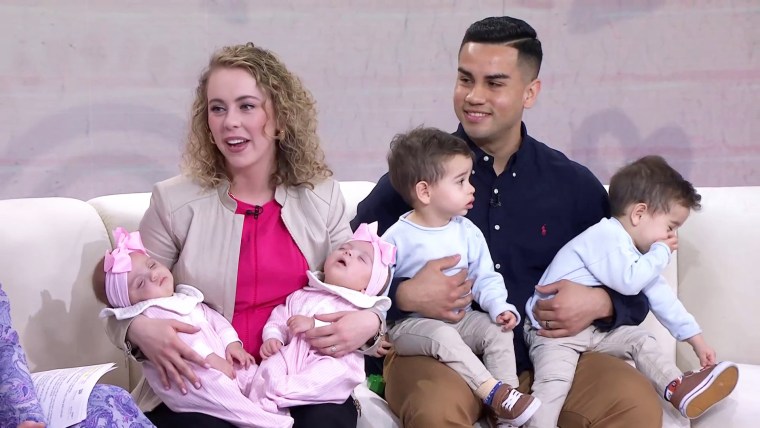 The entire family stopped by TODAY on Feb. 23 for an interview that was as chaotic as it was adorable.
"It's good to be back at work because, while this is my favorite job, I also did have kiddos at school that I needed to get back to, so it's nice to be back," Britney Alba told TODAY's Savannah Guthrie, Jenna Bush Hager and Sheinelle Jones.
It was at that point that one of the boys decided he'd had enough and got down on the ground to play with toy cars, with his brother following a short time later, which seemed to underscore how hectic parenting even just one set of twins can be.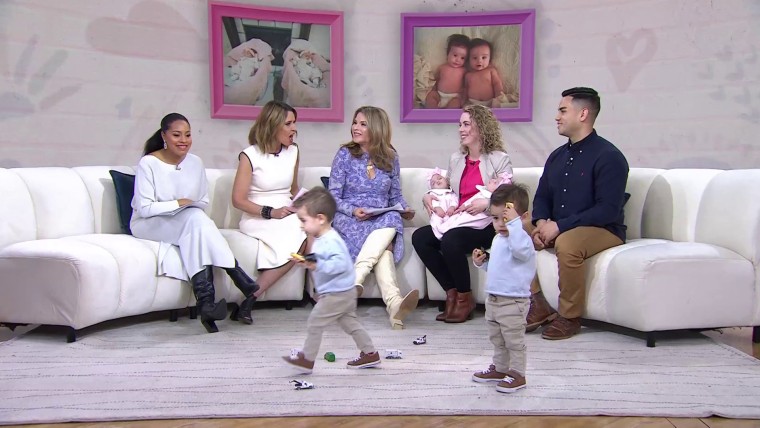 Lynlee and Lydia are momo twins, a rare type in which they shared the same placenta and amniotic sac. Because of the risk associated with it, Britney Alba was admitted to a hospital at 25 weeks pregnant, allowing doctors to monitor her babies for 60 days.
Now that they're home with four kids, the Albas said they just do their best to manage the chaos.
"A lot of times there's definitely that 'Oh, snap' moment. 'Oh, I'm by myself,' but with each other and by the grace of God, we're doing great," Britney Alba said while Lynlee and Lydia slept quietly in her arms.
At that moment, one of the boys raced off the set, prompting Sheinelle — a mom of twins herself to Uche and Clara, 10 — to chase him down.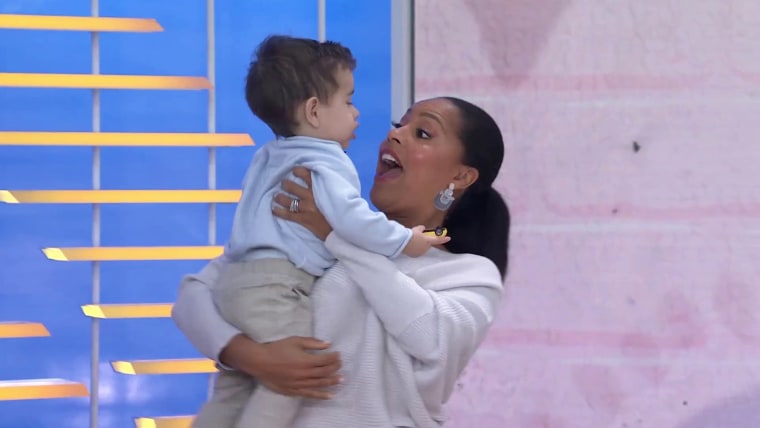 As the conversation continued, both boys darted away, sending Sheinelle, who is also mom to 13-year-old Kayin, off to corral them once again, while everyone chuckled. The toddlers continued to wander around the set, while Sheinelle kept after them.
The Albas are proving the old adage "it takes a village" has merit. Britney Alba said her school colleagues donated their sick days so she could have a maternity leave, while Frankie Alba said his co-workers did the same to give him time off.
They also get help from their family: On days when they work, one set of twins goes to Frankie's parents, while the other stays with Britney's parents.
The Albas said finding out they were having another set of twins was a surprise, but they never got rattled.
"It was definitely shocking, but also, for us, it was round two. So, we're like, we've never had just one baby, so let's do it again," Britney Alba said.
They can also take comfort in knowing that their kids will have a best friend for life, as Jenna shared that having a twin sister was "the luckiest thing that ever happened" to her.
"It's the best gift," she said.