First there were mom blogs. Then came dad blogs, and now the kids are blogging for themselves. Even toddlers have joined the craze. Kids are known for their brutal honesty and perhaps none is as honest, or as funny, as the Honest Toddler.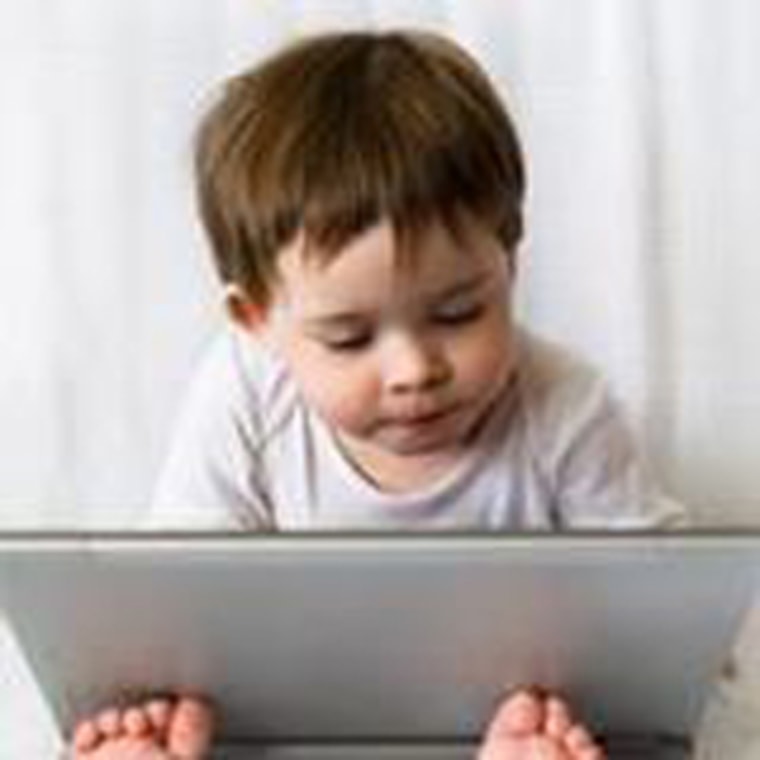 Hailed as the voice of a generation, Honest Toddler has already mastered blogging and has more than 148,000 Twitter followers. With the tagline, "Not potty trained. Not trying," the anonymous (adult) author behind this little imp is known for tweeting messages like "I'm just a child. Standing in front of a parent. Asking them to love me. And bring me Saltines. And red drink. And some lunch meat."
When not evading preschool enrollment or tweeting, the brain trust behind Honest Toddler is hard at work writing a book. This as-yet-untitled parenting guide is expected to hit bookstores in May 2013.
TODAY Moms recently sat down with the Honest Toddler over some juice and crackers for a little chat. If you're the parent of a toddler, be sure to read the interview below for helpful tips and insights. If you're not the parent of a toddler, be sure to read the interview below for reasons to be grateful you're not the parent of a toddler – and because this kid will make you laugh until you snort your juice.
Q: What message is Honest Toddler trying to get across to the parents of the world?
A: That just because you wear 2T doesn't mean you don't have ideas about life. And salad needs to be stopped.
Q: What do adults do that really annoys toddlers?
A: Use the Royal We. "WE don't hit." "WE use a spoon." Go ahead and do what you want but don't make assumptions.
Q: You seem to have a complicated relationship with Santa and Rudolph - can you tell us a bit more about that?
A: Santa loves me I love Santa but sometimes people and situations try to get between us. Rudolph is a good for nothing horse who knows nothing about friendship or loyalty.
Q: How should other toddlers handle communications with Santa?
A: Speak to him directly or your people spread rumors.
Q: The holidays are here and lots of families are traveling – what advice would you give the parents of the world about traveling with a toddler?
A: Don't be afraid to cry in public. I'm not.
Q: What's the role of "grandma" in the family?
A: Grandmas are the only people who truly know how to love so I'd say Love Expert.
Q: How's the potty-training going?
A: It isn't.
Q: We've noticed that you're a bit of an expert at stalling bedtime. What tactics do you recommend other toddlers try?
A: Ask emotional questions like, "Do you like me?" No one can ignore that. Poo if you can.
Q: Kids and parents often disagree about what makes a yummy dinner. What meal or food do you find the most offensive?
A: Anything in a casserole dish. Casserole dishes are for Rice Krispy Treats. When you make tuna bake it hurts your child's heart.
Q: Why do toddlers like to color on the walls so much?
A: It's the only paper that doesn't rip.
Q: Now that you're a big toddler, what are your thoughts on infants?
A: Infants bring nothing to the table. Yes they know how to work a room but I can't respect anyone who will knowingly take attention from someone else's mama.
Q: We've noticed that a lot of toddlers seem to get especially cranky around dinnertime -- say 5-6 p.m. Why do you think this is and what can parents do to stop it?
A: Jello can't hurt.
Q: Toddlers love to throw temper tantrums. Do you really hope we'll change our mind and stay at the park or is it just payback for all the times we said no during the day?
A: I prefer to call them "loud responses." Take them personally because you caused it.
Dana Macario is a Seattle-area mom who remembers the toddler days like they were yesterday – but that may be because they ended just a few months ago. Sniff.