/ Source: TODAY Contributor
Dressed in wedding gowns and holding bridal bouquets, they kissed him on his cheeks and linked arms. Though twins Becca and Sarah Duncan weren't actually getting married, they captured the tender father-daughter wedding-day moments with their ailing dad.
The Duncan sisters posed for a photo shoot with dad Scott Duncan, who has Alzheimer's disease, mindful that their dream of having their beloved father give them away and dance at their weddings one day may not come true.
"We had the idea to take these pictures because there is a big chance Dad won't be there for our wedding," Sarah Duncan told TODAY. "We wanted to have the memory of our father seeing us in a wedding dress and the memory of these pictures that we're probably not going to get on our wedding day."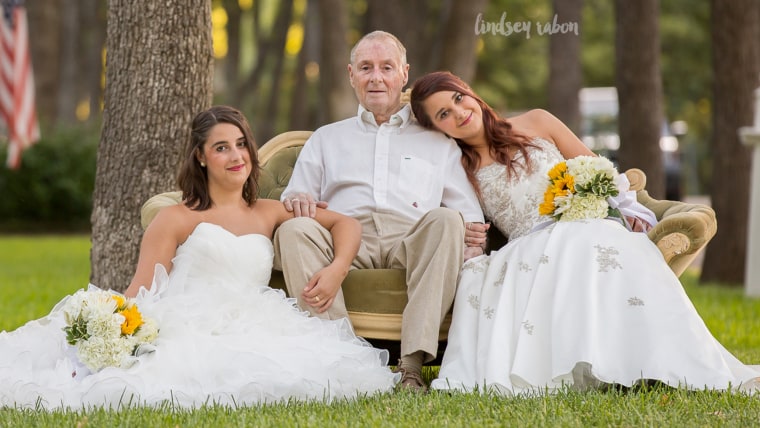 The identical twins, 23, took photos with their 80-year-old dad in July of last year, shortly before he was moved to a care facility near their home in Grapevine, Texas. Before that, the sisters were his full-time caregivers for two years, putting their college educations on hold, while their mother, Pamela, 60, worked as an art teacher.
The sisters, who have a 24-year-old brother, Joe, say their dad means the world to them and did everything he could to make his children happy. He coached their sports teams, attended PTA meetings and put others before himself.
Never miss a parenting story with TODAY's newsletters! Sign up here
"He's our superhero," Sarah Duncan said. "He's the most fun-loving, outgoing guy you'll ever meet. I want him there for my wedding so bad, but knowing he might not be there breaks my heart."
The sisters were happy while posing with their dad during a 15-minute shoot in the summer heat.
"We had a great time," Becca Duncan said. "Dad had a lot of fun, his two girls by his side. It was really awesome."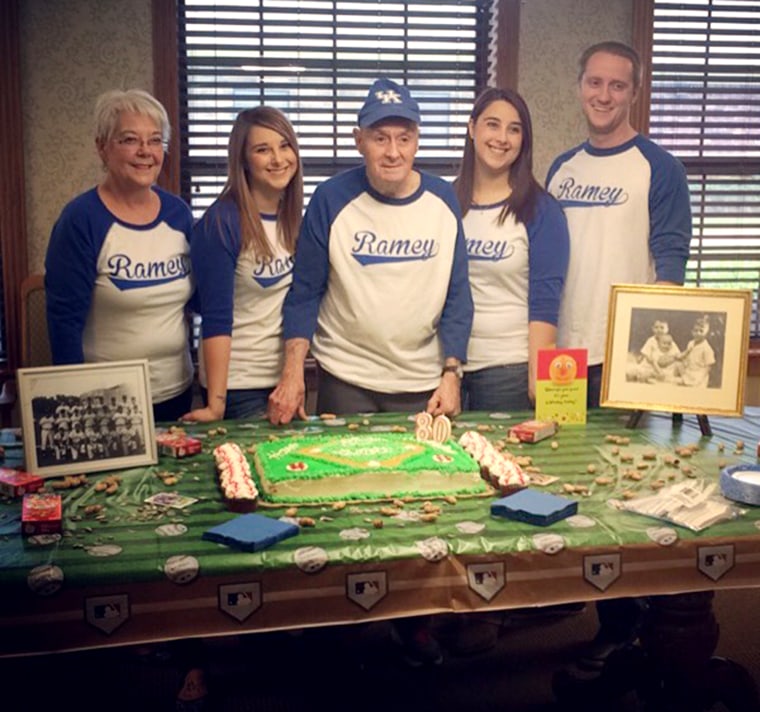 Scott Duncan, who was diagnosed with Alzheimer's in 2012, wasn't aware of exactly what was happening during the photo session, but knew that his girls were in wedding attire and he was joyful, Sarah Duncan said.
"He loved seeing us get dressed up like that," she said. "He got the biggest smile and his eyes watered up. You could tell he was proud that we were his daughters."
The sisters, who were single at the time and now have serious boyfriends, came up with the idea for the pictures together, having seen other people take wedding photos with an ill parent.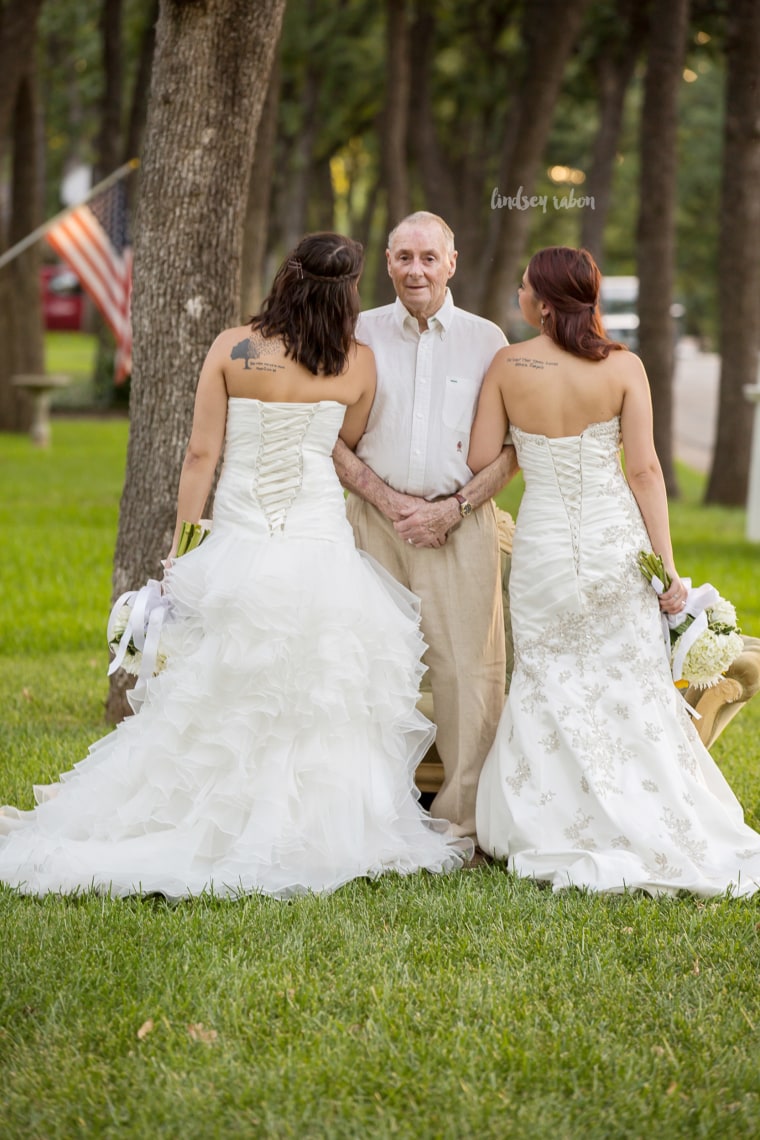 "We wanted to do a first dance and record it to play it at our wedding," Sarah Duncan said. "He wasn't in physical condition to do that, so we thought the pictures would be better."
To make the photos a reality, the sisters sought help from Facebook friends. About 10 wedding gowns were offered and the bouquets were donated as well. A family friend, photographer Lindsey Rabon, took the photos free of charge.
The sisters will serve as honorary co-chairs of the Alzheimer's Association's Walk to End Alzheimer's in Grapevine next month.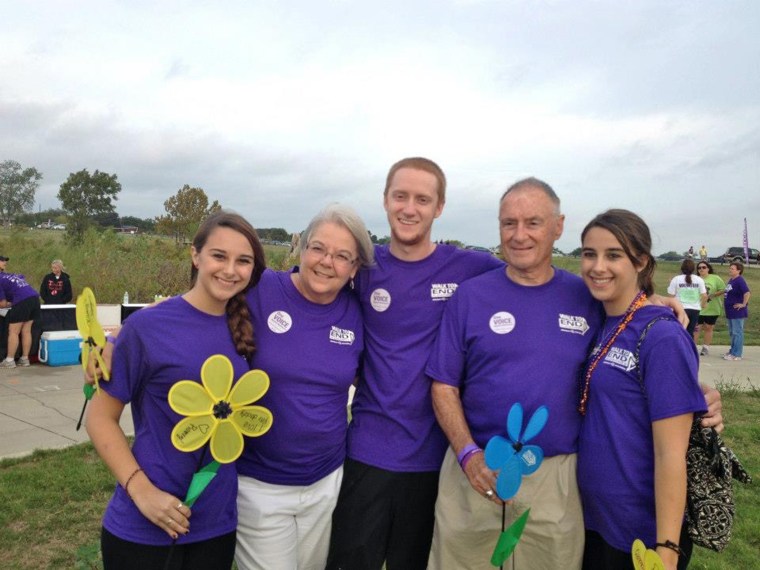 They are grateful they took the photos when they did, as their dad is now in the later stages of Alzheimer's. "His disease, it's just progressed so fast," Becca Duncan said. "There's no way we'd be able to do it now."
"I'm very blessed we got to do this with our dad," she added. "Looking at the pictures brings back the memories and good feelings. They're hanging in his room and it's nice going in there and seeing it. It means a lot."
TODAY.com contributor Lisa A. Flam is a news and lifestyles reporter in New York. Follow her on Twitter: @lisaflam