Twins usually spend a lot of time together. Some even have the same hobbies and enjoy the same activities. But...giving birth together? That's where most sibs would draw the line.
Not Karen Escobar and Kathy Escobar, the identical twin sisters who delivered their babies within hours of one another last week.
You'll likely be relieved to find out that this wasn't a planned activity.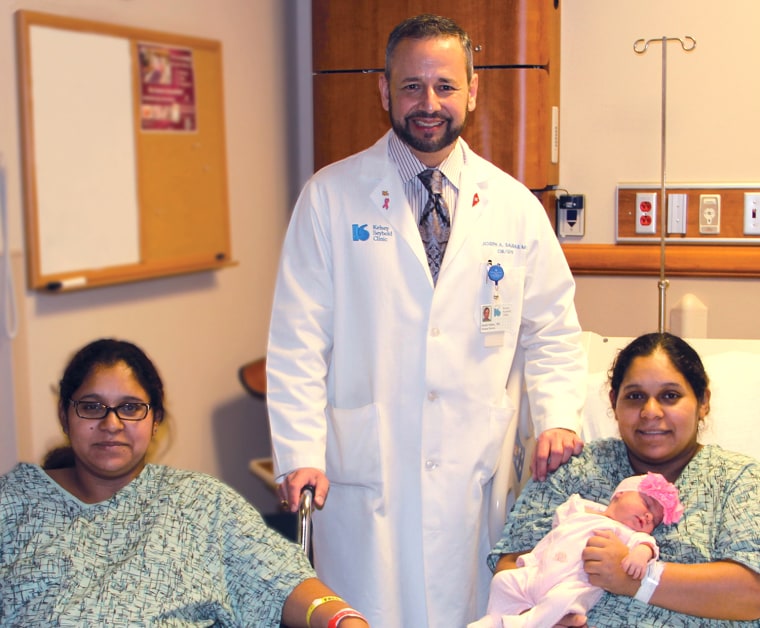 "[They] never thought they would be delivering on the same day," Ashley McClellan, CEO of The Woman's Hospital of Texas, wrote in a press release.
Karen showed up at the hospital this past Wednesday, June 17, though she wasn't actually due until July 31. She thought she might be having contractions, so she'd asked her sister to come with her to the hospital to be her "support person" just in case she actually had the baby.
Kathy, meanwhile, was due to deliver on June 20.
After doctors confirmed that Karen was indeed experiencing the initial stages of labor, Kathy began to have some pains of her own. She was also examined and subsequently determined to be in labor as well.
And the rest is history.
Dr. Devanshi Somaiya delivered Kathy's healthy daughter at 5:33 in the morning, and Karen delivered shortly afterwards at 7:42 a.m.
McClellan went on to add that "both moms and babies are doing very well."