/ Source: TODAY Contributor
They ran out of gas and their backup was too far away. Would Wonder Woman and Captain America complete their mission to bring heroic cheer to a boy's 4th birthday party?
Luckily for these superheroes, they found a good guy of their own in their hour of need.
It was New Hampshire State Police Trooper Mark Suttmeier to the rescue when the costumed characters ran out of gas on the way to the birthday party Sunday morning.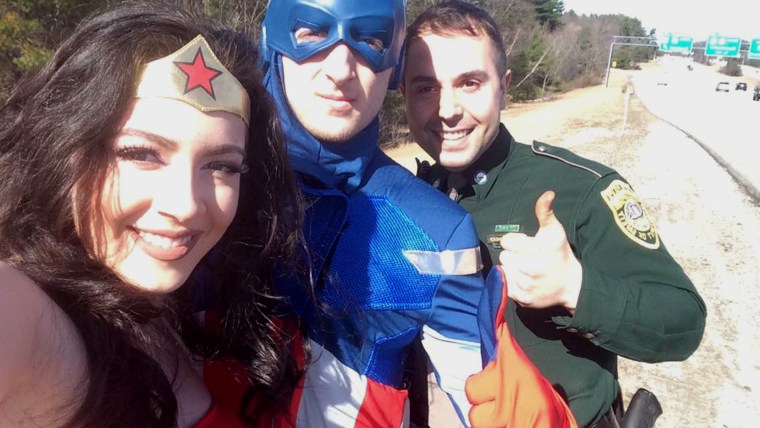 With his lights flashing, Suttmeier delivered Carter Buchan's favorite superheroes to his party on time, and the boy and his 18 friends cheered when they arrived.
RELATED: Girl with a rare bone disorder has just one adorable birthday wish this year
"The day was perfect," Carter's mom, Venessa Buchan, of Hooksett, told TODAY.com. "A small act of kindness goes a long way. In all reality, three superheroes showed up to his party. Mark saved the day."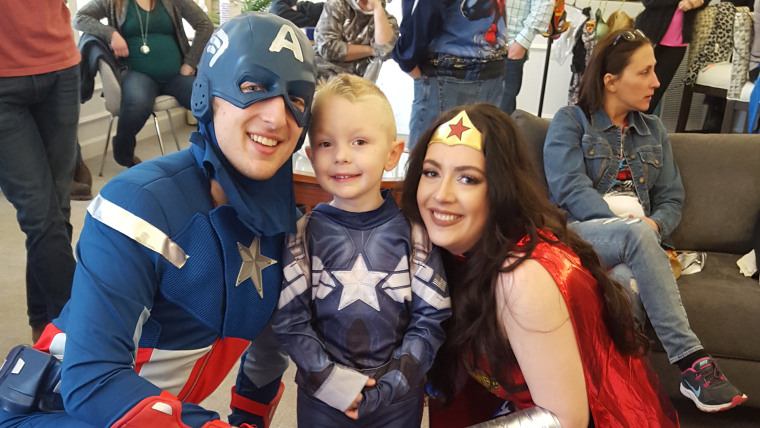 When the pair got close, Buchan coaxed the kids outside.
The youngsters were excited to see the superheroes emerge from the back seat, and thought their ride was pretty cool too.
"They thought the police car was awesome," Buchan said. "It added a special touch to the party."
I RELATED: 'I really loved him': Adorable 4-year-old loses it over Manning's retirement
The characters' visit was a surprise for Carter's superhero-themed party.
But before the costumed pair found their knight in shining armor at around 11 a.m., though, Wonder Woman, aka 21-year-old Madison Pais, was starting to panic.
She and Captain America, 18-year-old Ben Dobrusin, sat in her 2000 Honda Accord on the side of Interstate 93.
The car had run out of gas, and she feared they would be late to the party and that she would lose her job.
Pais called her parents for a ride, but they couldn't make it in time for the 11:30 a.m. gig.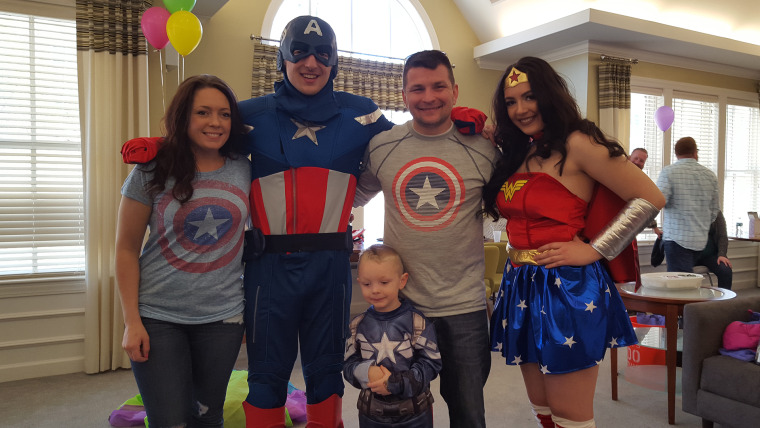 Suttmeier saw the car packed in a dangerous spot in the breakdown lane and stopped to check on them.
Using his cruiser's push bumper, the trooper guided the car to a nearby gas station, but neither superhero had money on hand for gas.
Suttmeier then told the duo to hop in the back of his cruiser.
"I felt more like a damsel in distress and he was the true hero," Pais says.
The trooper said the two "seemed really full of life and like really, genuinely good people."
"Instead of giving up, they were doing anything they could to make this boy's birthday as good as they could and to keep their word," Suttmeier told TODAY.com.
Pais was grateful for the help, and the pair took a photo with their newfound hero to remember the moment.
"He saved me from losing a job that I desperately need and adore," she said. "I felt like someone's watching over me."
Carter and his friends thanked Suttmeier and had an awesome time playing games and getting their faces painted by superheroes.
As for Wonder Woman and Captain America, they still working for good — after a little help from a man in a different kind of uniform.
"I guess even superheroes need troopers," Suttmeier quipped.
TODAY.com contributor Lisa A. Flam is a news and lifestyles reporter in New York. Follow her on Twitter: @lisaflam