/ Source: TODAY contributor
Threes are definitely wild for Amanda and Matt Faher. The two 30-year-old attorneys welcomed identical triplets into the world on their third wedding anniversary — Sept. 30 — after 33 weeks of gestation.
"They were a great anniversary gift," Matt Faher told TODAY's Ann Curry Thursday from his suburban Pittsburgh home. With him were his wife and the obstetrician who delivered the babies via Caesarean section at Allegheny General Hospital, Dr. Jennifer Celebrezze. The triplets, born prematurely, are still in neonatal intensive care at the hospital.
"We just love them so much," Amanda Faher told Curry. "Every day they just get stronger. Their personalities are coming out. We love being with them. We can't wait to get them home."
Amanda confessed that it wasn't her choice to deliver her instant full house on her anniversary. "We were hoping to celebrate that separately," she said.
One in a millionBut, as is often the case with multiple births, Amanda was suffering from preeclampsia, as well as other hazardous conditions. With the babies at 33 weeks, Celebrezze made the call to deliver them to protect their mother.
Identical triplets — which are called spontaneous triplets in the medical literature — are a rare occurrence. In the United States, Celebrezze said, the odds of such pregnancies are one in a million. In other countries, the odds go as high as one in 200 million, which is higher than the odds of winning the Powerball lottery.
Curry suggested the Fahers, who are both attorneys for the Geary Loperfito and Faher law firm in Vandergrift, might consider buying some lottery tickets. But Amanda indicated they appear to have already used all of their numerical luck with the triplets.
"We buy the Powerball tickets occasionally," she said. "We never seem to get more than one or two numbers."
Two, then threeThe Fahers learned that Amanda was carrying triplets during a routine ultrasound 18 weeks into her pregnancy. The technician saw two fetuses, then spotted another. Understandably, Amanda was shocked — but she still had the presence of mind to ask the technician to please not find any more.
As the pregnancy progressed, Amanda contracted preeclampsia, a condition associated with multiple embryos that causes high blood pressure and toxemia late in the pregnancy. She also developed gestational diabetes.
Despite the complications, Amanda continued working from home during her pregnancy. As the preeclampsia intensified, she entered the hospital in mid-September.
After eight days, Celebrezze decided to perform a Caesarean. As it happened, it was Amanda's 33rd week of pregnancy, and the date was Sept. 30 — the couple's wedding anniversary.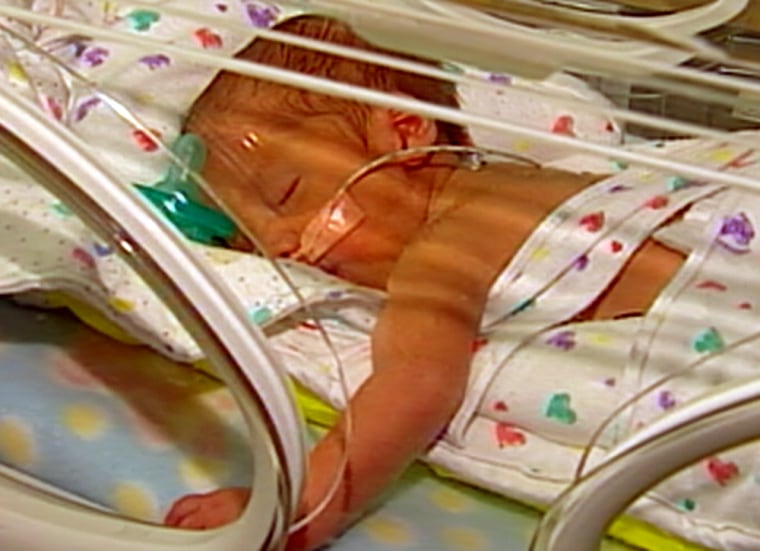 Despite their prematurity, each of the boys weighed more than 5 pounds. Matthew Aaron came first, at 5 pounds, 4 ounces. Seconds later came Nathan Brady, the largest at 5 pounds, 5 ounces. Michael Christopher was born a minute later at 5 pounds, 1 ounce.
The boys' middle initials — A, B and C — reflect their birth order.
The infants are still learning to eat, but Celebrezze reported all are healthy and expected to be going home soon.
Not always look-alikes
Identical triplets all come from one fertilized egg. It can either split into three embryos, or it can split into two, with one of the embryos then splitting again.

Identical triplets don't always necessarily look identical, and it is possible for one of the babies to be right-handed while the other two are lefties, or vice versa. They are always the same sex and have the same blood type.
"My wife did a wonderful job of carrying these babies," Matt Faher said. "They're all healthy and all doing well."