Never underestimate the power of brotherly love. 
Eight-year-old Noah Aldrich didn't want his 6-year-old sibling Lucas — who is confined to a wheelchair — to miss out on a youth triathlon this month, so he pulled and pushed his little brother the whole way as he swam, biked and ran in the sweltering heat.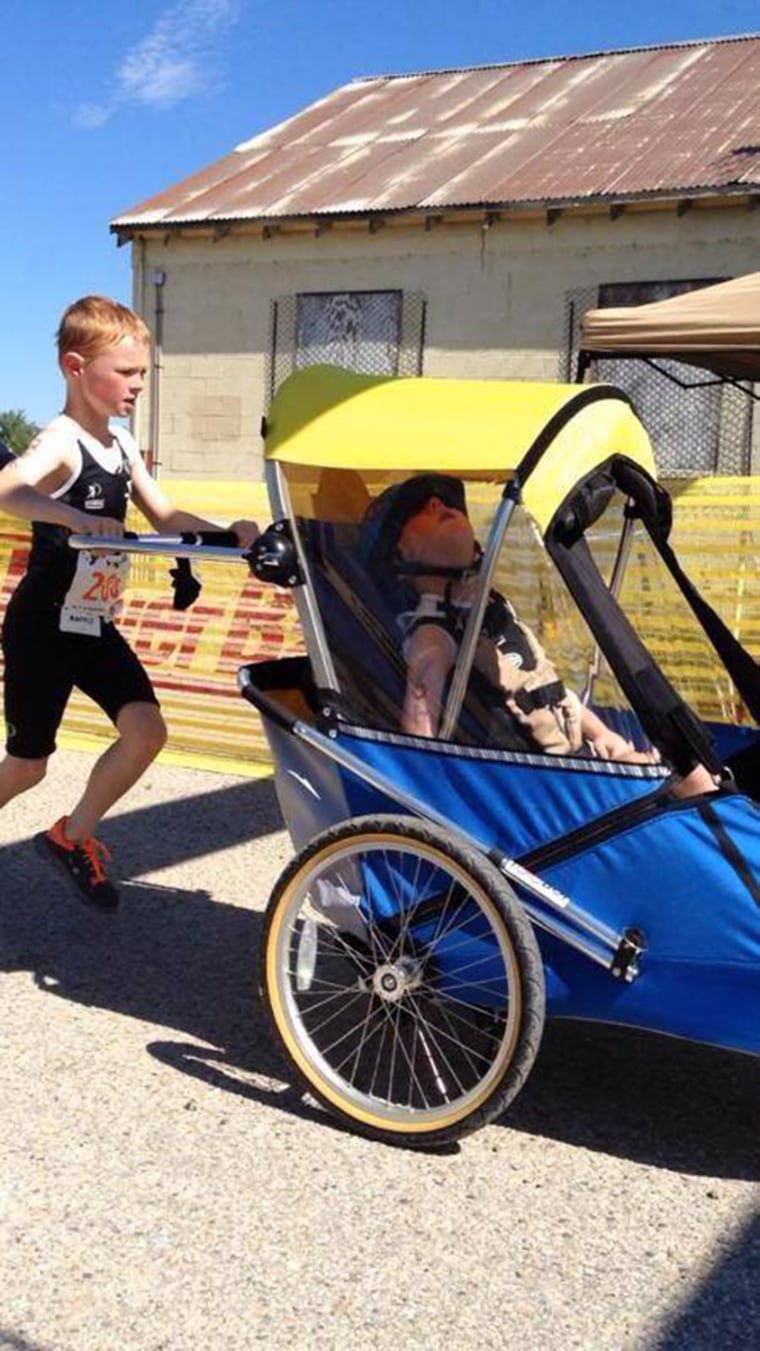 His determination didn't surprise his parents, who said the brothers are inseparable.
"They have an amazing bond. They're best friends and they do everything together," mom Alissa Aldrich told TODAY Parents. "The connection and the love that they share is truly unique."
"I like everything about him, he's perfect," Noah told NBC News affiliate KTVB in Boise, Idaho, about Lucas. The boys watch cartoons together and go on walks and bike rides, with Noah pushing and pulling Lucas in a special buggy.

Watch: Boy helps disabled younger brother finish triathlon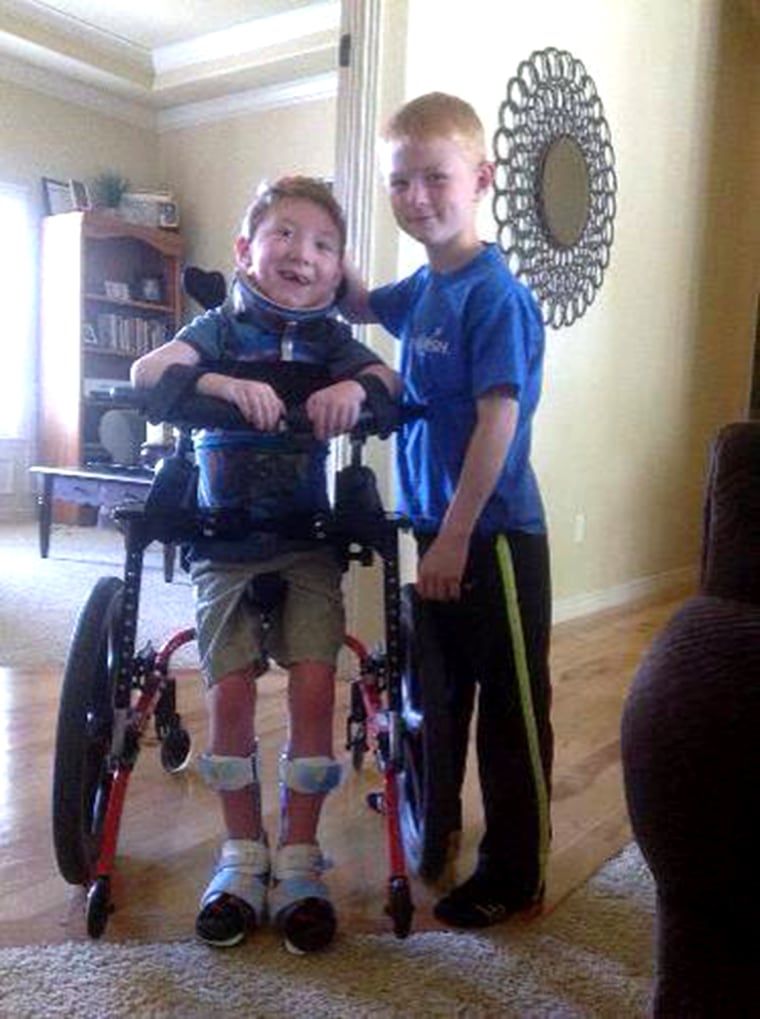 Lucas was born with lissencephaly, a rare brain malformation. Children with the disorder -- which literally means "smooth brain" — are missing the normal folds and wrinkles in the cerebral cortex, according to the National Institute of Neurological Disorders and Stroke. Lissencephaly occurs in only one in 85,470 births and can result in seizures, difficulty swallowing and other serious health problems, according to The Cortical Foundation.
Aldrich said her pregnancy was routine and the boy's birth was normal, but the family was alarmed when he started to cry for hours on end when he was 3 months old. An MRI revealed the disorder.
Doctors told Lucas' parents that the boy would be non-verbal, could not eat on his own, and he would spend his life in a wheelchair, but he's doing much better than everyone expected, Aldrich said.

"He can't walk, he can't talk, but he's the happiest little guy you can ever imagine and he just loves being around people," she noted. "He's learning how to communicate with us more and more but there's definitely a lot in there — he just can't get it out."
Lucas recognizes his parents, but he is particularly happy when he sees his big brother Noah. His eyes light up and he starts moving his arms and legs with excitement, which his family calls his "happy dance," his mom said.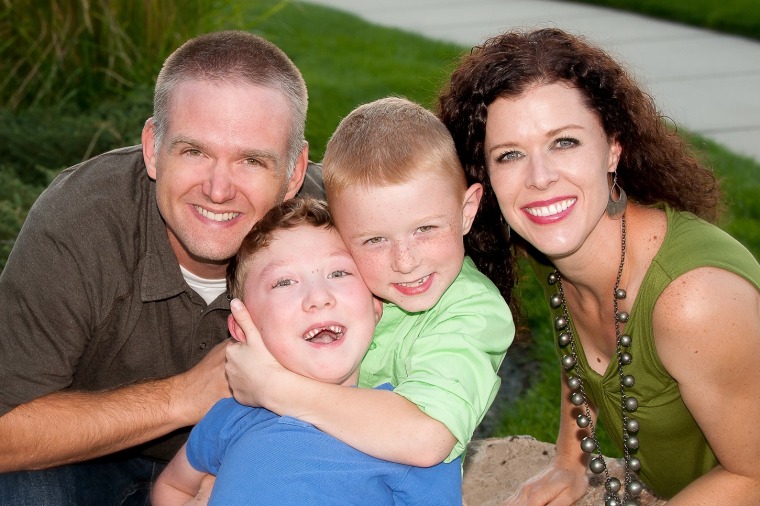 The family is active and does everything together, so Lucas has been on a plane ride, a 4-wheeler ride, has done adaptive skiing, and went to Disney World as part of a Make-a-Wish trip of a lifetime, Aldrich told KTVB.
When Noah heard about the local YMCA youth triathlon, he told his parents he wanted to take part and take Lucas along. He started training the next day.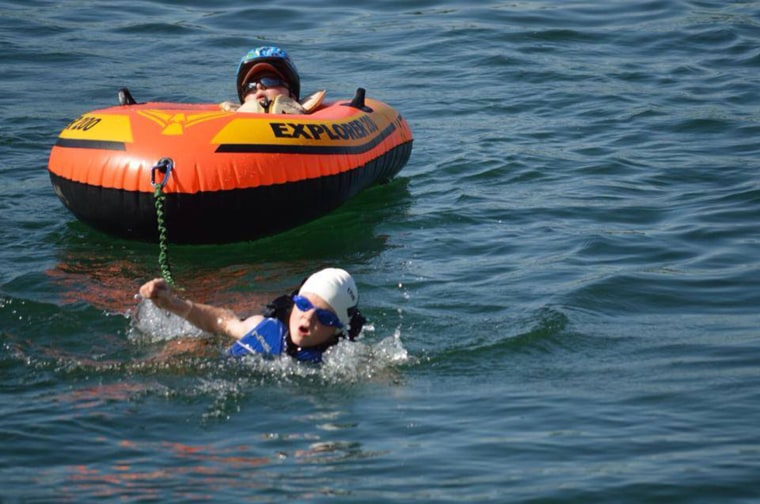 Noah trained for almost three months, particularly swimming. He could barely swim across the pool before he set his mind on the triathlon, Aldrich said.
On July 12, Noah was nervous as the big event began. For the swimming portion, he had a harness around his chest that was attached to an inflatable raft that held Lucas. He swam 200 meters, then biked for three miles while pulling Lucas in a bike trailer, and finally ran one mile while pushing Lucas in the special buggy. 
It was hot — around 95 degrees, his mom estimated. Lucas weighs almost 50 pounds and his bike trailer another 40 pounds, so Noah was pulling almost 100 pounds behind him when he was on the bike. But it was another part of the race that he found the most exhausting.
"Running, because it's at the end and you don't have very much energy," Noah told TODAY Parents.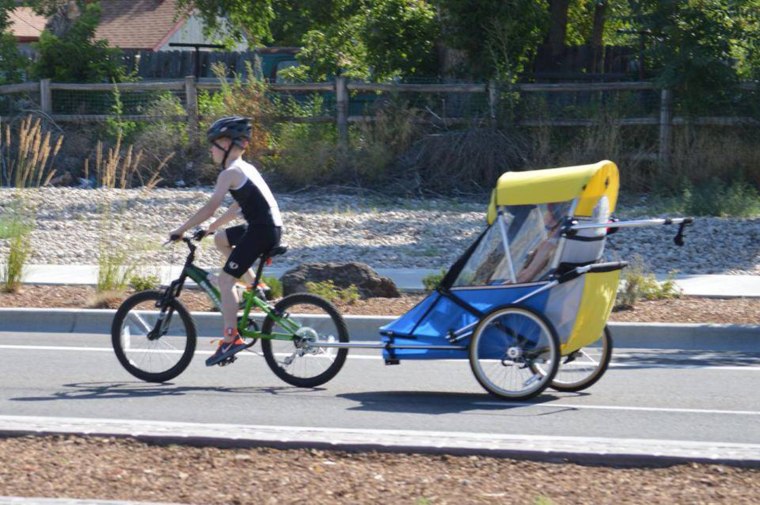 Meanwhile, Lucas loved the whole experience. 
"When we got him out of the water, he had the biggest grin that you would have ever seen (and) I know he enjoyed the bike and the run," his mom said.
"Our goal with the whole thing was just to have fun. You can live life without limits."
As Noah crossed the finish line to applause, the race announcer had just one word: "Extraordinary." Noah's family thinks so, too.