When I was growing up, holidays were special occasions that were meant to be celebrated. On Independence Day, we would light fireworks in our cul-de-sac. Thanksgiving and Christmas were about getting together with family. And Halloween was a time to decorate the house, carve pumpkins and get creative with costumes.

My costumes evolved over the years, from the store-bought plastic Snoopy outfit when I was 5 to the 7UP can I made out of posterboard to my personal favorite — a three-headed monster costume made from an old sheet draped over my sister, my best friend and me, complete with deely-boppers we wore on our on our heads. Trick-or-treating was a challenge that year.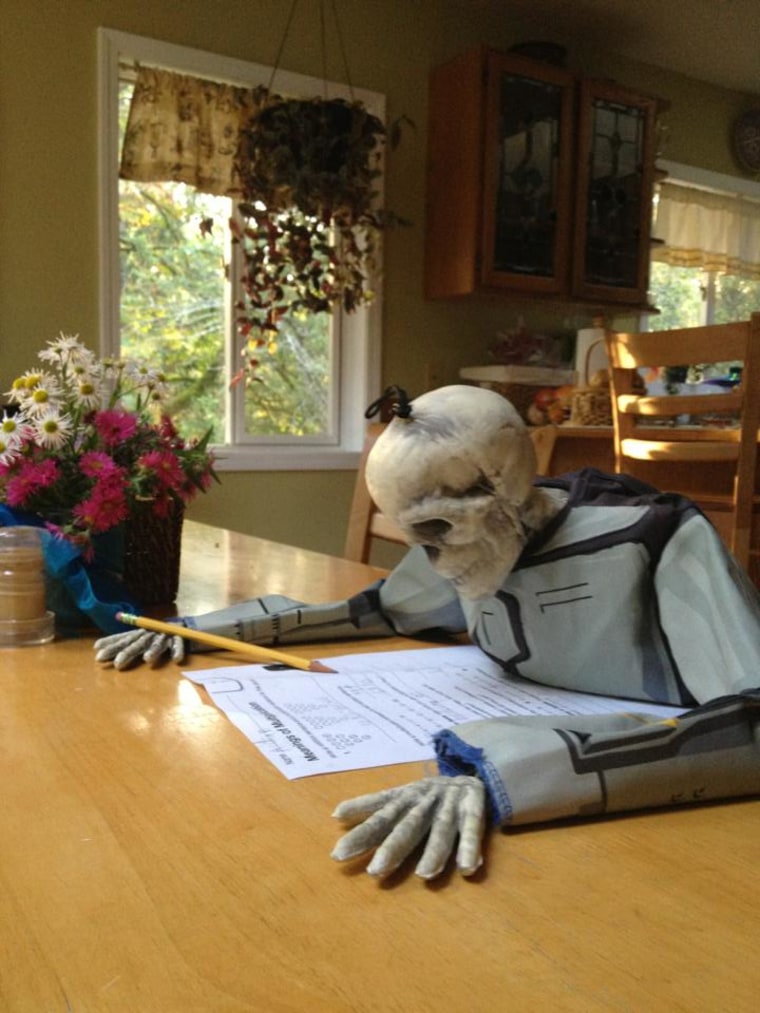 There were a lot of kids in our neighborhood, and on Halloween night we would roam the streets in packs as soon as it got dark, usually while our parents stayed home to pass out candy. After an hour or so, we would venture home with a pillowcase stuffed with goodies. My father always insisted that he examine the candy before we could eat it – this was back in the days when Tylenol cyanide poisonings made the news and Halloween stirred up fears of razor blades or needles in treats. He never found anything suspicious, but I secretly suspect that he might have eaten one or two of my Snickers bars.
When my husband and I bought our first house in October 2001, we hosted a "haunted housewarming" costume party -- complete with black light, a cobweb-covered hallway and 4-foot spider on the wall. This was just weeks after the Sept. 11, 2001, terrorist attacks, when the nation was still reeling from shock. In such uncertain times, it was comforting to spend an evening surrounded by friends, and Halloween that year was a welcome distraction.
Now that I have children, I've wholeheartedly embraced many of the family traditions that I grew up with – and even created a few of my own. Every October, we venture out to one of the nearby farms to pick out pumpkins, race through the corn maze and take family photos. We carve jack-o-lanterns with friends, a fun social event sandwiched between the craziness of the start of the new school year and the onset of the rainy, gray Seattle winter.
Related story: Orange is not the new black: Why I hate Halloween
We always decorate the house for Halloween, but not over-the-top: We slap a couple of pumpkin cutouts on the window and hang a string of "Happy Halloween" lights above the fireplace. We have "Steve" the skeleton, who usually hangs on the front door but who my 9-year-old son occasionally likes to pose around the house — such as playing a guitar or doing homework or dressed in a pirate outfit with a knife in its chest. On Halloween night, we have a line of tea light lanterns extending down the driveway, to encourage trick-or-treaters to stop by.
Before my husband and I had children, we had met very few of our neighbors. Now we know the names of most of the kids up and down the block, and some of our neighbors really get into the spirit of Halloween. One year a couple across the street created a haunted house for the trick-or-treaters. Another Halloween, a neighbor invited the kids over for s'mores and cider before we hit the houses. Last year, friends down the street gathered at a firepit in their front yard and offered warm adult beverages to the moms and dads chaperoning costumed kids from house to house. 
I'll admit, Halloween is a weird tradition. Dressing up in costumes and begging strangers for candy? But what I like best about Halloween is that we are making memories. We are participating in our community. Like many Americans, our family has faced our share of struggles over the past five years. But despite tough times, I like that we can still celebrate traditions with our children — and show them it's always possible to have a little fun.