Even in second grade, when so many kids can't decide what movie to watch or which Lego set to build, Daniel knew precisely who he was and how he wanted to live his life.
Case in point: At age 7, he told his parents he wanted to transition. They sat down together as a family to begin to formulate a plan for the school to handle it as seamlessly as possible. But Daniel beat them to the punch. On his own, he met with his principal himself and told him what was going on.
It was no surprise to his parents, Sara and Micah. They knew that from an early age, Daniel identified as male.
"As early as 3 years old, he was choosing masculine boy clothes. We had cute dresses and he would turn up his nose at them. He would tell us he felt like a boy and wished he was a boy. It didn't click to us until he was often misgendered. People would call him our son. I asked Daniel if he wanted us to correct people. And he said, 'No, I want to be a boy. I feel like a boy.' At that moment, something sunk in in a new way for us," said Sara. "We're finally getting it. This is really deep and really important. We helped him find the words."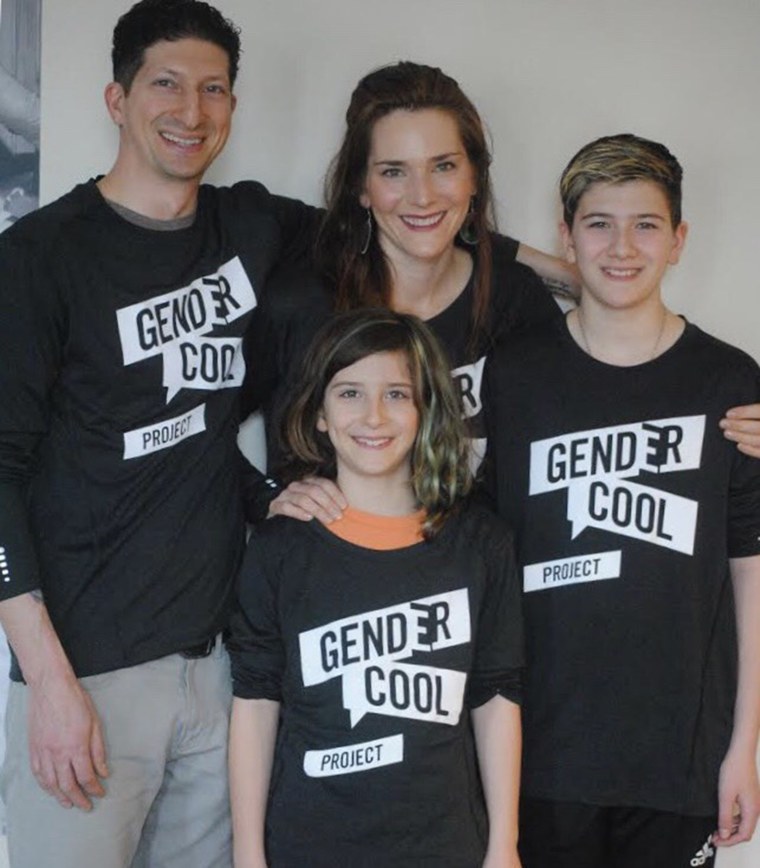 Sara and Micah knew it was not a phase.
"It's the consistency. It's the persistence of comments and feelings. It's an ongoing feeling that the kids have. As adults, when you listen and stop trying to put our ideas on what they need to be, that's when they can shine," she said.
Shortly after he spoke to the principal, his parents, along with someone from their local LGBT resource center, sat down with Daniel's class. Their approach: open and direct. His teacher told the kids that going forward, to refer to the child as Daniel and to use male pronouns. A letter went home to class parents. His parents said the reaction was positive and supportive and they said the change in him was immediate.
"He used to be very introverted. You want your child to be happy. That's what we focus on as parents. When you hear your child is so much happier now — who he is to the core — and that he gets to share that with the world? What else do you need as a parent?" said Micah.
He's now 12 and in seventh grade. He's an avid photographer and animal lover, with a menagerie of cats, dogs, chickens, a duck and hermit crabs. His school, said Daniel, has been totally accepting of his transition.
His go-to quote is courtesy of Oscar Wilde and perfectly exemplifies who Daniel is: "Be yourself; everyone else is already taken."
And now, Daniel is part of the GenderCool Project, a national campaign aimed at showcasing stories of what transgender kids are, as well as what they're not.
"Our kids are figuring it out. And that's OK. The more we can allow them to do this without anxiety or stress or shaming, it won't matter as much," said Micah. "There hasn't been an inkling of a doubt for Daniel and he's now 12. We can continuously dialogue and discuss these issues. Let people be who they are. They're not hurting anyone else. They're just living their own lives."
And yes, language matters. According to GLAAD, with transgender people, "their own internal gender identity does not match the sex they were assigned at birth." Sexual orientation, however, is not the same thing. It refers to "a person's enduring physical, romantic, and/or emotional attraction to another person," according to GLAAD.
Micah and Sara's advice to other parents who have transgender children, or kids transitioning, is to just listen. And then listen some more.
"As parents, you want to see your child thrive and be comfortable and confident in this world. The best way we show them how to do that is to listen to your kids, honor their feelings and show you respect them. You support them in their endeavors. And get them the resources within your community they need. Hook up with others parents to get support and share their stories," said Sara.
Added Micah: "Look at Daniel and tell me what you see? He's trying to be his best self. Sometimes, as parents, you need to step out of the way. We had to determine our core values. I push parents out there to ask themselves what's most important to them."