/ Source: The Associated Press
A pair of sparkly, peekaboo shoes with heels 2 inches high are favorites of 6-year-old Helena Bell ever since she got them for a wedding.
"She's worn them to the point where the jewels have fallen off," says Helena's mother, Dana Bell of Woodland Hills, Calif. "It's not my preference, but I've stopped fighting it."
The heels aren't allowed at school, but the first-grader slips on her white treasures first thing when she gets home and wears them to church every Sunday. "I think if it's within reason, it's OK," her mom says.
As images of 3 1/2-year-old Suri Cruise out and about in blingy heels recently hit magazines and the Internet, reactions to the grown-up look for not-so-old kids have ranged from cries of inappropriate to defense of a little girl's right to be girlie. Suri's mom, Katie Holmes, told Access Hollywood she considers the kitten heels supportive because they were made specifically for kids learning ballroom dancing.
Samantha Fein of San Jose, Calif., says her 6-year-old daughter has attracted some double-edge remarks — "My, look at your big girl shoes" — when she wears her knee-high boots with a 2-inch chunky heel or her brown wedges with only slightly less height. Fein notes that her child wears sneakers 90 percent of the time and heels on special occasions, like birthday parties.
"It's not like I'm sending her to the park in them," she says. "I think there's a time and a place for everything."
The San Francisco Bay area is pretty fashion forward, so it's not unusual to see girls that young wearing heels. Fein says they've helped her daughter learn to walk like a lady. "They're definitely not suggestive at all. Suggestive to me is inappropriate."
The phenom falls in line with other trends in clothing, books, music and movies once reserved for older audiences trickling down the age ladder.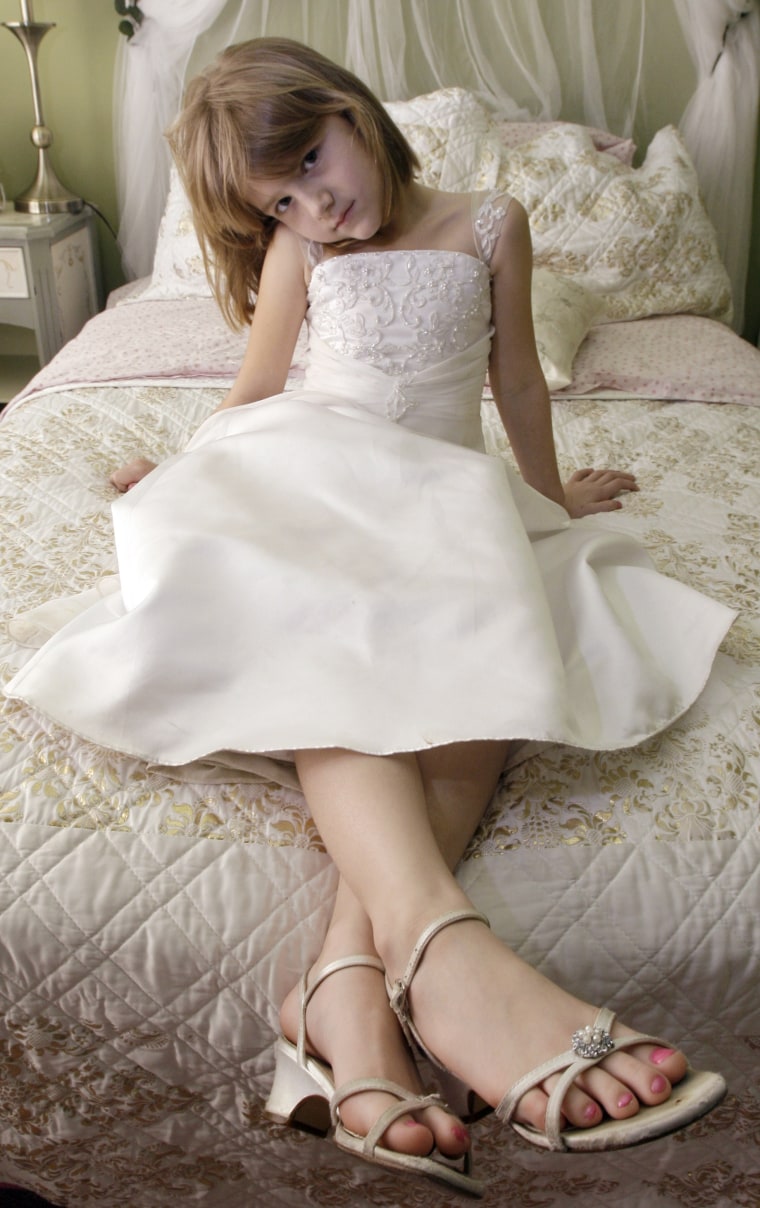 As Christina Vercelletto, senior editor of Parenting magazine, has been putting together the spring fashion edition, she's noticed shoes for girls as young as 5 and 6 sporting heels as high as an inch.
"I am seeing these heeled shoes, shoes that would be considered a little too grown up typically for a girl that age," she says. "I think it's definitely a trend for 5- or 6-year-olds."
In years past, Vercelletto says, heels usually stopped at sizes for 8- or 9-year-olds. She unsuccessfully tried to nab a pair of stacked heel boots that arrived in a bag of hand-me-downs for her own 6-year-old but wasn't quick enough. Now, Vercelletto tries to keep them out of sight in the back of a closet.
"I do feel that it's rushing it a little to put a girl 3 years old in shoes like that," said Vercelletto, among those who fear the physical perils.
Unlike other trends, heels pose physical risks that include a tightening of the heel cord and changes in the growth plate.
Matthew Dairman, a Suffolk, Va., foot and ankle surgeon and a spokesman for the American College of Foot and Ankle Surgeons, urges parents to limit wear to once or twice a week for four hours at a stretch — if at all. Another important factor, he says, is difficulty in keeping kids from running, which could make those in heels more susceptible to ankle sprains or broken bones.
"You put a kid in a heel and someone touches them and says tag, they're it — they're off," Dairman says. "Moderation is key."
Michael Penrod, a sales representative for children's footwear with a showroom at Dallas Market Center, a wholesale merchandise marketplace, says adult styles began surfacing in children's footwear a decade ago. While manufacturers do offer heels in sizes small enough to possibly fit a 3-year-old, stores are more likely to carry sizes meant from age 5 and up.
Heels for young girls get mixed reactions from buyers, with more interest from the coasts and bigger department stores.
"In the South, there's still a very traditional store owner that prefers the younger looking silhouettes," he says.
Jennifer Thomas, one of the owners of two Chicago-area children's shoe boutiques called Piggy Toes, says she doesn't carry heels for young girls.
"I just don't think they're age appropriate," says Thomas, who has a 10-year-old daughter she doesn't want to see in them. "As far as the customers, girls for sure love them. Mom usually doesn't want them."
Dr. James W. Brodsky, a Dallas orthopedic surgeon and past president of the American Orthopaedic Foot & Ankle Society, says healthy shoes for kids are similar to healthy shoes for adults — not too high a heel, plenty of width in the toe box, soft natural materials to conform to the shape of the foot and good support.
Dairman does see some value in girls around 12 or so learning to wear heels, when their bones have developed. And while he doesn't think younger girls wearing heels is that widespread, "as kids seem to be aging quicker, it's something that should be addressed."
Lisa Spiegel, a counselor and director of Soho Parenting, a New York City parenting resource center, says worry about kids aging too fast is often on the minds of parents today. She says she hasn't noticed a prevalence of young girls wearing heels but does know parents contending with young girls wanting to wear makeup or dress in too-skimpy clothes.
"We really, really try to help families hold onto their better instincts that kids should be children and not little adults," she says.