Monday afternoon UPDATE: She's home!
Stephanie Decker, the mom who lost her legs saving her children from a deadly tornado, is home. A 175-mph tornado ripped through Kentucky and Indiana on March 2, killing 36 people. Taking shelter in the basement of her Marysville, Ind., home, Stephanie threw a blanket over her two children and shielded them from flying debris with her body. They made it through without a scratch, but Stephanie lost both her legs -- one below her knee and the other just above -- and she nearly bled to death.
She left rehab on Monday, and was greeted by a crowd of supporters, including many of the volunteers who helped completely renovate their family's home to be wheelchair-accessible. The first thing she wants to do? "Sit down with my kids and give them a hug," Stephanie told TODAY Moms. Then maybe they'll play a round of driveway basketball. "Even in a wheelchair I can still get out and shoot basketball," she said. "They are so ready for me to be home."
Over the past weeks, Stephanie has blogged for TODAY Moms about how her children have motivated her to get better. While Stephanie was recovering from her surgeries in the hospital and powering through rehab, her friends and neighbors put together a massive effort to make her new, temporary home wheelchair-accessible.
Here, the 36-year-old writes about her feelings on the eve of heading home, and her gratitude for the friends and many, many strangers who have helped her and other tornado victims.
Tomorrow is the big day, I can hardly stand the excitement. My friends are doing such a wonderful job with the addition to my home.
Maybe I should back up a bit and give you a little bit of history. For those of you that do not know we had a home that had not sold due to the drop in housing market.  We had moved into our new home and lived there for three years while we decided to rent the Sellersburg house. It ended up being a blessing that we did not sell this house in Sellersburg. Maybe there was a reason it didn't sell... maybe there was someone watching out for me this entire time.
Read Stephanie's previous blog posts:
I want to play with my kids again
Don't take a moment for granted
There was only one problem: All of the bedrooms are upstairs, which meant we had to come up with a way to have me downstairs. We could convert the office into a bedroom, or I could sleep in the living room... all those ideas didn't seem appealing; we didn't want to convert the office into a bedroom because we eventually want to build another home and this one needs to be sellable.  
We spoke with insurance company and they graciously allowed us to add an addition, making a main-floor master bedroom and accessible bath. Even more amazing, my best friends husband is a contractor, Dustin Williams with Eco Homes, and he passionately wanted to take on this  project.  I am blessed to have such great friends like them that want to help us, and help us out they did!  They were scheduled to do a "Mini Extreme Home Makeover" to our house on the weekend of March 31.
As difficult as that was going to be to do in three days, I made it even more difficult.  My physical therapy was going so well that they decided I was OK to be released on March 26th. I figured that I would just go home and sleep on the couch in the living room or a mattress on the floor in the office. But NO, Dustin would have no part of that, he was determined to have the house ready before I got home. He miraculously got volunteers and construction workers together; we all posted on Facebook asking people to help pitch in.  My husband coaches a high school baseball team and they all volunteered to come help. There were so many volunteers that people were standing around wondering what they could do! It was simply amazing to see the generosity from our family, friends and community...
So in three days this house was built out of love, sweat and tears. My kitchen has dishes, I have a new bedroom, new hardwood floors, clean carpets and house, my landscaping has been weeded, a new wheelchair accessible ramp has been put in, and an old playground torn down. The furniture is being delivered tomorrow morning by a friend of ours, Todd Coleman, who was incredibly giving!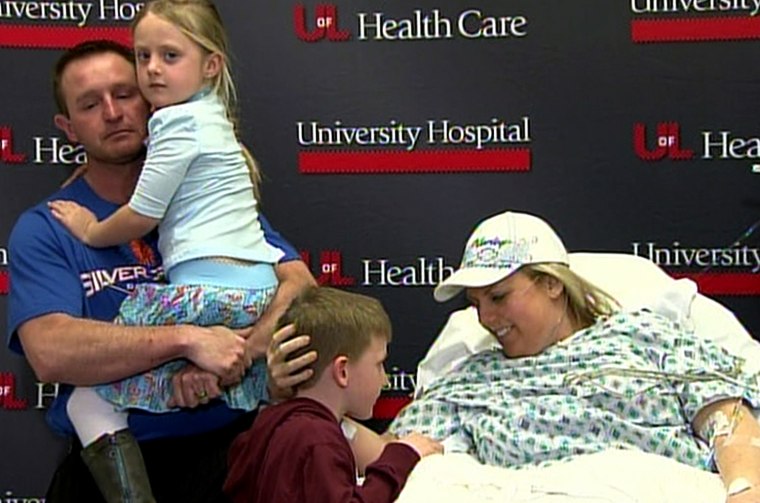 I must mention that a new van was donated for us to use while I recuperate. One that is handicapped accessible and will also fit all of my children in it -- absolutely incredible!
I just can't say enough about the generousity of so many people.  All of this is happening while I am working on getting stronger, back to myself, and learning how to adjust to a new way of living... even if only short term.  I am constantly working on my therapy, even when I am not in my scheduled therapy. I will be rolling around in my bed, laying on my stomach, and I am sure the nurses are wondering what in the world I am doing!  But I want to be the best I can be without my legs, and then when I get them again.  
This chapter in the journey of my life has changed me as a person. It has absolutely made me a BETTER person.  I want to give like others have given to me, and I want to do this because I WANT to, not because I feel like it is my responsibility or that I should do it. I am inspired by ALL of you that have touched my life, whether it be from the notes that you have mailed me wishing me a speedy recovery or the wonderful cards that have been flowing in from schools all around the U.S., or the ones that have sent money and donations. They have all inspired me! All the people that post and send me messages on Facebook, YOU have changed ME and I want to thank you for that...
Thank you for making me and my family better people. 
For information on how you can contribute to a fund to help Stephanie Decker and her family, click here.
Share your message of support for Stephanie Decker on our Facebook page.
More inspiring stories from TODAY Moms:
Homeless dad's message of hope: 'Never give up'
Declared dead, revived by mom's hug, 'miracle baby' turns 2