/ Source: TODAY Contributor
There's no question that the modern Tooth Fairy can be a little more extravagant and elaborate than the one we knew in our own childhoods. This is especially true, it seems, in homes where the Tooth Fairy is a little unreliable sometimes.
When the children just won't go to bed already, when you mean to do the duty right after "This Is Us" but you get distracted and then fall asleep, when your child head-butts her sibling and loses that tooth WAY before you expected her to... well, it happens: The Tooth Fairy isn't always on time.
That's when parents bring out the big guns in their effort to keep the myth alive:
1. The injured/tired wing defense.
Angela Amman, a mom of two in Detroit, Michigan, improvised curly handwriting in silver ink along with extra glitter when the Tooth Fairy failed to make a timely appearance for her 8-year-old daughter. Turns out, the Tooth Fairy had a "hurt wing" that kept her from her duties. To make up for the delay, she brought Amman's daughter an EOS lip gloss and some Werther's candy. ("Because it is gold," Amman explained.)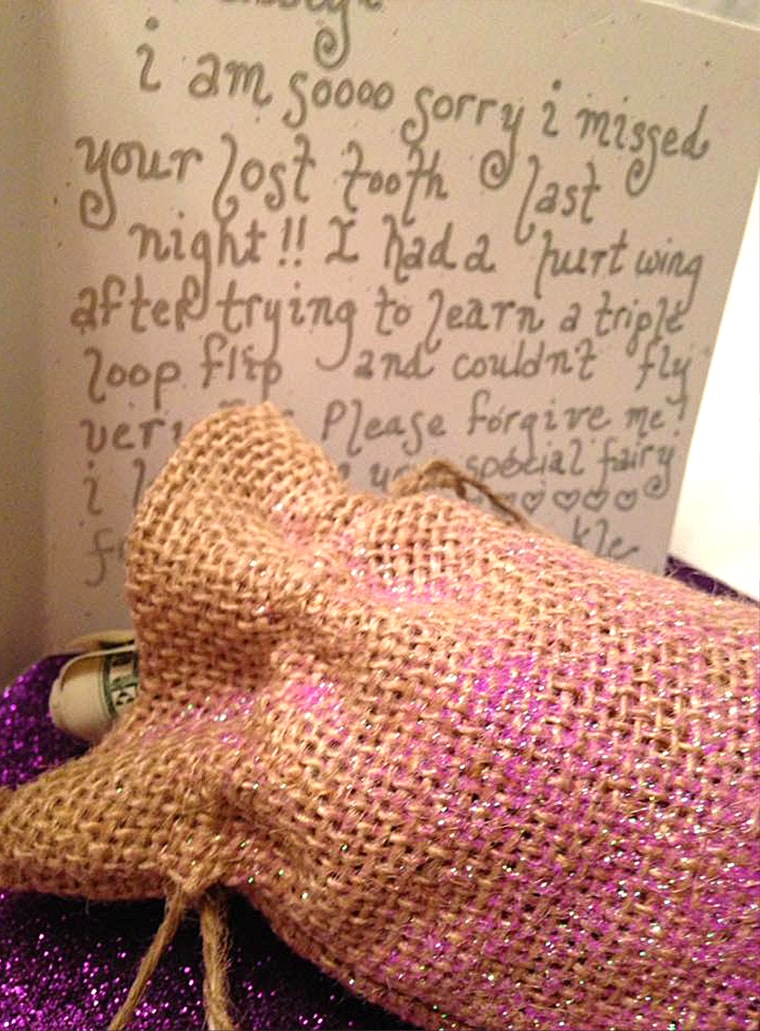 RELATED: Our tooth fairy is a lazy, shiftless hussy
2. The Tooth Fairy was waylaid by bad weather.
"I confess I pulled the old 'Oh, the Tooth Fairy didn't come last night because it was raining, and the rain would have ruined her wings' trick when I really just completely forgot to stuff money under her pillow when she was 8," admitted New Yorker Jeanne Sager, Tooth Fairy to one daughter.
Never miss a parenting story with TODAY's newsletters! Sign up here
3. The Tooth Fairy has crazy good disguise skills.
Los Angeles mom Meredith Gordon cannot believe that her children, ages 5 and 9, actually believed it when she and her husband told them that the Tooth Fairy can disguise herself to look like their parents, so if they wake up mid-"Tooth Fairy" visit, they won't think anything of it if they see one of their parents taking their teeth instead of a tiny winged being. "I'm disappointed that they believed such a ridiculous fib. Now I'm concerned they're not going to get into college," she joked.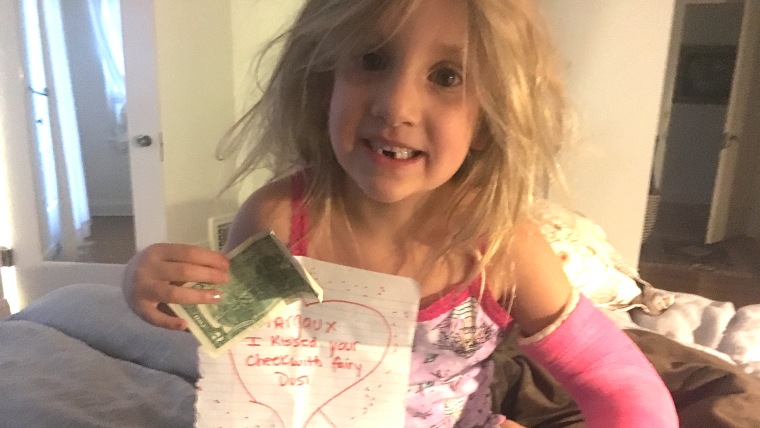 4. The Tooth Fairy came! You just didn't look hard enough, silly!
"You wake up to find a devastated child and realize that you forgot to put money under the pillow. Once the feeling of being the worst mom ever passes, grab some cash and tell your kiddo that it must have just gotten lost in the bed while they were sleeping," explained Jillian Darlington, who shared the details of her strategy when playing Tooth Fairy for son Taylor, now 9, with TODAY's Parenting Team. "Start to pretend to look and then pull out the money. It just slipped between the bed and wall. Crisis averted!" she said.
5. Go to the video footage.
When Daniel (Hashi) Hashimoto and Mandy Richardville's son, James, recently lost his first tooth, Hashimoto went even farther than leaving a trail of glitter or a personal note from the Tooth Fairy for his son.
Los Angelenos Hashimoto, 33, and Richardville, 35, are the creators of the viral YouTube channel Action Movie Kid, where they started posting videos of James when he was 3. After James asked lots of questions about the Tooth Fairy in the months leading up to the loss of his first tooth, his dad — who has worked in visual effects for 20 years and was working at DreamWorks animation before making Action Movie Kid his full-time job — decided to record his reaction and, at James's request, to try to catch the Tooth Fairy on tape as well.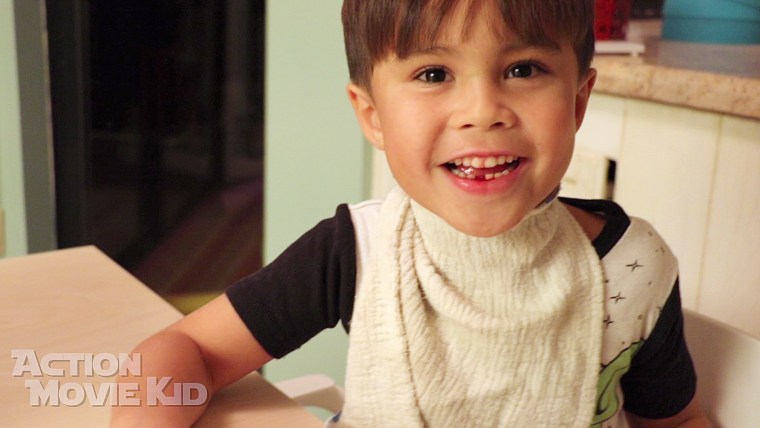 "Even though we we had a loose plan for that night, the tooth fell out unexpectedly early and so everything had to come together quickly," Hashimoto told TODAY Parents. "Mom assured James that he would receive a unique treasure, and Dad spent a lot of the night 'making sure the cameras captured everything' so we could show James the next morning."
Related story: Little girl has best reaction to losing her first tooth
With the help of a little of his dad's magic, James and his little sister, Sophia, 2, were able to watch the video footage of the Tooth Fairy visiting him the next morning.
Video footage might seem over the top to some parents, but for Hashimoto and Richardville, this kind of effect fits into their overall parenting philosophy. "In our family, we believe that a good imagination is a wonderful tool to have both as a kid and even when you're all grown up," Hashimoto said. "We like magic and wonder to be a part of our everyday lives."
Gordon told TODAY Parents that she keeps up the Tooth Fairy fantasy for her children because "there's very little magic and myth left for kids now. Our kids are always one swipe, or one conversation on the playground, away from life being exposed to them at a much more rapid pace than when we were kids. So I like that the Tooth Fairy is one of the last myths or strokes of magic left for little ones."
Are such parental heroic measures to keep the Tooth Fairy myth alive appropriate? TODAY Tastemaker and child development expert Dr. Deborah Gilboa — who confesses that she herself is "the world's worst Tooth Fairy" for her four sons — says yes, but with caveats.
"Developmentally, for elementary school age kids, a lie is a lie, and kids need to be able to trust their grown ups," she told TODAY Parents. Gilboa said this means that if a child is old enough to ask the truth about the Tooth Fairy, parents should give it to them.
"But before you tell them the truth, you can ask them if it's really important for you to answer," she said. "Kids play lots of pretend and can understand that for this game, it's more fun if you believe."