That's one way to come back from a disappointing football game.
Leo Devereaux, a 5-year-old Seattle Seahawks fan, channeled team quarterback Russell Wilson to rid himself of a loose tooth over the weekend.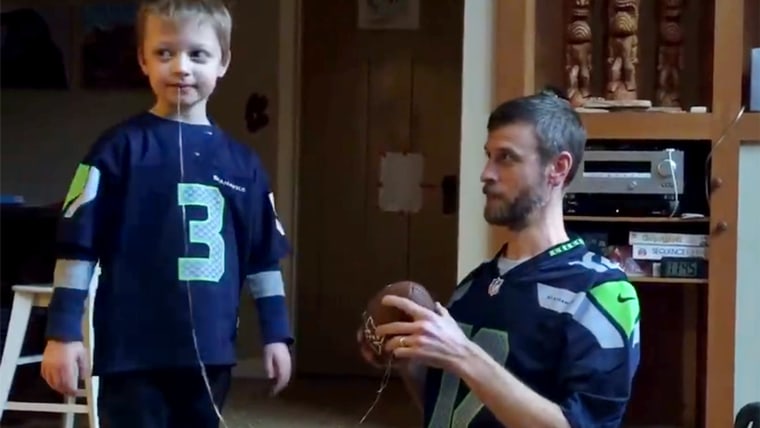 Leo's dad, Jim Devereaux, posted a video of the effort Sunday to his Facebook page. The video shows Devereaux handing off to his son a football with a string tied around it. Leo's tooth was tied to the other end of the string.
"To add some excitement to a tough first half, Seahawks vs. Panthers, we decided to do a tooth extraction — 12th Man Dentistry, Russell Wilson style," Devereaux wrote in the caption of their half-time antic.
Leo, wearing a Seahawks jersey with Wilson's number, then throws the ball for a successful pass. His mom, who filmed the exchange, can be heard congratulating her son in the background.
"Best play of the whole game! Good job, kid!" she said.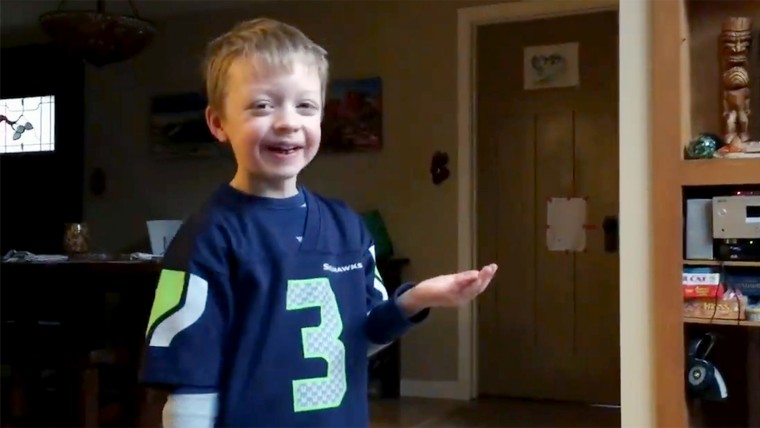 RELATED: Paging the tooth fairy! Little girl has best reaction to losing her first tooth
Laurie Devereaux told TODAY.com that she and her husband tried to find different ways to help Leo lose the wobbly tooth, his second so far.
"We've threatened to tie it to everything — the car, the dog, anything," she said.
Leo rejected all the previous ideas but appeared game for using a football.
"We just pumped him until he did it," she said of their personal half-time show.
Leo normally loves tossing the football with his dad during commercials, Devereaux explained.
"This was the best throw ever," she said.
RELATED: Dad uses toy chopper to yank son's wobbly tooth
The successful play probably helped ease any pain Leo may have felt from Seattle's loss that day. The Seahawks were defeated by the Panthers, 31 to 24.
But Leo came out a winner, thanks to a visit from the tooth fairy.
"She left $2 for that one because it was a pretty good stunt," Devereaux said. "She was generous. It's all downhill from here."
Follow TODAY.com writer Eun Kyung Kim on Twitter.