A California high school's plans for a Tom Hanks-themed homecoming week has received an enthusiastic — and mysterious — response from the actor himself.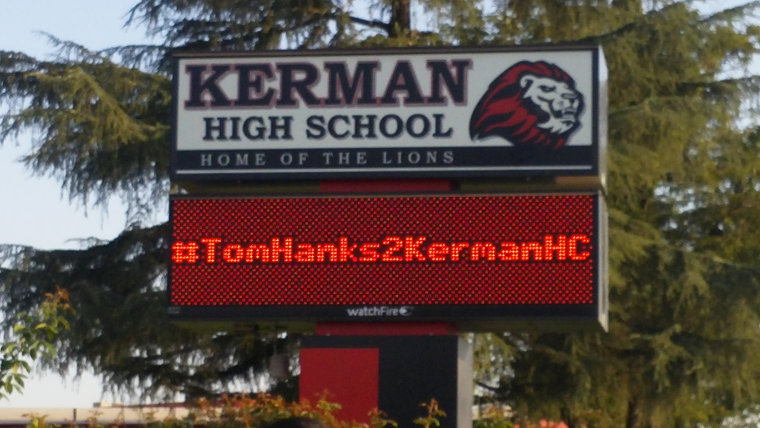 "Gear up, Kerman High School for Homecoming!" Hanks announced to more than 10 million Twitter followers Monday night. "I'm working on something for the Festivites! Hanx."
Kerman student-body president Hannah Turner, 17, told TODAY.com she was stunned by the prompt reply, just weeks after the school's social-media campaign launched.
"It really was just amazing," said Turner, who called "Forrest Gump" her favorite movie to feature Hanks. "We never thought that it would happen this fast."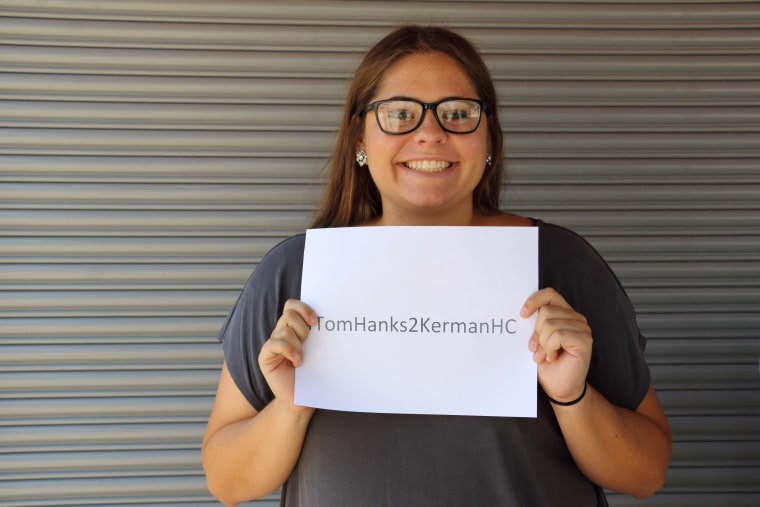 In late August, the student government (known as the Associated Student Body) embraced Kerman teacher David Bakholdin's idea to have Hanks' films be the inspiration for their homecoming week, which culminates in football games, a parade and a dance Oct. 9.
In a video posted Aug. 21 to the school's YouTube page, Bakholdin — the ASB faculty adviser — also made an appeal to the actor to make a cameo in Kerman, California, about 200 miles northeast of Hollywood.
"We would like to officially extend an invitation to Mr. Hanks to come to Kerman to be the marshal of our festivities that take place on Oct. 9," said Bakholdin, who detailed the school's social-media strategy. "We know this is a long-shot, but let's show everybody what our school — and more importantly, what our community — is capable of when we all work together."
The student government launched a social-media campaign with the hashtag #TomHanks2KermanHC and related accounts on Twitter, Facebook and Instagram.
"Once we started putting the hashtag out there, the whole entire community stepped up and started putting it on Facebook and on Twitter, and our parents started joining in," Turner said. "Social media is a really big thing at our school, so, we used to that to our advantage, and we used that for good."
Last week, the campaign started to go viral, and received a boost of momentum when local and national media outlets picked up on the story. That all led to Hanks' Monday tweet, which wowed Kerman's principal, Pam Sellick.
"The community spirit of Kerman is something that is special," said Sellick, who told TODAY.com that Hanks' Monday tweet had been the extent of the information she'd received from his camp. "When I moved here about 30 years ago, I was struck by how much people support one another in this town."
Vice Principal Margaret Nichols echoed those sentiments in an email to TODAY.com: "We are very proud of how the students and community came together for a common goal."
According to the campaign's Facebook page, seniors picked "Forrest Gump" as their movie to inspire their homecoming float and other activities throughout homecoming week; juniors picked "Toy Story"; sophomores chose "Big"; and freshmen adopted "A League of Their Own." Floats will be a part of the Oct. 9 homecoming parade, held on the high-school field on First Street, after Kerman's junior-varsity football game ends and before the varsity football game begins.
MORE: Tom Hanks to the rescue! Girl Scouts get cookie boost thanks to star
Noted Turner, "Homecoming is a very big production here. Homecoming is a highlight of the school year."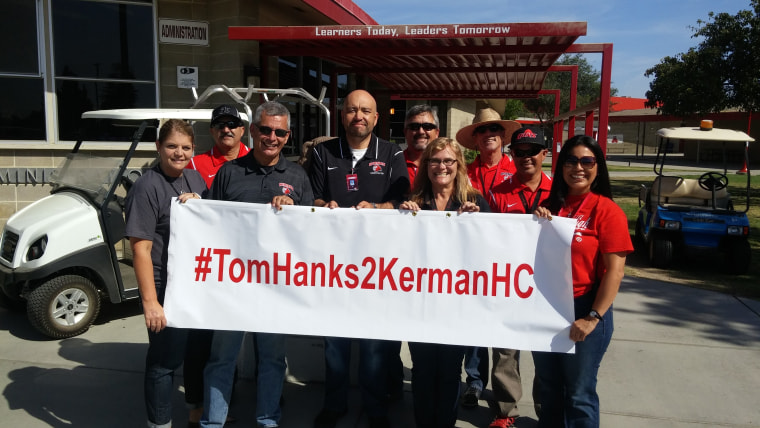 Especially if Hanks happens to crash the party.
Follow TODAY.com writer Chris Serico on Twitter.