They're a half-dozen short for a full calendar spread, so for now, a few lucky Oklahoma residents will get these future firefighting cuties on the cover of a Christmas card instead.
Last year, after six of the Durant Fire Department's firefighters had babies within a six-month time span, the chief suggested putting the infants on the cover of their annual holiday card. The idea turned into a big hit shared across the country.
This year, by popular demand, the children returned — equally adorable, but far more squirmy and mobile.
"It was a little harder trying to get six toddlers to cooperate," said Fire Chief Roger Joines. "When they're infants it's kind of easy, but this time it took a little more effort to get them to settle down and get one shot."
This year's card features the same six children — Augustus, Ava, Brevyn, Mitcell, Nash and Owen — in a new set of firefighter pajamas. But instead of laying on their parent's firefighting coats, the children sit perched in front of a firetruck parked inside the department's central station.
Parents did everything they could to get their children to pay attention at once.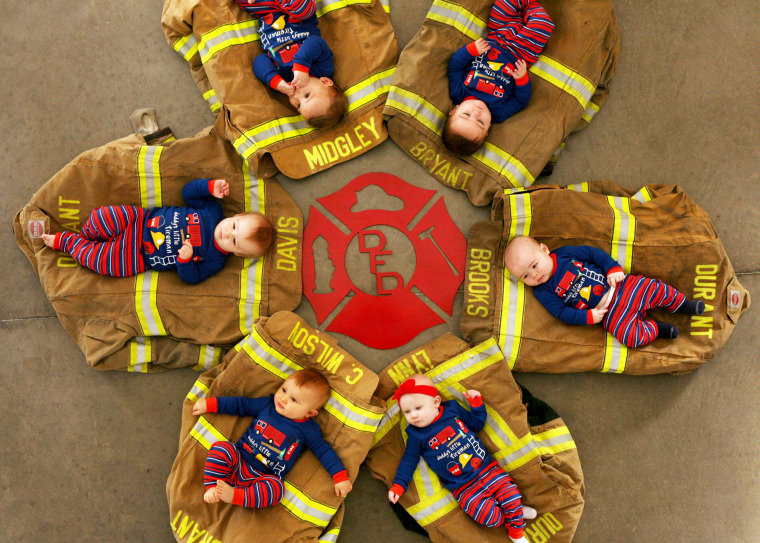 "There were moms and dads jumping up and down, whistling and making noises in the background, trying to get all six of them looking in one direction at the same time," Joines said.
In addition to being more mobile, the children were a bit more temperamental this year, too.
"You could say they were more in touch with their feelings," said Durant firefighter Richard Parker, a former professional photographer who took the pictures both years. "They were a little more moody, and their feelings were contagious, so if one cried, the rest of them would have their heartstrings pulled as well."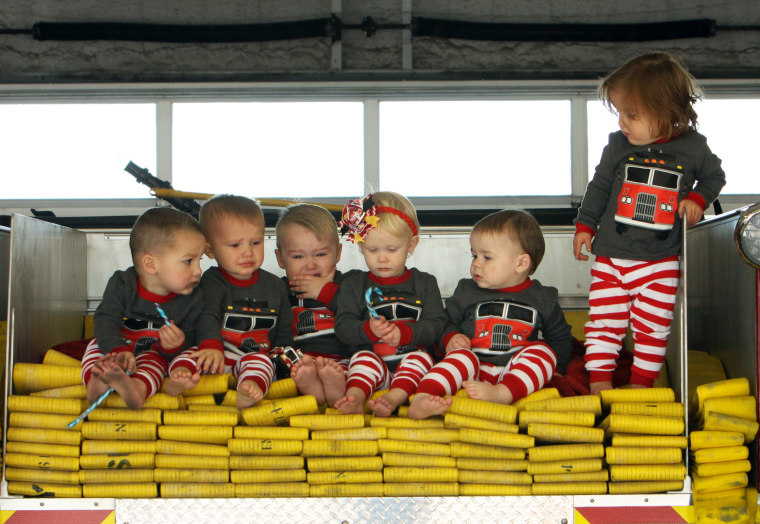 But in the end, Parker captured magic and even a smile or two from his subjects.
"We have done a lot of growing this year!" the Durant Fire Department said in a Facebook post sharing this year's photo. "From our family to yours, have a wonderful and safe holiday season."
The overwhelmingly positive response to the photos took everyone by surprise last year, but firefighters hope the pictures have helped portray a more rounded view of their first responders.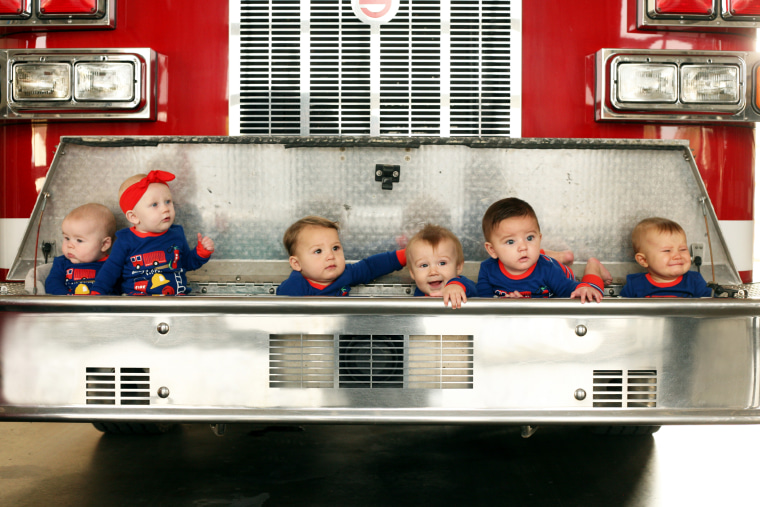 "Firemen are real people with real families, and the photos showcase that," Parker said. "Our idea last year was to show what a tight family we are and how important family is to us. That's how it started. This year, people wanted a 'Where are they now?' So we followed up."
Joines agreed.
"We are a tightknit family. It's a relatively small department. We have 33 firefighters and these pictures show part of our bond," he said. Besides, the chief added, "Who doesn't like babies and firetrucks?"