It was only a year ago that Taylor Marshall lay in a hospital crib, his body ravaged by meningitis that would eventually take away most of his hands, his left leg and the remaining toes on his right leg.
Today, the 20-month-old British toddler is taking his first steps, aided by a prosthesis on one leg and a full-length splint on the other.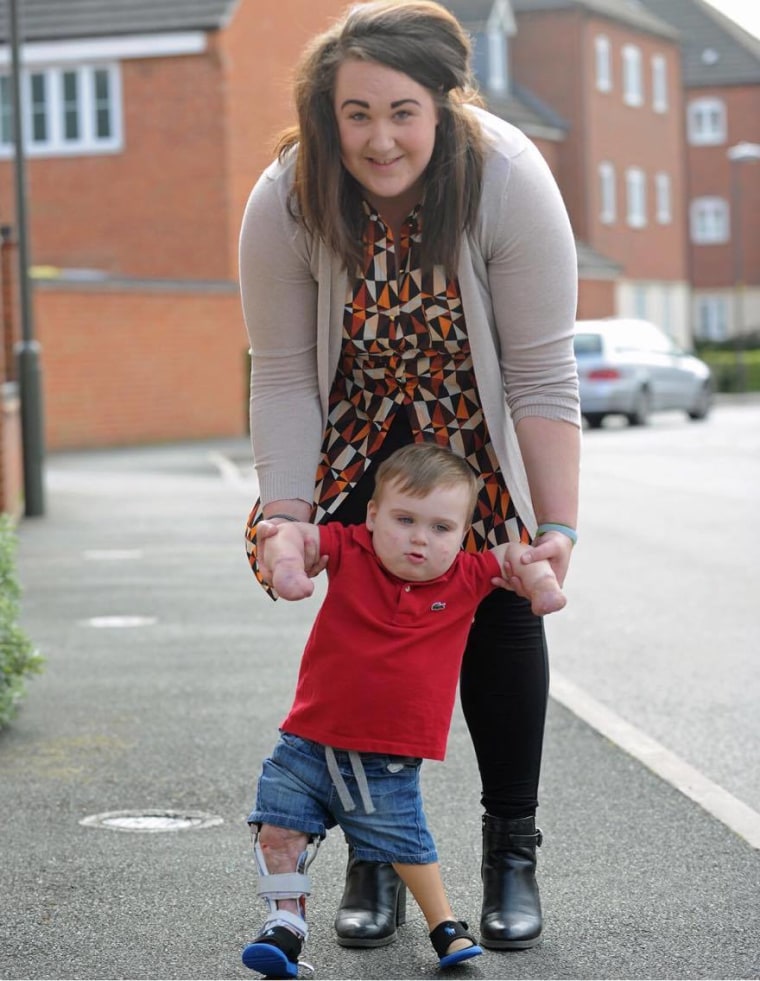 "He can actually walk with you by holding your hand," his mother Terri Lewsley, of Nottingham, England, told TODAY. "It's amazing considering everything he's been through."
It started when Taylor suddenly fell ill in April 2015, when he was only 8 months old. He was taken to the hospital immediately.
"It all happened within the space of a day," Lewsley recalled.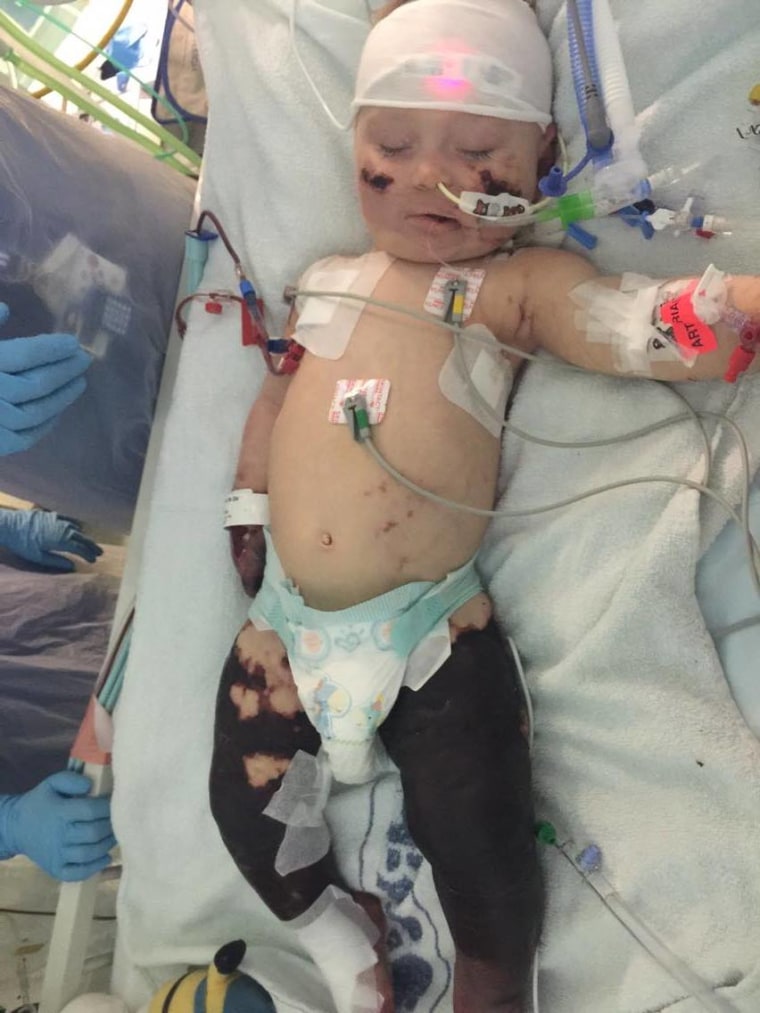 Doctors diagnosed him with meningococcal septicaemia and put the boy in a medical coma for 17 days. At one point during that period, they gave the boy only hours to live.
"We had him christened and all the family came in to say goodbye," said Lewsley, 23. "There were a lot of prayers being said."
Doctors ended up amputating Tyalor's left leg, all of his fingers and the toes on his remaining leg after gangrene set in and turned all those areas black.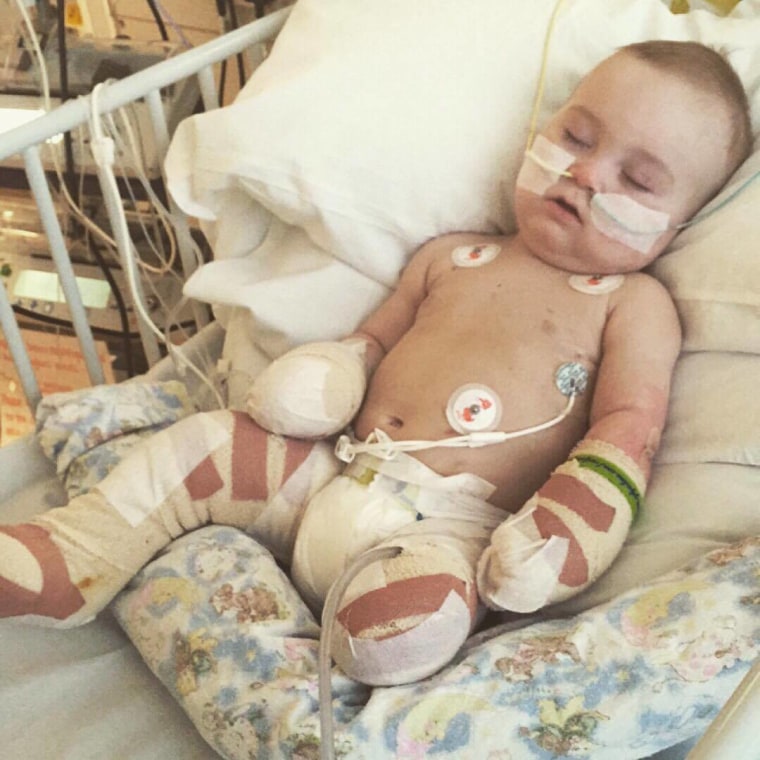 Despite spending more than seven months in the hospital, Taylor emerged with the disposition of most children his age.
RELATED: How a couple who lost a son uses photos to comfort others with struggling babies
"He is back to being a normal toddler, really. It's not changed his personality. Since his recovery and being back home, he's gone back to himself," his mother said. "He plays and laughs. He's a really happy little boy."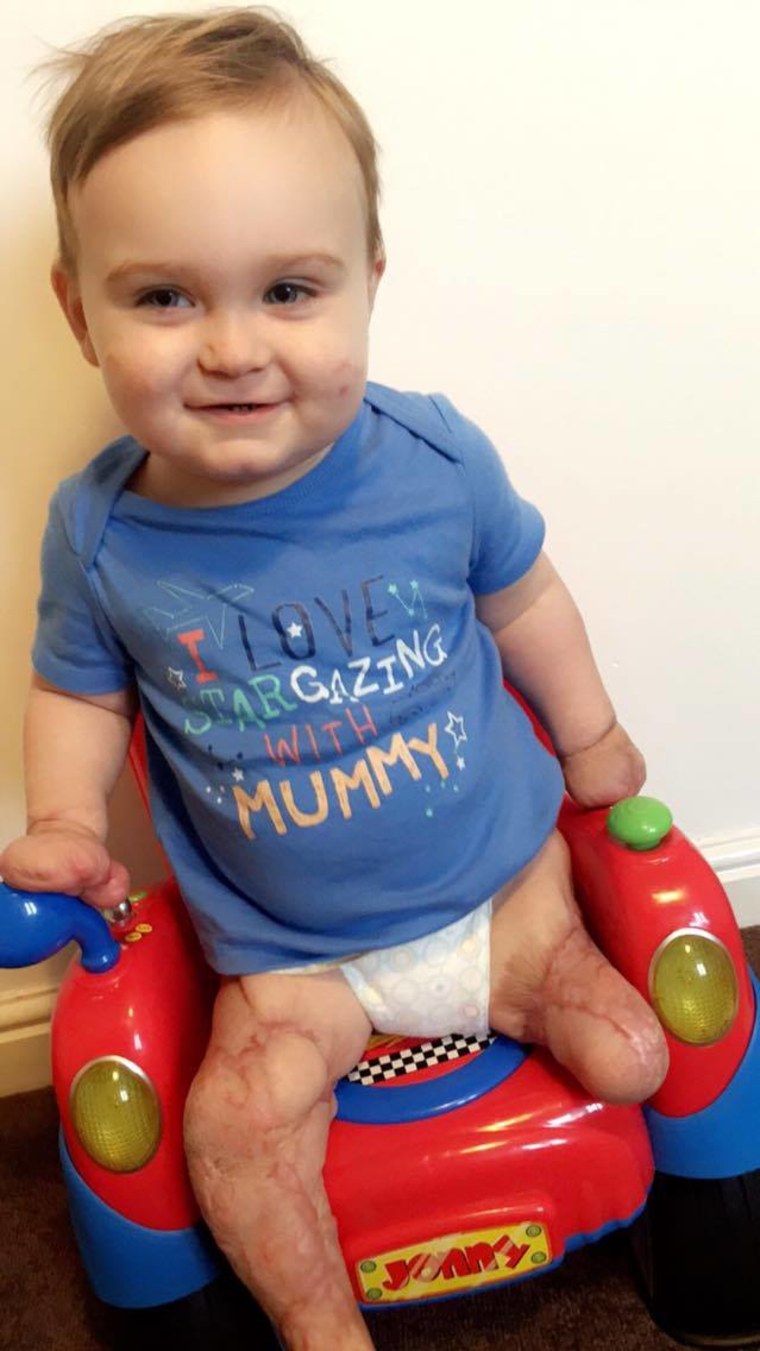 Taylor healed quicker than doctors expected, helping to speed up the process of getting him fitted with a prosthetic device for his left leg.
"It helps that this all happened so young. It's made it easier for him to adapt because he doesn't know any different," his mother said.
RELATED: 9-year-old boy sells lemonade to raise money for his own adoption
Lewsley said Taylor receives physical therapy once a week at the hospital, but she works with him at home every day.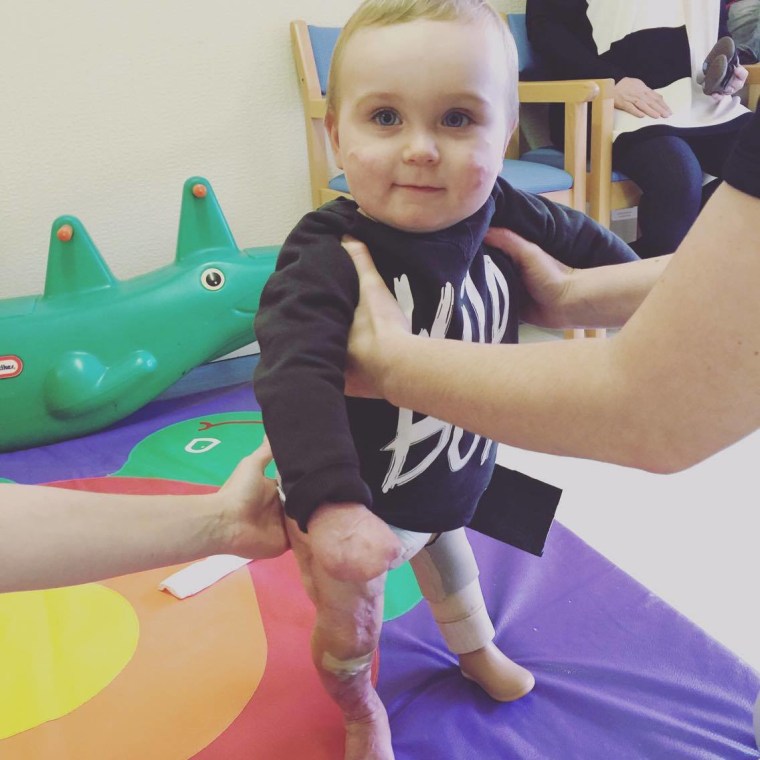 Taylor will continue to need more medical attention, including numerous surgeries as he grows older, Lewsley said. He also will have to be fitted with different prostheses as he gets bigger.
In the meantime, Lewsley and her family have set up a fundraising page not only to help pay for the toddler's medical expense but to help buy equipment and toys for the children's unit at the hospital that continues to treat Taylor.
"They've been wonderful through all this," Lewsley said.
"It's so amazing to think about what Taylor's gone through, but I wouldn't change a thing about him," she said. "He is just the happiest little boy, like he always has been. He's doing brilliant. He just gets along as he does."