At 8 months old, babies are typically starting to crawl or play with blocks — but little Ellie Farmer was already a successful rock climber before she could even walk.
Her parents, Rachael Farmer, 28 and Zak Farmer, 31, built a rock wall in Ellie's room when she was 2 months old. Six months later, when she was starting to pull herself up on things, she would use the wall to balance, and eventually with her parents' assistance, learned to climb the wall.
"It's physically impossible to get her away from the gym! She loves to just get on the wall and climb," Rachael told TODAY.com, describing Ellie as a very energetic and adventurous baby who regularly smiles and laughs a lot.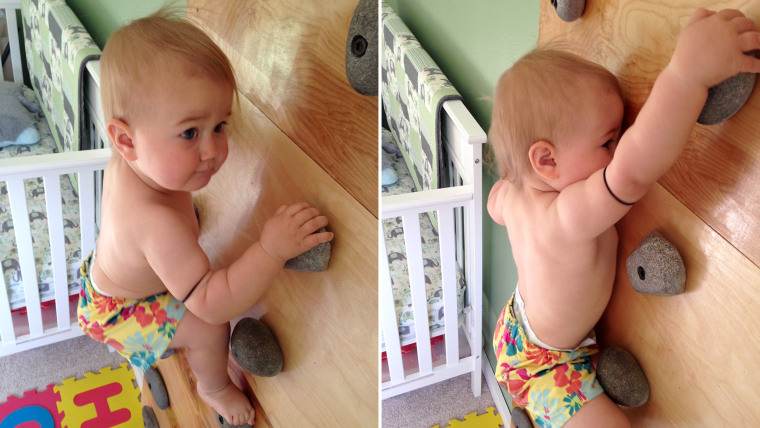 And when it's time to climb, she's in the zone. The toddler who, as of Sunday, is now 20 months old, practices five times a week at the gym.
It's not an easy workout either — some sessions can last between 30 and 60 minutes. But Rachael says it's her daughter who's adamant about continuing to climb.
"She's very focused when she's climbing, actually," Ellie's mom said. "She's very focused on foot placement and getting to the top."
Within the climbing community, Ellie's hard work and dedication have not gone unnoticed. And her positive attitude makes celebrating an outstanding climb a rewarding moment for the whole family.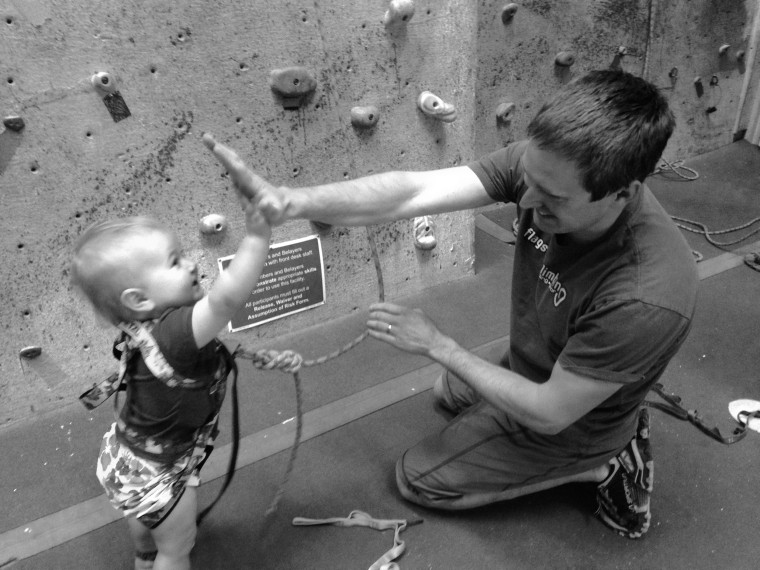 The highest wall she's ever climbed was 7 feet tall.
"When she does something successfully, she loves to celebrate," Rachael said. "She turns around, screams and claps."
What makes it more of a celebration is that Ellie has achieved all of these major milestones on her own. Her parents try to be hands-off in their coaching technique, only spotting her if she's higher than a foot from the ground.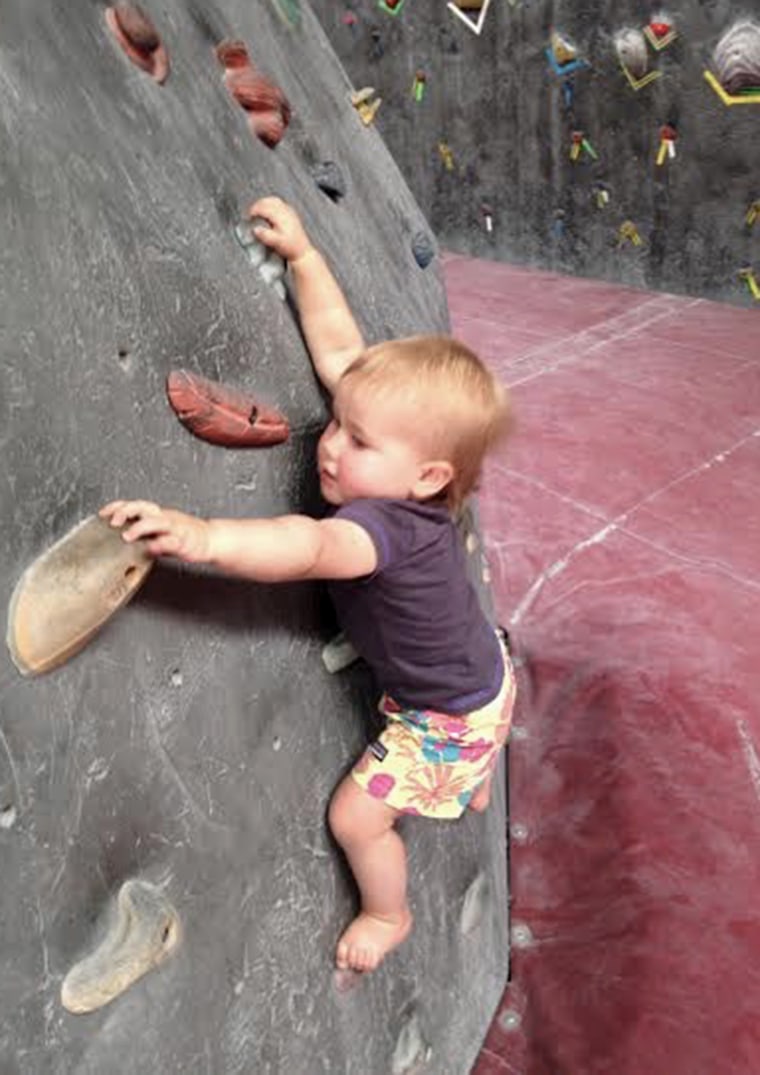 Since she's too young to wear a harness, Ellie practices a style of climbing called "bouldering," which doesn't require any ropes. She's usually very low to the ground, and actually falls pretty frequently, according to her mom. But every time Ellie climbs, she is supported by a crash pad below the wall, which despite its name, is very fluffy. If she is a foot or less above the ground and in jeopardy of taking a tumble, her parents don't intervene so that she can get a feel for falling.
If she's higher than that, Ellie is monitored by a spotter, in addition to her mom and dad who will step in if necessary. To this day, she has never been injured while partaking in the sport.
And while she's small, she's very strong. Rachael says that with the strength she's built, Ellie can hang onto any bar for at least 30 seconds. The muscle she's acquired is a direct result of the countless hours she's put into improving.
"I think it's been a full progression for her. Kids are naturally strong. If you let them work their way into a sport, they build it quickly," Rachael said.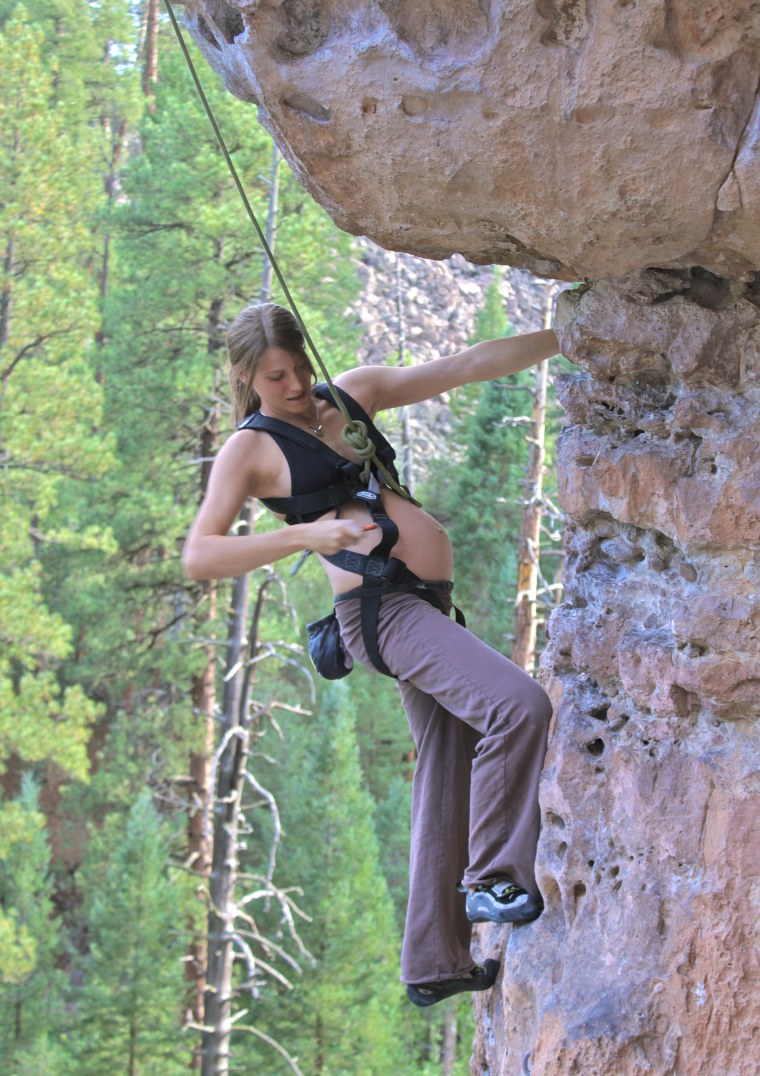 Rachael and Zak Farmer knew their daughter was going to be a climber far before she did. At the gym, she was nicknamed "The Rock Prodigy" while still in utero. They're both competitive climbers themselves, with many years of experience in the sport.
Rachael climbed up until three days before she had Ellie. In a competition that took place during Rachael's first trimester, she placed 1st.
Already following in her mother's footsteps, Ellie, now known as the "Little Zen Monkey" for her calmness and strength, is on track to begin climbing with a harness by her second birthday.