A story about Australian twin preemies holding hands just days after their birth brought back a wave of emotions and memories for Jessica Bubeck.
The Ohio mother of four said she always tears up whenever she sees anything involving premature babies, but she felt especially moved by the way these infants from Down Under held hands because they reminded Bubeck of the bond between her own twin preemies.
Every time she held them together as newborns, her daughter would rest her hand on top of her brother's.
"It was almost instinctive, when they were on my chest doing skin to skin, she would move her hand to find his hand and when she would find it, she would grab on — every time," said Bubeck, among the hundreds of TODAY.com readers who commented on Facebook about the article of the Australian babies.
RELATED: Preemie babies hold hands in 'unbelievable' moment captured on video
Most recounted similar stories about their own premature children and how they ultimately thrived. Many shared stories about the special bond between twin preemies.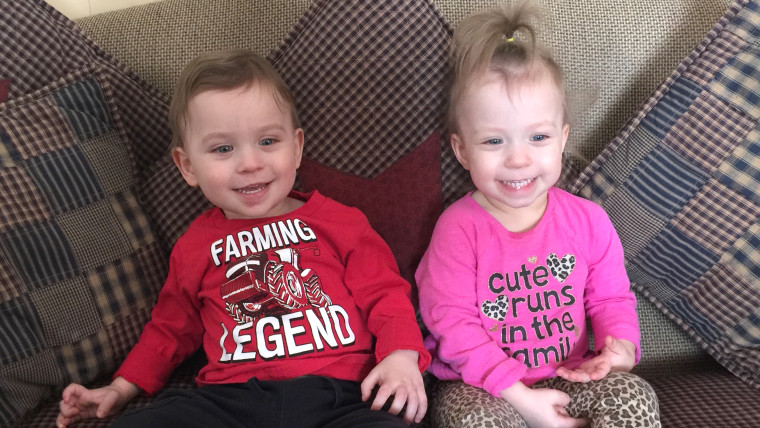 Bubeck, 35, said her twins, Brim and Luxe, were born at 29 weeks gestation — or about 11 weeks early. Both are now healthy and will turn 2 next month, but Bubeck said the early days after their birth were filled with chaos.
RELATED: Moving portraits show children holding photos of themselves as premature babies
"Looking back on pictures of those days, I truly believe they really did rely on each other," she said. "Of course, they relied on me and nursing and then learning to feed, but I think it provided them comfort to know that they were there with each other still."
Aurina Counts-Garbovits of Michigan felt the same.
Her twins were born eight weeks early, and seeing the TODAY.com story about the Australian preemies flooded her with memories of the first time she was able to hold both babies at the same time in the hospital.
RELATED: 'Twinkle, twinkle' power: Preemie brains get boost from mom's voice
"I held them both and they immediately grabbed hands," said Counts-Garbovits, 37. Her husband immediately took a photo. "You can see in my face a kind of astonished look. I was trying not to cry."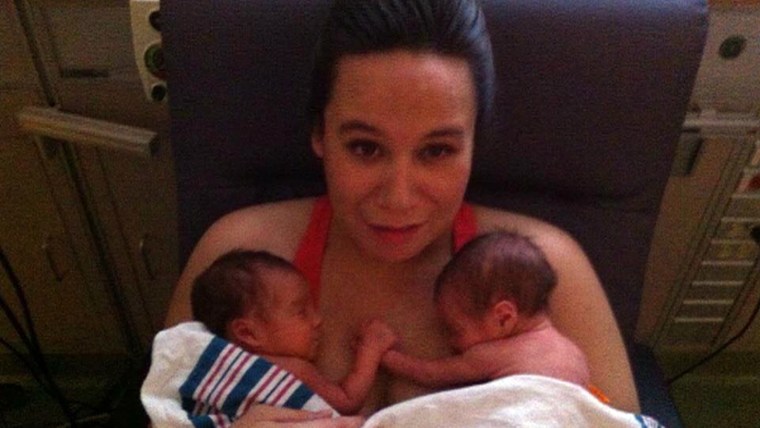 Gavin and Sophia, now 3, continue to be close, a bond their mother believes developed before they were born.
"You don't really know what's going on in the womb, so when they come out and they do something like that, it gets you all emotional," she said. "To think they're so tiny, yet they're so aware of each other. Seeing that article brought it all back home."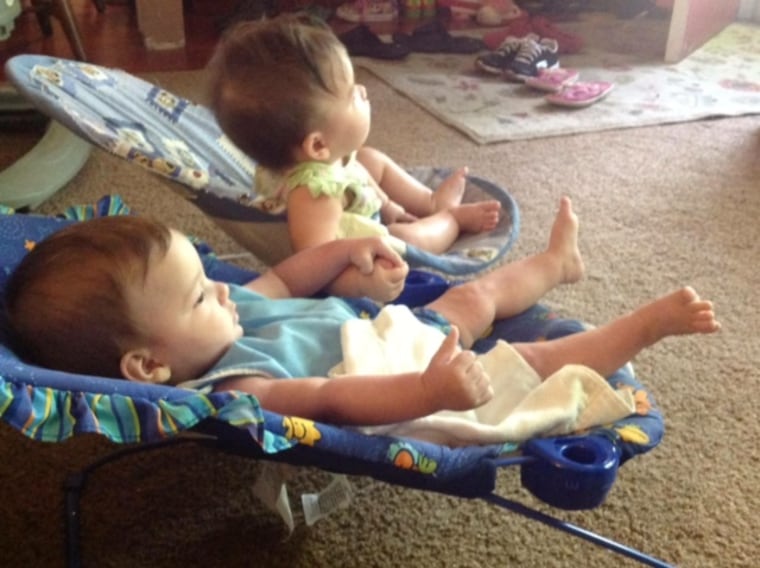 Diana Brundage, 43, said her premature twins had separate incubators their entire hospital stay except for the one day nurses decided to put them together to see what would happen. At the time, her son, Chase, who was born weighing only 2 pounds and 8 ounces, wasn't thriving as well as his sister, Ava, who weighed two pounds more.
RELATED: 'Little miracle': Micropreemie goes home after spending 345 days in the NICU
"He was struggling a bit. He had to have blood transfusions. He was not doing as well, but they put them together just to see how they would do," the Florida mom recalled.
What happened next amazed nurses, who hurriedly called Brundage over to see the infants holding each other.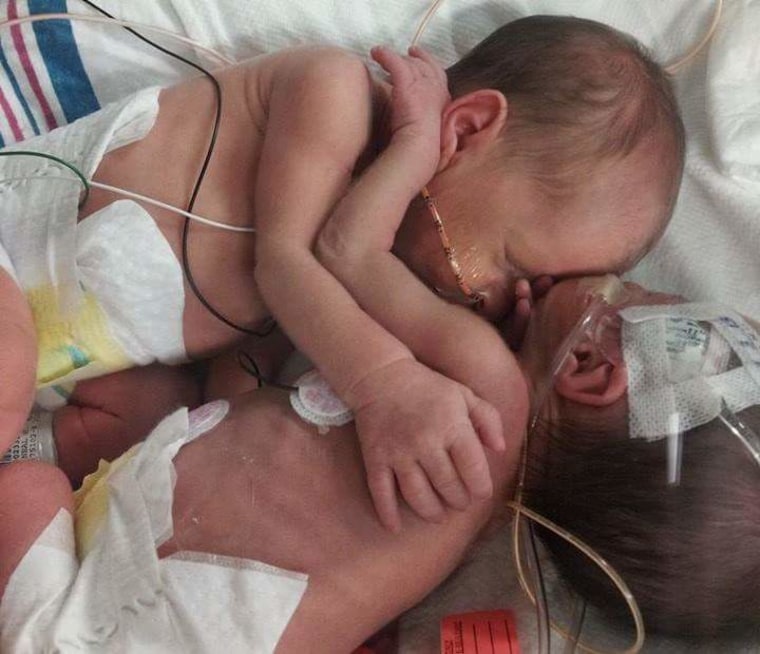 "They lay like that for hours and hours, and he literally did a 360 and was home within a few weeks," she said.
The twins, now 2, are healthy and doing well. But she was reminded of the close calls they had as infants after seeing the TODAY.com article about the Australian twins.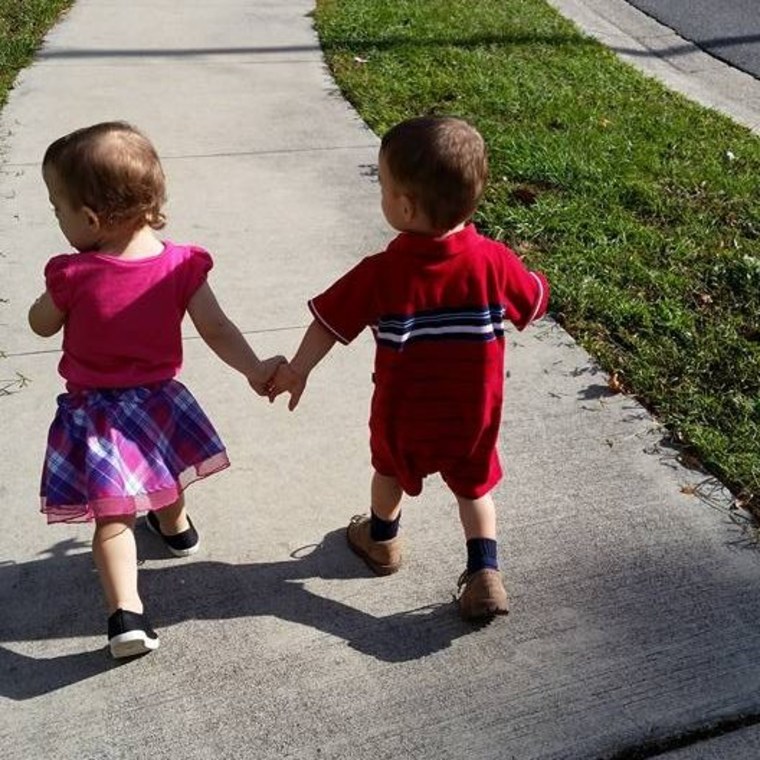 "I thought, 'Oh my gosh, that looks so familiar!' It was so sweet," she said.
"For me it's about the power of touch. Skin to skin, whether it's mom and baby or siblings. There's so much power in the human touch. Seeking comfort or seeking out what's familiar, it's something obviously we're born with. It's something that's inbred, a basic human need to be touched and loved."
Follow TODAY.com writer Eun Kyung Kim on Twitter.