The TODAY family found a special way to honor Father's Day by sharing several social media tributes celebrating fatherhood and the dads in their lives.
In addition to Al Roker, Carson Daly, Craig Melvin and Willie Geist's annual TODAY dads' get-together, they shared sweet posts Sunday about how they are spending the holiday.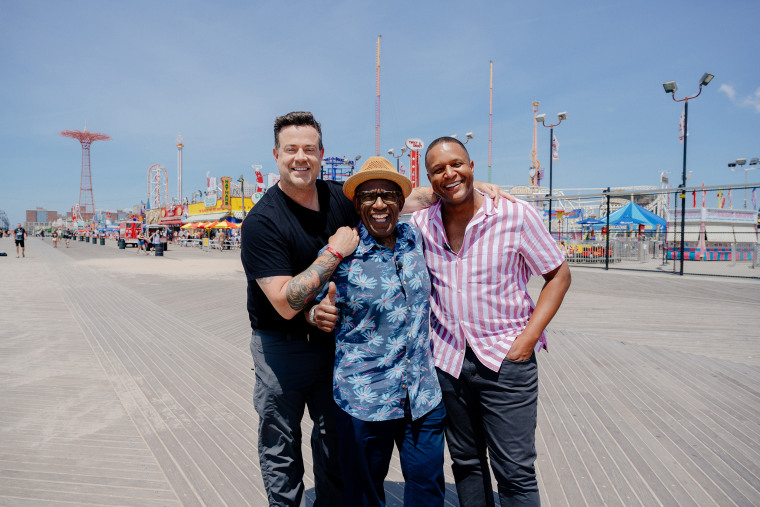 Al posted a photo montage on Instagram, fittingly set to Sister Sledge's "We Are Family." The video contained a variety of family photos taken throughout the years as Al posed with his wife, Deborah Roberts, and his three children: Courtney Roker Laga, 36, Leila, 24, and Nick, 20.
"Thanks to @ouichefroker @cleilapatra and @nick.roker155 for making me such a proud dad and to @debrobertsabc for making me a dad," he wrote in the caption. "After all I've been through the last 6 months, I cherish being here for this #fathersday."
Courtney, who revealed in March that she is pregnant with her first child — and Al's first grandchild — shared a sweet picture with her dad from her wedding.
"Some people don't believe in heroes, but they haven't met my dad. He definitely gives superman a run for his money. Happy fathers day @alroker," she wrote in the caption.
Carson shared a touching post on Instagram to kick-off Father's Day penning a tribute to his late fathers. When Carson was 5, his father, Jim "J.D." Daly, died from bladder cancer. In 2017, his stepfather, Richard Caruso — who he called "Pops" — died after battling bone cancer.
The photo he shared captured a miniature "shrine" he created to honor his late father and stepfather, including photos of both, several pieces of memorabilia, as well as two drinks poured for each of the men.
"1st order of business this Father's Day am…Reflection & Thanks," Carson wrote. "I love making small shrines to those I lost who so profoundly shaped my life. It's fun to see it all day & feel their presence."
Carson said he was "blessed" with "2 incredible dads," adding, "1 gone too soon & the other an angel in golf spikes. When I think back at what they taught me, I realized it was less about the 'talks' & and more about their actions."
He honored both of their parenting tactics, writing, "I didn't want to just DO what they said, I wanted to BE like them. Hard working, men of faith, selfless incredible dads."
Carson ended his caption with a Father's Day message to his fellow dads and father figures and shared his plans for the day, adding, "Mine will be spent attached to my 4 beautiful kids trying my best Houdini act to slow the hands of time because it's all going too fast!"
Ahead of Father's Day, Carson, who is also a proud father to four children, revealed his plans for the holiday with TODAY.com.
One part of the day would include taking out his father's 1977 Corvette for a drive and blasting some of his dad's favorite tunes, including music by the Eagles, Fleetwood Mac, and James Taylor.
Carson explained, "I don't drive it that much anymore. But on Father's Day, I'll take it to go get coffee and I'll think of my dad. I drove in that exact car when I was a little boy."
To honor his stepfather, Carson said he planned to watch the U.S. Open Golf Championship, as he had with Caruso every year on Father's Day.
Craig also posted a video on Instagram to mark the holiday and shared some of the complicated feelings that can come along with Father's Day.
"I realized that Father's Day can actually be really hard for some folks," he explained. "If you've lost your dad, it's a reminder of that loss. So to those who lost a father, may you find some peace on this Father's Day. And to those who are father figures, and maybe not a dad in blood, happy Father's Day to those who have played the part is well."
"Happy Dad's Day!" Craig added in the caption. "May you find some peace on this Father's Day."
Willie also shared a post on his Instagram story honoring his father, journalist Bill Geist. The throwback photo captured his father baseball ready with a ball in one hand and a glove on the other.
"Love you, Dad," he wrote on the post, before adding the hashtag "#FathersDay."