You met her at the park. She's funny and smart and popular. She offers you a drink. You hope she will ask for your number because you'd really like to hang out again.
Welcome to a new type of dating scenario, where everyone is looking for The One with total package potential: Kids the same age! Shares parenting values! And she's always got extra juice boxes! It's mom dating, and it's a thing.
Now, a new bunch of apps — think, Tinder for moms! — and speed dating events are aimed at connecting moms, perhaps replacing old-school methods such as stalking other moms at the park, signing up for Mommy and Me classes and hoping for "playdate chemistry."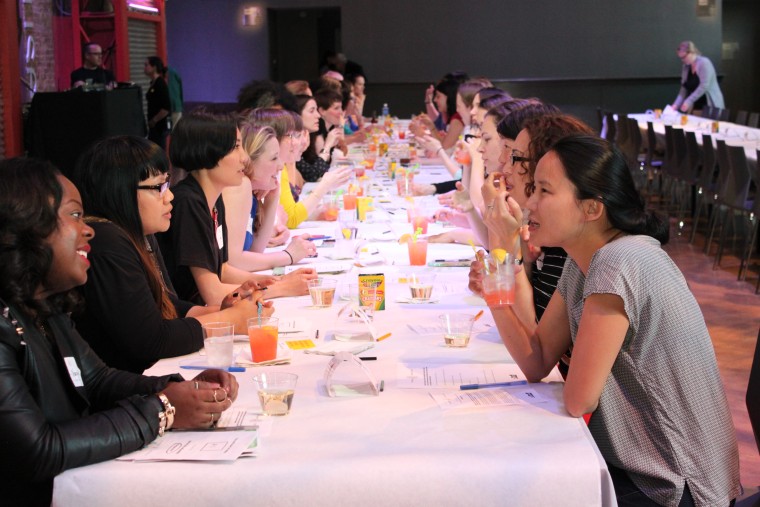 Jillian Darlington's son was two when her marriage fell apart, and she credits her network of moms with being her main support system. But as the years have gone on — Darlington's son is now 7— many of those friends have moved away.
"One of my last close friends is moving. I feel like I am starting over," Darlington, 34, told TODAY Parents.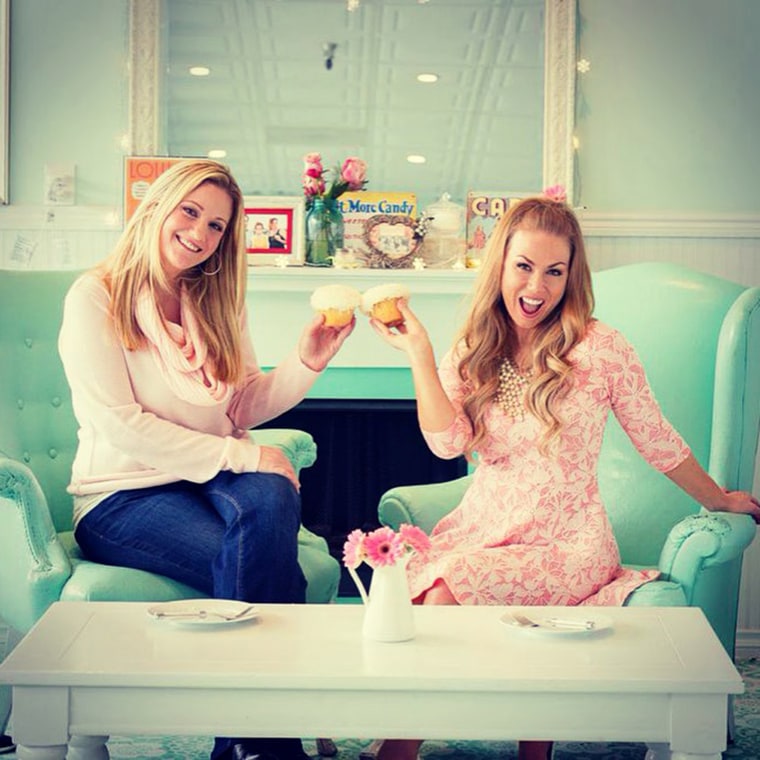 This time around, Darlington will use the app she and partner Beth Bryan created, MomCo — which launched in the San Diego area in February — to find compatible mom friends. MomCo combines geolocating technology with profile matching so that moms can interact via messaging, arrange playdates, and find out about local community events and kid-related services.
Darlington said her own experience using dating apps such as Tinder inspired her to create Mom Co.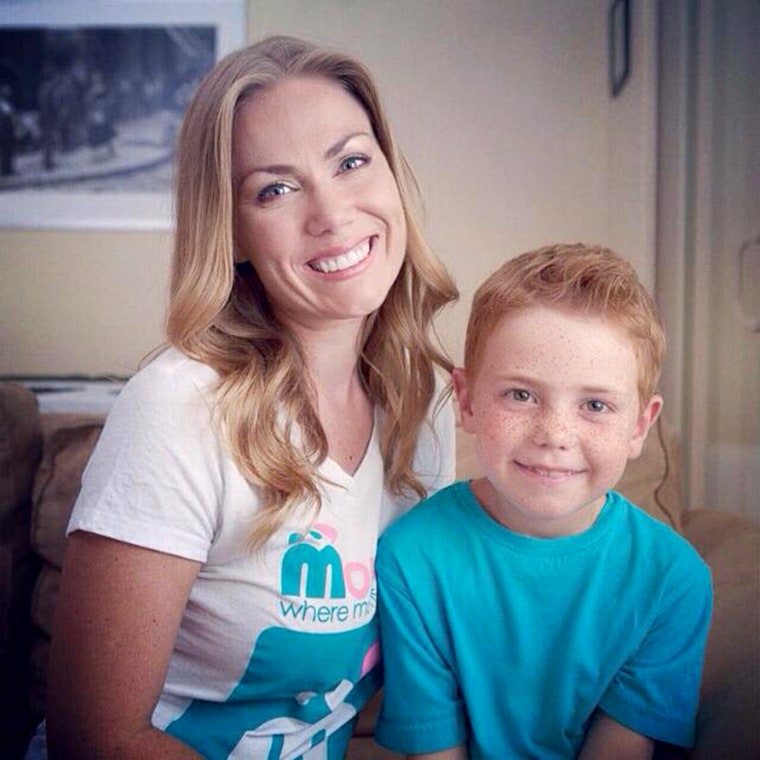 "I downloaded Tinder and saw the geo location factor and I thought, 'Moms need this more than dating people do.' We've always known making friends as an adult is harder," she said. The MomCo app "helps women break the ice and saves you from that awkward feeling of when you meet a cool mom, but you are shy and don't want to ask for a number."
A recent TODAY.com poll found an interesting dichotomy in the mom friend search. Of more than 2,000 mom's polled, 82 percent said they find it hard to make mom friends. And yet, when asked if they would use an app or other online matchmaking service to find friends, 57 percent said they would not compared to 43 percent who said they would.
New York City mom Barbara Lambert was so desperate to meet like-minded moms that she was willing to try another app inspired by online dating technology. Mom to 4-year-old Pierce, Lambert co-owns and manages with her chef husband a one-Michelin star restaurant The Musket Room.
When she had Pierce at age 28, Lambert found the other moms in her neighborhood were part of a completely different demographic.
"They were in their early 40s, married to hedge funders, living in penthouses. I was in a small two-bedroom apartment and working nights," she said. "And all my friends in the restaurant business were singles."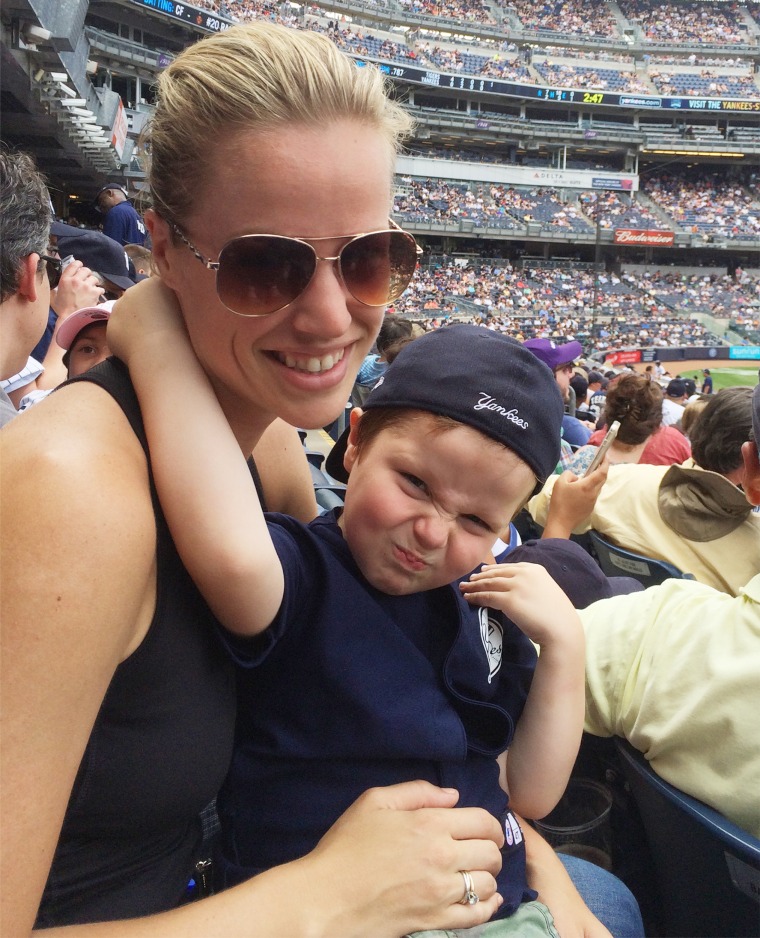 So Lambert turned to Hello Mamas, a web app that connects moms by using a matching algorithm with more than 150 criteria for compatibility.
Categories include everything from location and working status to number and ages of kids, personality preferences, family challenges and stages of motherhood.
Lambert liked that she could pick and choose what information she wanted to share. "I wasn't looking for best friends — my hours are totally wacky. But I was looking for casual play dates and advice," she said. "I was looking for moms who I could ask, 'Is this normal?' and I just wanted someone I could joke about parenthood with."
Lambert had a few playdates and a continuing text friendship with moms she met through the app. These days, as she contemplates having another child, she uses it as a resource for day-to-day happenings in the city.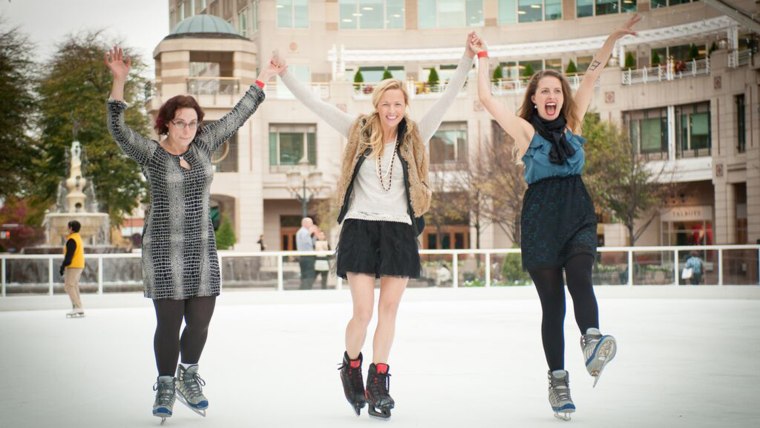 Meg Gerritson, co-founder of Hello Mamas, says the app is about empowering moms to get out of the house and meet other moms in an efficient way.
"You can go to a park to try and meet someone but it's a shot in the dark. Here, you go online, you can find moms near you, compare profiles and you can connect back and forth before you have to commit," said Gerritson, 32, of Hull, Massachusetts.
As a new mom, Gerritson had to contend with her son's severe peanut and egg allergies. That's when she realized the importance of finding understanding friends.
"I dealt with another level of isolation. You go out and hang with these new mom friends but they aren't a good fit because they don't know what to do when your child is screaming and throwing up all over the place. Everyone is feeding their kids peanut butter and jelly," she said. "Thankfully I was able to connect online with other women in the allergy and colic community."
It dawned on Gerritson that millennials such as herself could really use help with mom dating, and after joining forces with partners Julia High and Christa Terry, Hello Mamas was launched nationally in January of 2014 and has a mobile version coming out later this year.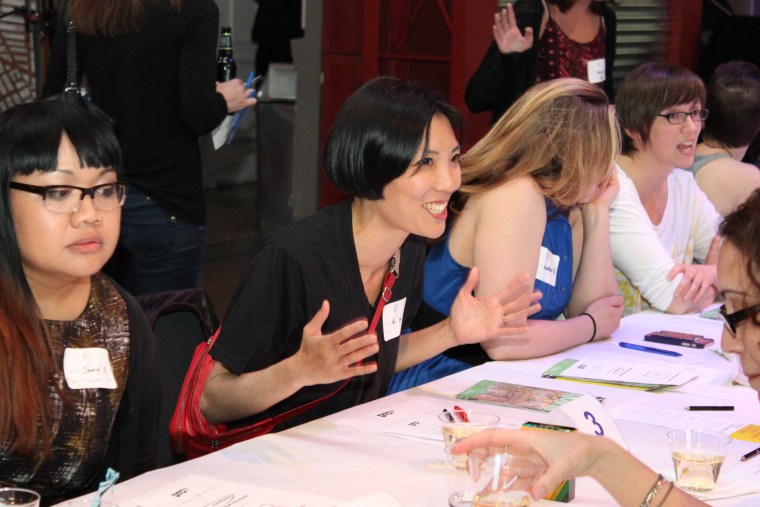 Those millennial moms are also the target audience for a Speed Dating for Moms concept created by Hillary Frank, host of the popular parenting podcast "The Longest Shortest Time" on public radio station WNYC.
When Frank's podcast followers started forming friendships via Facebook, she realized they might actually like to meet in person. And she recalled her own struggles of making close mom friends after having daughter Sasha five years ago.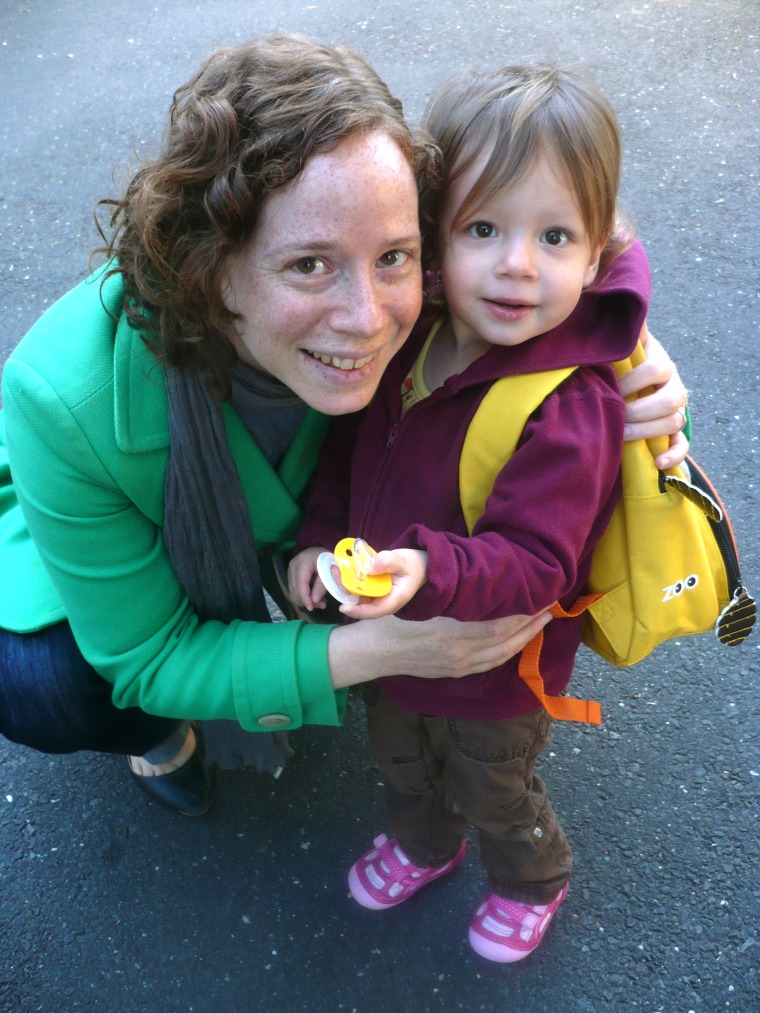 So Frank used the speed dating concept and invited moms to come and meet others. Nearly 80 attended the first event in Brooklyn, where they were paired off and had four minutes to "click" before moving on to the next mom.
The event was a roaring success, says Frank, with moms not wanting to be pulled away by facilitators when the four minutes were up.
"A lot of them have maintained their matches," says Frank, who lives in Montclair, New Jersey. "It's great to have a partner or family for support, but it's so cathartic to find someone else who is going through or who has gone through it. It helps keep you sane to know you are not by yourself."
Even as mom friends go high-tech, the old-school methods still work. Dana Macario moved two years ago from a suburb of Seattle to Maui, Hawaii, and though she's met a lot of people — from neighborhood acquaintances to car pool moms — finding a core group of mom friends has been a slow process.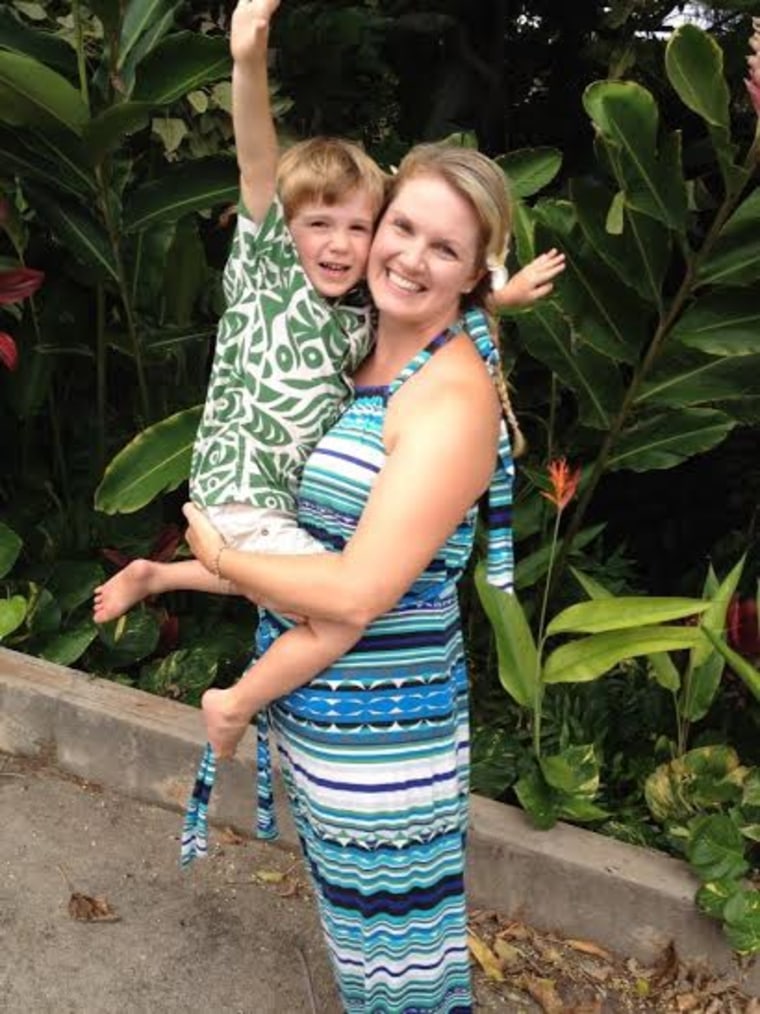 She met a few people through her husband, who grew up in the area, but is always on the hunt for more like-minded moms. "I joined the PTSA because I know those are going to be the involved moms," said Macario, mom of Charlotte, 7, and Ben, 6. She was thrilled when after a meeting some of them invited her out for a drink.
"As the kids get older, you want to know 'These are the moms that have my back,'" Macario says. "The ones you can talk to when things are great but also when you are losing your mind."
Kavita Varma-White is the mom of teens ages 15 and 13. She was forced to make new mom friends when her family moved cross-country from Florida to Bellevue, Wa., several years ago. Follow her on Twitter @kvarmawhite.