Tim McGraw and Faith Hill's eldest daughter Gracie is all grown up now (and sometimes singing with her famous parents), but at some point she was dating for the first time ... and as all parents know, that's a tricky road to navigate.
Fortunately, McGraw handled it with kindness and understanding, and he and Gracie's first date became best friends forever after.
Nah, that's not how it happened at all. There was blood! And a knife! And meat!
But let's let McGraw tell it, as he did on "The Tonight Show Starring Jimmy Fallon" Thursday night. See, he'd been on the road and got a call that Gracie was going on her first date, and did he want to meet the fellow? Naturally he did but wasn't getting back home until after the date.
"Faith said, 'I've met him, he's a really nice guy, we've done all the research ... we've put our Secret Service guys on him, he's good," McGraw recalled.
"Oh, heck yeah," chimed in Hill.
Hill and McGraw have three daughters: Gracie, 20; Maggie, 19; and Audrey, 15.
So McGraw gave his permission for the date to proceed, but he asked that the young man come by the house the next day "so I can say 'Hi' to him and look him in the eye," he explained.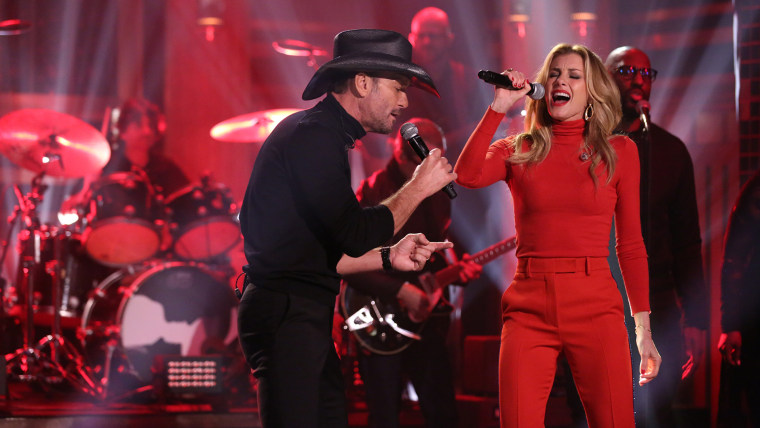 All well and good, but the country superstar, who has been married to Hill for 21 years and is currently touring with her on their Soul2Soul world tour, arrived home in the wee hours of the morning. He then had to get up only a short time later to prepare for a barbecue.
"So I'm in the kitchen and I forget that he's coming, so I have a white apron on and a knife and I'm trimming meat," he said. "So I've got chunks of meat all over this white apron, blood everywhere and the doorbell rings. And I go and answer the door and there's this kid who is dating Gracie and I've got a knife in my hand and a bloody apron on."
We are not certain if the young man ran away in terror or not, but McGraw did end by noting, "It worked out really well."
Always a relief to hear! What we want to know is this: Was there a second date? Last we heard, McGraw has graduated to greeting her dates with a sledgehammer!
Follow Randee Dawn on Twitter.