As Bobby Shafran spent his first day on campus at Sullivan County Community College in 1980, he kept being approached by strangers waving hello and calling him "Eddy".
Girls even came up and kissed him, all of which left him confused until a friend asked him if he was adopted and when he was born. He was adopted, and he was born on July 12, 1961, leading to a startling discovery.
At 19 years old, he learned he had a twin brother named Eddy Galland, who was also adopted from the now-defunct Louise Wise Adoption Agency in New York.
Shafran went to Galland's house to meet him, kicking off a remarkable series of events that led to the discovery that the two were part of triplets who were separated at birth. Their amazing story is detailed in the new documentary, "Three Identical Strangers."
"There was Eddy, there was me,'' Shafran told Megyn Kelly on TODAY Thursday about their first meeting. "We had the same physical reaction. We hugged and kissed."
A local news story about Galland and Shafran was then noticed by David Kellman, who saw the resemblance in the picture and did some digging to learn what hospital he was born in. He soon realized he was the third member of triplets.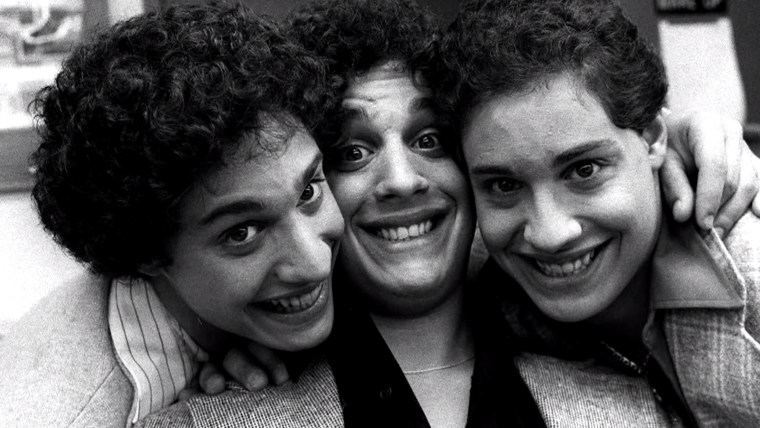 "I couldn't believe it,'' Kellman said on TODAY. "It got real very quickly."
All three had been raised by Jewish families in the suburbs of New York City, yet had eerie similarities. They all were scholastic wrestlers, smoked the same Marlboro cigarettes and had similar personalities, despite being raised in different socioeconomic backgrounds.
"We fell in love right in the beginning,'' Shafran said. "We just decided everything was going to be together, and it was. (My father) said, 'I have two more sons,' and he meant it."
The brothers became a sensation, appearing on TODAY in 1981 to speak with Jane Pauley, chatting it up with Phil Donahue, and even making a cameo appearance in the 1985 movie "Desperately Seeking Susan" with Madonna.
However, research by author and New Yorker staff writer Lawrence Wright soon uncovered the reason why the triplets were separated at birth. They were part of an unpublished study by psychiatrist Dr. Peter Neubauer that involved identical twins adopted from Louise Wise Services.
The study aimed to determine whether their upbringing or genetics determined how they turned out in order to gain insight into the nature vs. nurture debate.
"These people split us up and studied us like lab rats,'' Shafran says in the documentary.
Kellman and Shafran, who celebrated their 57th birthday on Thursday, said they all had mental health issues growing up. Garland died by suicide in 1995.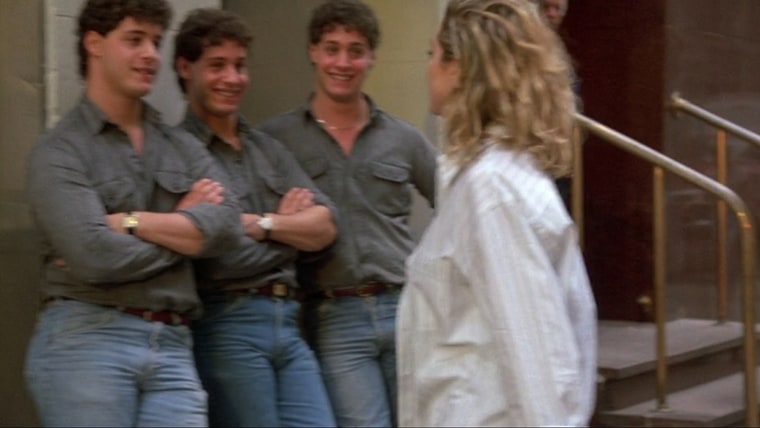 The adoption agency Louise Wise Services is no longer in service, and its records are now overseen by the Spence-Chapin agency. The records strictly related to the study are overseen by the Jewish Board of Family and Children's Services.
There may be more people out there from the study who don't know they have a twin, but the records have been heavily redacted, leaving people unable to find out the truth.
"Tell me why they're getting ethical now?" Shafran said.
"The Jewish Board does not support or condone Dr. Neubauer's study, and we deeply regret that it took place,'' the Jewish Board of Family and Children's Services said in a statement to TODAY. "We're committed to developing a stronger relationship and continued, open communication with Mr. Kellman and Mr. Shafran and other individuals included in and impacted by this study.
"Dr. Neubauer's records are comprised of highly private and personal information; the redactions are only to protect the privacy of other individuals who have not given permission for their information to be shared."
Follow TODAY.com writer Scott Stump on Twitter.