Most moms have to yell at their kids to turn down that deafening rock and roll music. But Terri Bear invites her son up on stage and tells him to crank up the volume.
When Bear's group -- the T-Bear Band in Saskatoon, Saskatchewan -- was short a lead guitar player, she knew just who could fill the spot: her son, Malik Olsen, who was only 16 when he started playing.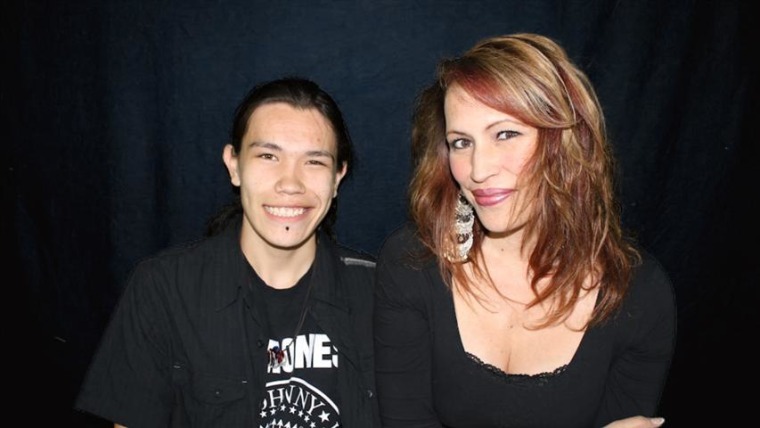 Bear knew her kid could pick up songs quickly, and saw it as a chance for him to develop his playing skills. Then she heard his voice.
"He shocked all of us when he started to sing. I was so proud and amazed," says Bear of her son, who has only taken one voice lesson. "He has a drink-a-bottle-of-whiskey-a-day voice."
Two years later, the band -- and most surprisingly the mom and teen duo -- are still strumming along. They practice after dinner a few times a week in the percussionist's basement and have performed in front of as many as 900 people.
Olsen is humble about his gig.
"It's a really good experience for my mom and me to play together. She lets me hang around with the band mates and they're really talented musicians," he said.
Playing in the band has also helped Olsen stay out of trouble. Before he took on the lead guitar role, Bear worried that he might be meeting up with the wrong crowd. But now, she knows who he's spending time with and approves of his friends. Even better, the teenagers hang out with her, too.
The only hassles the band has run into are logistical ones.
"It's hard to get in to play bars when you have a 16 year old with you. As soon as we're done playing, he usually has to leave the bar or sit in the kitchen," says Bear, 45, an elementary school art teacher.
Olsen grew up surrounded by music. His mom wrote him a lullaby when he was a baby, sang Joni Mitchell in the kitchen, and always had a few guitars in their home. When Olsen was 12, an uncle with an extensive music collection introduced him to classics by The Who, The Doors, and Pink Floyd.
When he was 10, Olsen picked up his mom's old guitar.
"I would have been surprised if he didn't gravitate to an instrument, but I never forced it on him," Bear says.
Olsen appreciates that she let him find his own taste in music and says he's learned a lot from his band mate mom. "She's taught me to have patience with music, and not expect to be good at it right away," he said.
The teenager draws a lot of his inspiration from Led Zeppelin. He has one final semester at Aden Bowman Collegiate and plans to take a couple of years off from school to earn money and start his own group.
Last week, the T-Bear Band played for a local talent competition in Saskatoon, but they didn't make it far. It's a disappointment after last year, when they made it all the way to the finals. But Bear says the defeat is a good lesson for both of them.
"Playing in the band is definitely a life-learning experience," she says. "We tried our best, and we don't let anything deter us. We'll just try again next year."
What do you do to bond with your teen? Share your experience on the TODAY Moms Facebook page.
Corey Binns writes about parenting, health and science. You can follow her @coreybinns and coreybinns.tumblr.com.