/ Source: TODAY Contributor
When Julie Bowen isn't taking care of her on-screen family, the "Modern Family" actress busies herself with parenting her three sons, Oliver, 9, and twins John and Gustav, 6.
Bowen, who also serves as an ambassador for Neutrogena, recently talked with TODAY.com's Terri Peters about the ways life changed for her once she became a mom. Share your own life changes and read more from other parents on our TODAY Parenting Team!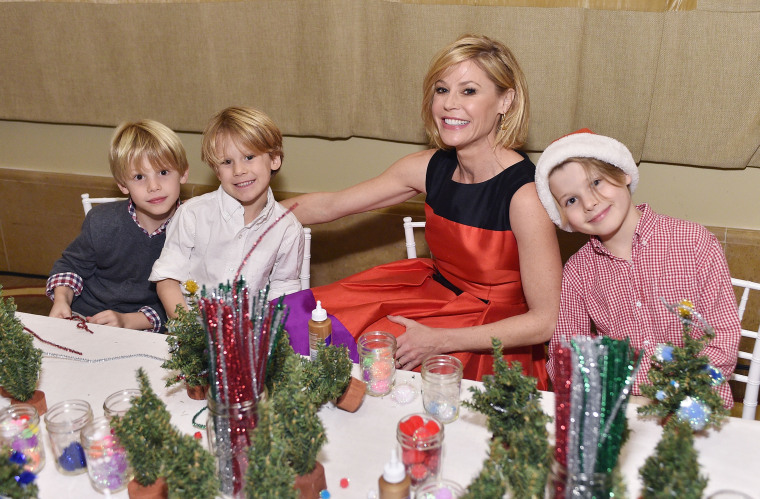 Obviously, everyone knows about your "Modern Family," but would you also tell us a little about your real family?
BOWEN: Well, they are less organized than my "Modern Family," I can tell you that. It's definitely more of a challenge. We have these scenes on "Modern Family" that we call "The Morning Rush," where it's all the kids getting ready to go to school, me making breakfast and all this stuff. I remember when we first started doing those scenes, I had babies and my morning rush was totally different.
Now, my morning rush really is kids getting out the door to school, and it is impossible! It's so hard! I mean, I don't understand why it's the hardest thing on earth to get three boys to put their shoes on and get out the door — you would think I was asking them to climb Mount Everest.
But, they are the center of my life — for better or for worse. They're the first thing I think about when I wake up in the morning, and they're the last thing I think about before I go to bed at night.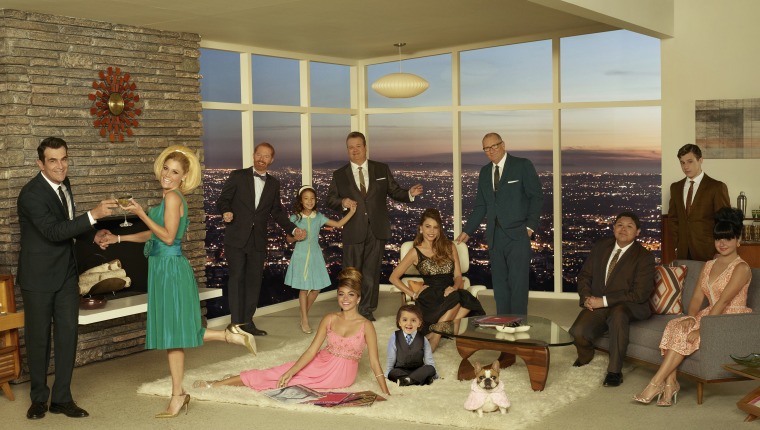 So, what are the practical ways life changed for you when you became a mom? Are there things you do now that you think, "Before kids, I never would have done that?"
BOWEN: I'm always amazed — I am a terrible cook — and I'm always shocked when these three little people look at me and go, "What's for breakfast? What's for dinner?" And I think, "Oh, I have to feed you! It's my job!"
When I was first pregnant, I panicked about that and my sister reminded me that they don't come out at age five — they ramp you into it real slow. You start with boobs and breast milk, and you work your way into it really slowly.
So, you figure it out as you go along. And kids basically like beige food.
As far as the stuff that's now my responsibility? Putting sunscreen on them. My mom didn't put sunscreen on me, and it's not that she was a bad mom, it's that it was just a different time. Now we know we have to do that every day — I'm going to put sunscreen on you, and then I'm going to tell you to brush your teeth and we're going to do all of those things every day. How did I become this person? The one in charge?
What about the more sentimental or emotional ways that life changed? I know you said you think about them as soon as you wake up in the morning — does it surprise you how much love you have in your heart when you become a mom?
BOWEN: They own me. I can't believe how much I love them. It's like having three boyfriends and a husband. It's like I'm married, and I have these three boyfriends.
I don't mean that in any inappropriate way, but they go through these phases — normal, developmental phases — where they want to ignore me or they won't kiss me goodbye at drop-off, or they're desperate for my attention. And it's like being a teenager and asking a boy, "Why are you calling me all the time? Why aren't you calling me all the time? Why do you seem to either love me completely and totally, or you're ignoring me?"
It's different as a mom. You've just got to ride those waves out. I don't have time to figure them all out, I just have to love them and feed them and put on their sunscreen.
Do you think becoming a mom changed you as an actress? Having such a large body of comedy work, do you feel like you draw a lot of material from real life now that you have kids?
BOWEN: It's funny, my kids don't necessarily think that I am funny. But they're kids — so their job is to make you feel slightly insecure at all times about everything you've ever thought about yourself.
But, I definitely think that I understand why family comedies are so universally loved and so universally watched and accepted. Whether it's a movie or it's a TV show, it's relatable because it's an experience that all of us have had in some way, shape or form. It's just so universally binding that we've all gone through this thing where you live with the people you both love and want to murder every day.
My kids do these crazy things — a shocking number of unflushed toilets on a constant basis, or the number of times we get in the car and we get to school and I go, "Where's your backpack?" and someone says they didn't know they were supposed to bring it. Yes, you were supposed to bring it today like every day.
They're stunningly sophisticated, and yet they're tiny, drunk animals and they don't know what's going on half the time.