You thought texting while driving was bad? Now there's texting while walking.
Two in five teens say they have been hit or nearly hit by a car, bike or motorcycle while walking, a new report finds. And lot of those scary situations involved electronic devices.
Many of the teens surveyed for the report admitted to listening to music, talking on the phone, and browsing through websites or texting on their phones while crossing the street, according Safe Kids Worldwide.
"We worry a lot about teens who are in cars," said Kate Carr, president and CEO of Safe Kids Worldwide. "But we really need to think about teens who are walking."
The teen pedestrian statistics are startling and scary. "Every hour of every day a teen is either hit and injured or hit and killed by a vehicle on the road," Carr said.

Safe Kids surveyed 1,040 teens aged 13 to 18 to discover what might be placing kids at risk while walking.
What they found should disturb any parent.
A full 40 percent of the teens said they had been struck, or nearly struck, by a car, bike or motorcycle while walking. "That's an alarming number," Carr said.
Among those who were hit or nearly hit, 47 percent said they listened to music while crossing the street, 18 percent said they texted and 20 percent said they talked on the phone while walking across the street.
It might be the individual stories that give parents most pause.
One teen said, "I was texting on my phone and crossing the street and the car was speeding. The car hit me and I broke my leg and my toe."
Kids don't seem to understand the dangers of listening to music while crossing the street, Carr said.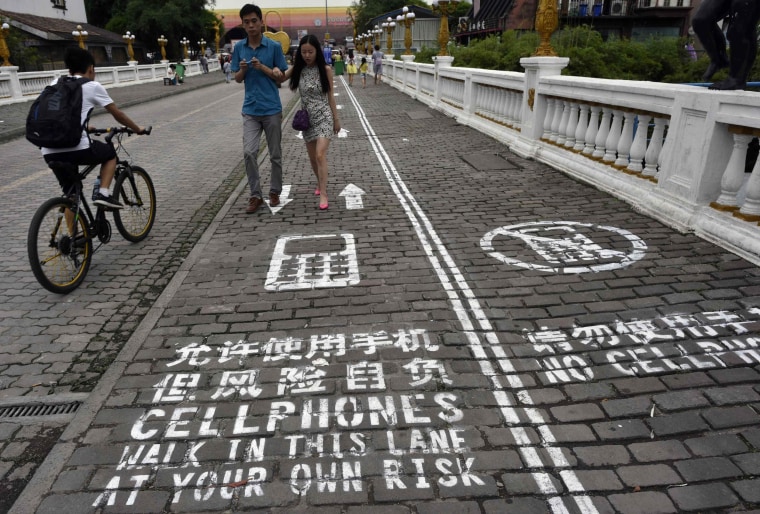 "When you're crossing the street with headphones on, you're not hearing the ambient sounds around you," she said. "You're not hearing those signals from cars or from approaching vehicles you simply may not see. It's best to take the headphones out and keep your head up when you're crossing the street."
The new numbers came as a surprise even to public health expert Keshia Pollack.
"It's really astonishing that such a large number talked about texting and talking while walking," said Pollack,, an associate professor of health policy and management at the Johns Hopkins Bloomberg School of Public Health and associate director of Training and Education at the Johns Hopkins Center for Injury Research and Policy. "You want kids to be physically active, but you also want to keep them safe."
The timing couldn't be better for a report like this, Pollack said.
"October 8 is International Walk to School Day," she explained. "So we will see kids walking more on that day."
Linda Carroll is a regular contributor to NBCNews.com and TODAY.com. She is co-author of "The Concussion Crisis: Anatomy of a Silent Epidemic" and the recently published "Duel for the Crown: Affirmed, Alydar, and Racing's Greatest Rivalry"