Each year the independent consumer organization, toyportfolio.com, reviews hundreds of toys that are then vetted by the ultimate testers: kids all over the country. Here, child development expert and TODAY contributor Stephanie Oppenheim shares some of the winners of their Platinum Awards for 2013. 
Good news: Many of the best toys of the year will not break the bank. The toys that make our "Platinum" list are not only fun, but they provide kids with valuable play experiences that can help build their language skills, confidence, ability to weave stories, follow instructions and stay with a challenging task.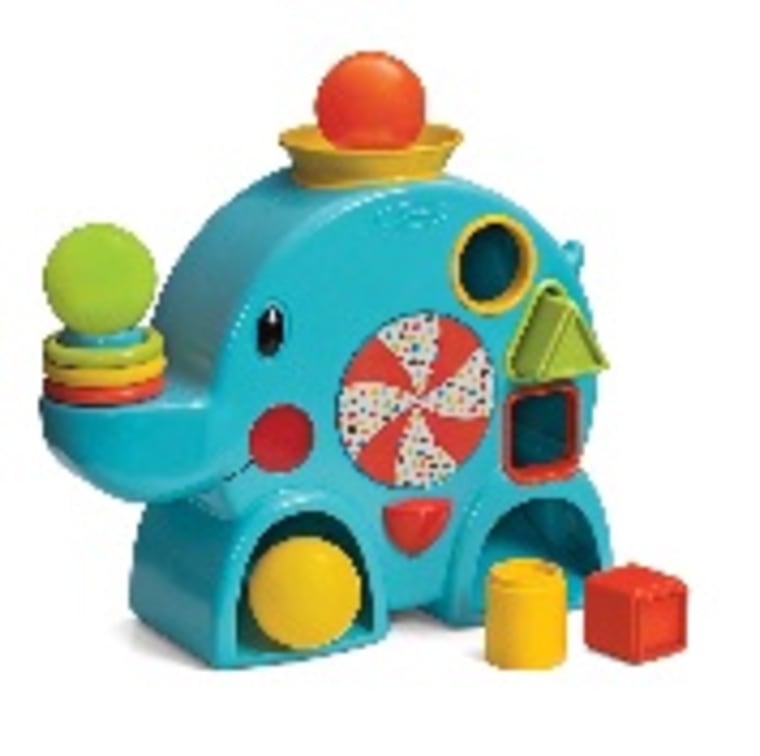 Infantino Stack, Sort & Ball Drop Elephant
Babies that can sit up will love the fill and spill action of this clever elephant with a shape sorter as well as a ball drop. Put the pieces in the big opening at the top or match the shapes on the side and, abracadabra, they set off music or an elephant trumpet as they come rolling out. 
Or, show baby how to stack the rings on the elephant's trunk or press the big button and set the wheel spinning. The volume control lets you turn the sound down. This well-designed activity center is not random, as so many electronic toys tend to be. Baby can actually begin to understand that his actions cause reactions — with repetitive lessons of cause and effect babies can gain an empowering sense of making things happen. (Infantino, $25)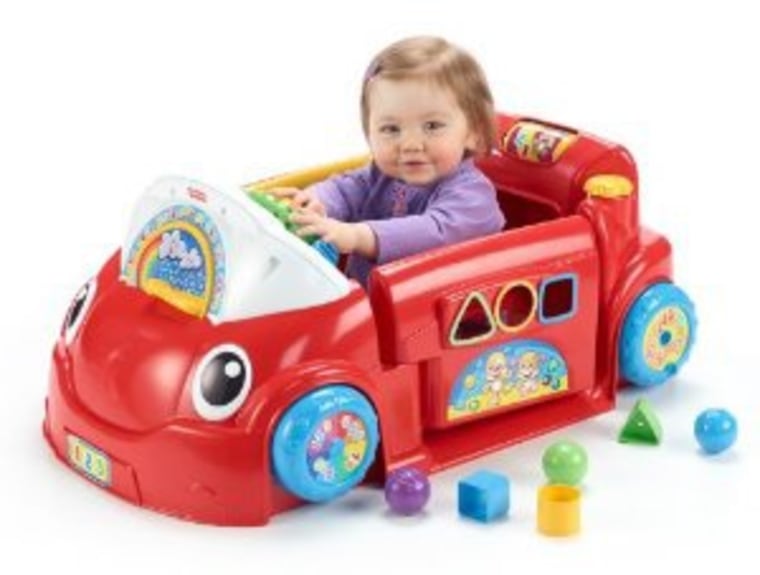 Fisher-Price Laugh & Learn Crawl Around Car
You know how car salesmen tell you the car they are selling is fully loaded? That would be a good description of this red activity center that is shaped like a car. It has wheels but does not move around. It's designed for toddlers who are sitting up, crawling, and even cruising. There's a dashboard with steering wheel, lights and buttons. The back wheels spin and one side door opens and closes so tots can go in and out. There is a shape sorter on one side and a ball run on the other, even a windshield wiper that talks about the weather. 
All the pieces are sized up for young players. While it's recommended for children 6 to 36-months-old, we think this will be used mostly by babies who are crawling and cruising. There are lots of ways for them to make things happen and for early games of pretending. Warning: This toy takes some time to put together with screws and stickers. (Fisher-Price, $60)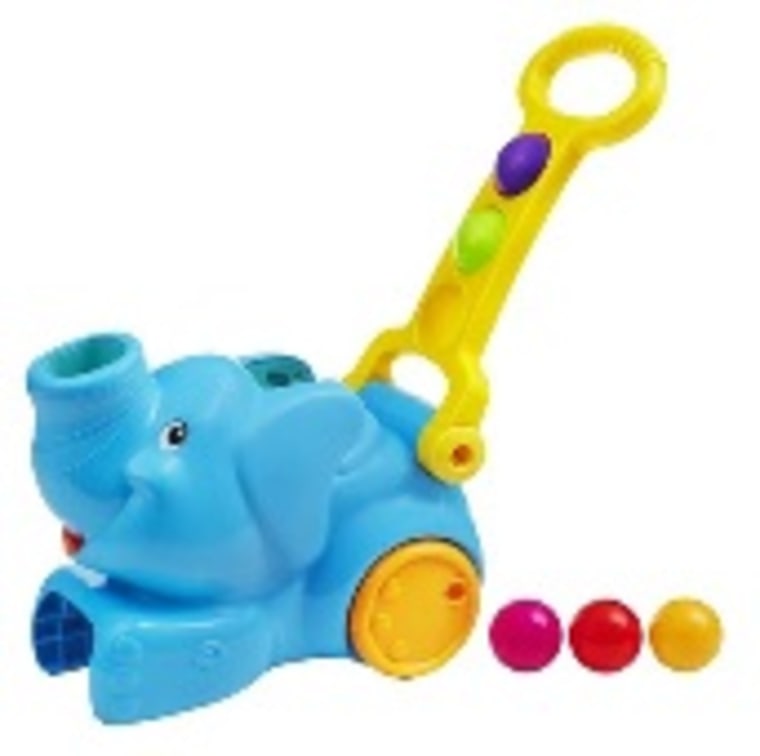 Playskool Pop N Pick Up Elefun
Toddlers will be popping, chasing, and picking up the five colorful balls that pop out of the blue elephant's trunk. Unlike a lot of pop-up toys, this does not shoot the balls high or with much force. As tots push the elephant over the balls it scoops them up again. This plays right into the toddler's delight in new-found locomotion as well as their love of repetition. It's a great gift for active players 18 months and up. (Playskool, $29.99)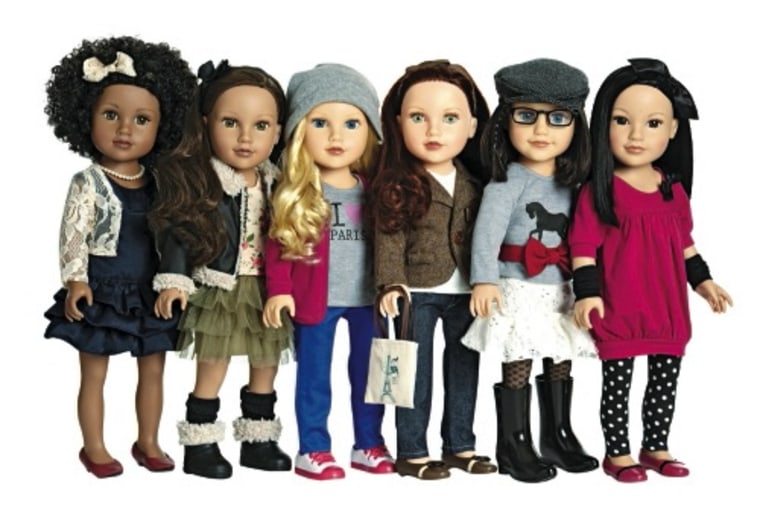 Journey Girl Dolls
This is another beautiful collection that rivals other more expensive dolls. We were taken with Chavonne, an 18-inch African-American girl, who wears a satin ruffled party dress topped with a white lace jacket and matching bow in her luxurious hair. She is heading to Paris to see the sights along with the other multi-ethnic Journey dolls. Each has a soft fabric body and plastic legs, arms and head. (Toys R Us, $39 each) 

Building
It's so important that kids have experiences with building. It's through this type of play that they learn about spatial relations, develop an ability to follow step-by-step instructions and stick with a task. Parents often make the mistake of buying the big box, especially for the holidays, but for younger builders it's important to start small and pick sets that you can do together. The idea is to build their sense of confidence, not frustration!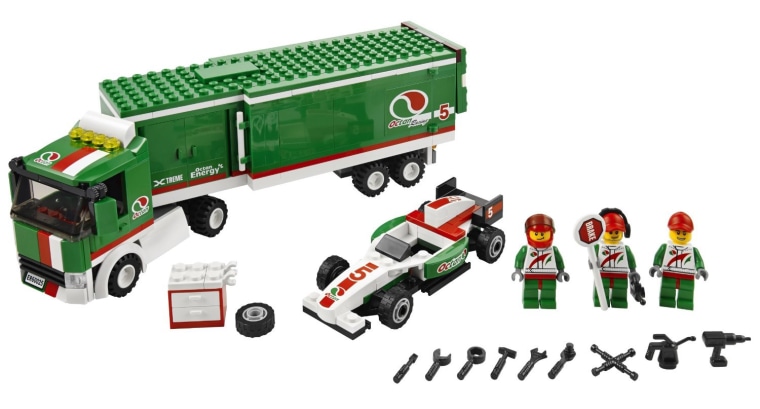 LEGO City Grand Prix Truck
While "Star Wars" often gets the lion share of requests from our LEGO builders, some of the company's more traditional trucks got rave reviews from our testers. This Grand Prix Truck received high marks because it was an interesting build. The truck opens in different ways to make room for the Gran Prix car (which you also get!). 
With 315 pieces, this is a satisfying build for a beginning builder. The box says it's for ages 5 and up — most fives will need assistance, which is fine. In addition to the truck and the racing car, the set comes with three mini-figurines so there's lots of room here for pretend. (LEGO Systems, Inc., $29.99)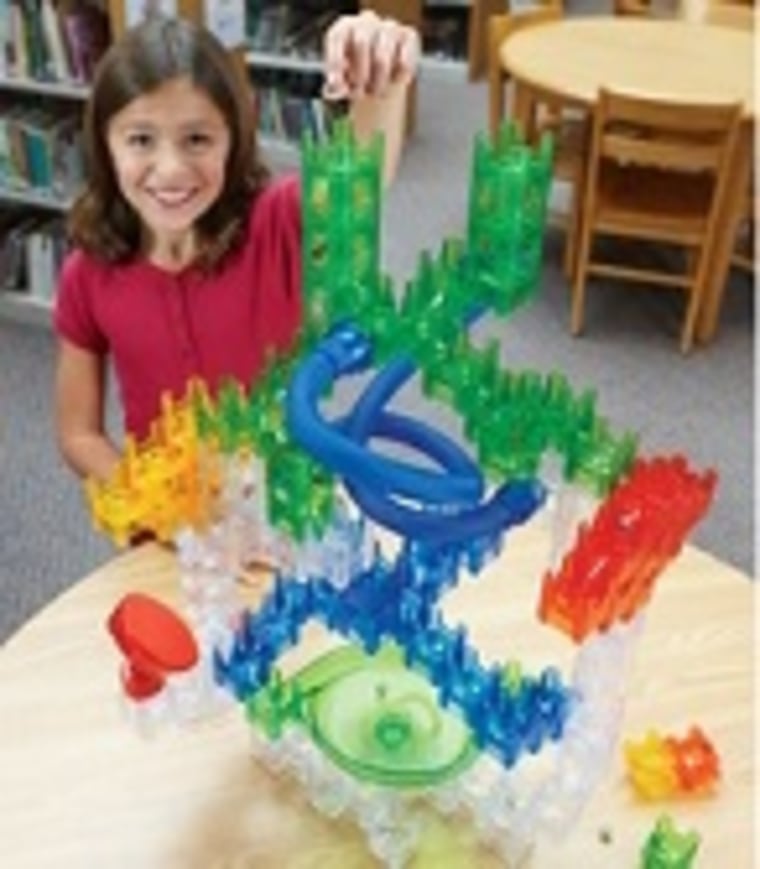 MindWare Q-BA-MAZE 2.0
We had some totally amazing marble maze toys this season, and this one was a huge hit with older builders. The plastic translucent pieces can be connected both vertically and horizontally and joined with bendable tubes to create complex pathways for the steel marbles to run through. The rushing marbles make a nice sound as they move through the maze. These are not magnetic marbles, but you will need to keep them out of the reach of kids who are still chewing on their toys. 
Start with the big box set ($39.99) or you can go straight to the Mega Stunt set ($79.99) that includes a good supply of colorful cubes, a pivot trampoline, marble vortex, coaster tubes, stilts and 30 marbles. This is the kind of toy that builds dexterity, patience and problem solving skills. It's a playful introduction to physics that also pushes those creative buttons.
The company says it's for children 6 and up, but we think most 6-year-olds will need help. This is probably a better bet for mixed ages, parent and child, older kids who will enjoy it independently. (MindWare, $39.99 & up) 
Crafts
School-aged kids love making things that they can display with pride or give as gifts. Here are three new sets that our testers enjoyed. We especially loved the crayon rings we could make with the updated crayon factory!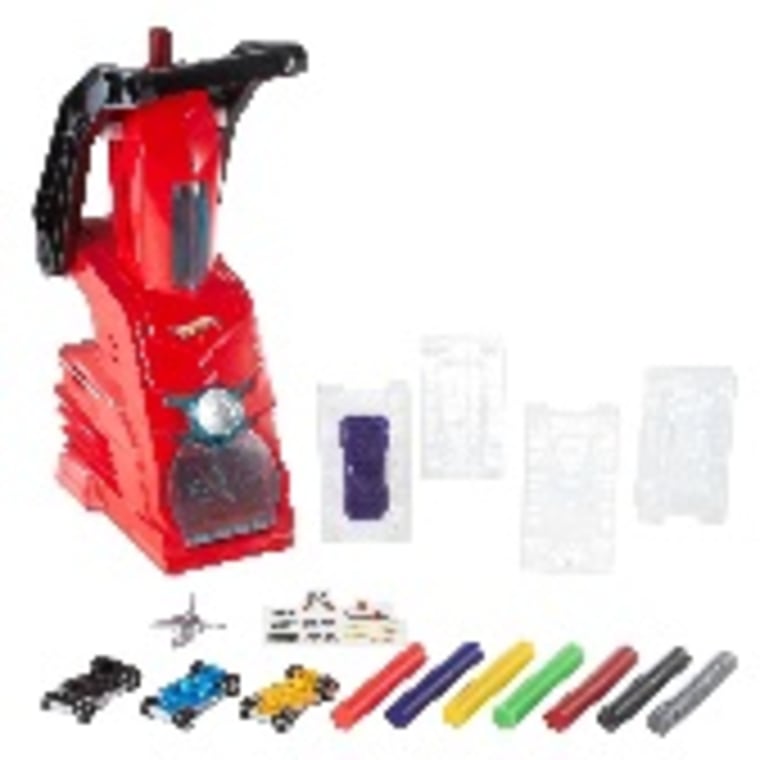 Mattel Hot Wheels Car Maker
Every Hot Wheels fan has probably dreamed of designing original cars, and now they can! This is an innovative toy that comes with two molds, three chassis, and 10 colored wax sticks for making 10 cars. Kids can combine colors of the wax and add decals for unique results. The melting process happens when the wax is loaded and the door locks shut until it cools. In the interim, there are sound effects that can be a bit annoying, but you must keep listening so that you know when to lower the handle that injects the wax into the mold. 
The finished product has a hard glossy finish and fits well on the wheeled base chassis. There are a variety of refill and accessory kits with wax rods, chassis, and molds ($12 each kit) for this winning toy-making machine. Marked for ages 8 and up, this is plugged into the wall and needs adult supervision. We think even 8- and 9-year-olds will need adult help with the first vehicles they make. (Mattel, $49.99)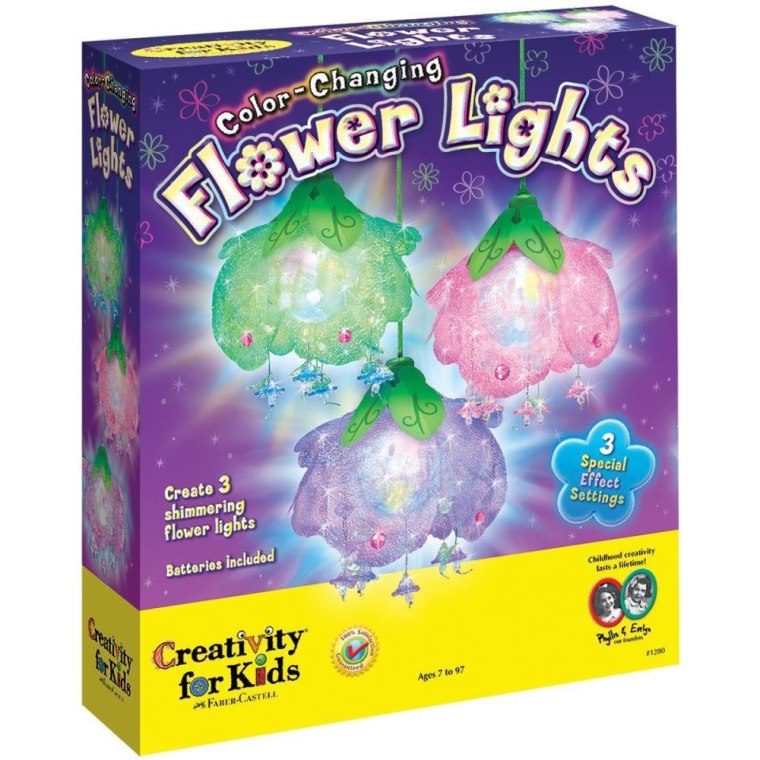 Color Changing Flower Lights
A really satisfying kit for adding some light and sparkle to any room. Comes with three battery-powered (batteries included), clear plastic globe bulbs that have faceted surfaces. The set comes with plastic leaves, shimmering fabrics, beads, self-adhesive rhinestones, thread, double-sided sticky foam, a bead threader and an instruction book with ideas. Comes with green satin cords to hang the lights up with. These are very pretty, and our testers liked that the bulbs have three different settings for varying patterns. (Creativity for Kids, $26.95)

Games
Games are an affordable gift that keeps on giving throughout the year.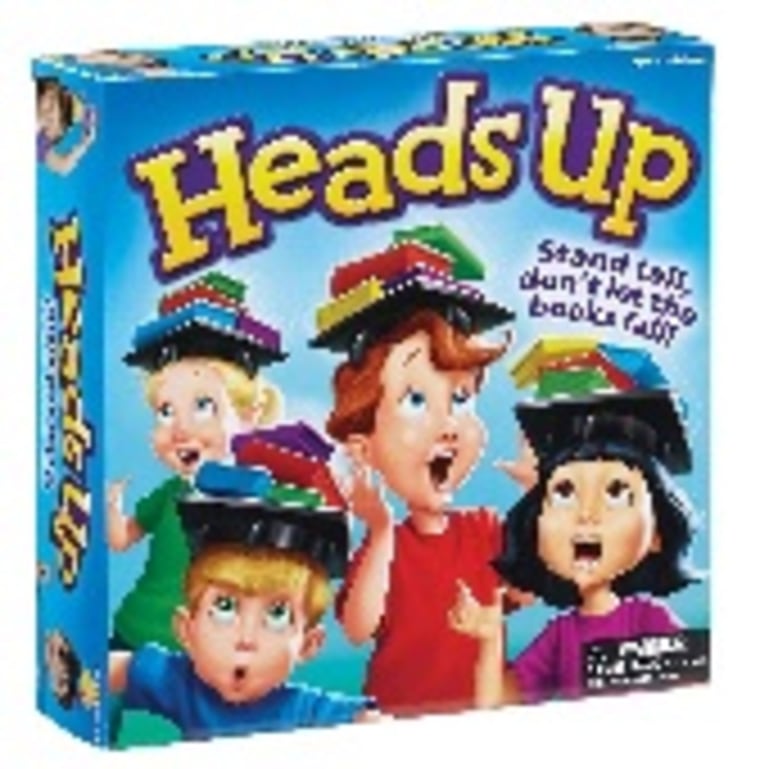 Heads Up
A game designed by Professor Higgins, perhaps? Heads Up challenges players to balance fake books on their heads. Rolling the die tells each player how many books to add to their mortarboard. It may also instruct you to remove a book. The game comes with 40 "books," four mortar boards and a die. You have to bring your own sense of balance. Marked for ages 5 and up. (International Playthings, $19.99)