With just months left to live, Kerry Huffaker got to experience one of the most magical nights of her life, thanks to her son.
There was no one else Dylan Huffaker would rather take to prom than his beloved mother, who had been diagnosed with stage 4 brain cancer in February.
A few weeks leading up to Canyon Ridge High School's big night, the 17-year-old surprised his mom during her radiation at Mountain States Tumor Institute in Twin Lakes, Idaho, with chocolate doughnuts.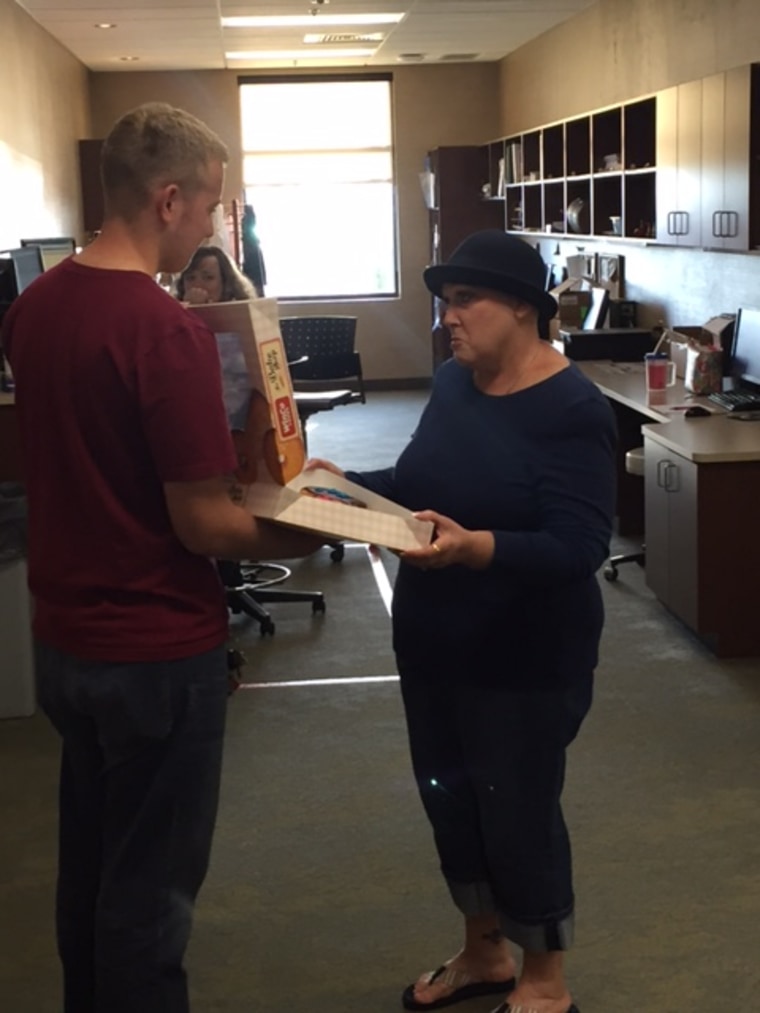 RELATED: Son moves wedding up exactly 1 year so mom with terminal cancer can attend
But these weren't just any old doughnuts — they had the words "Will you go to prom with me?" written in frosting, which his mom didn't see at first. She just thought he brought them because it's the only food that hasn't made her nauseated during treatment.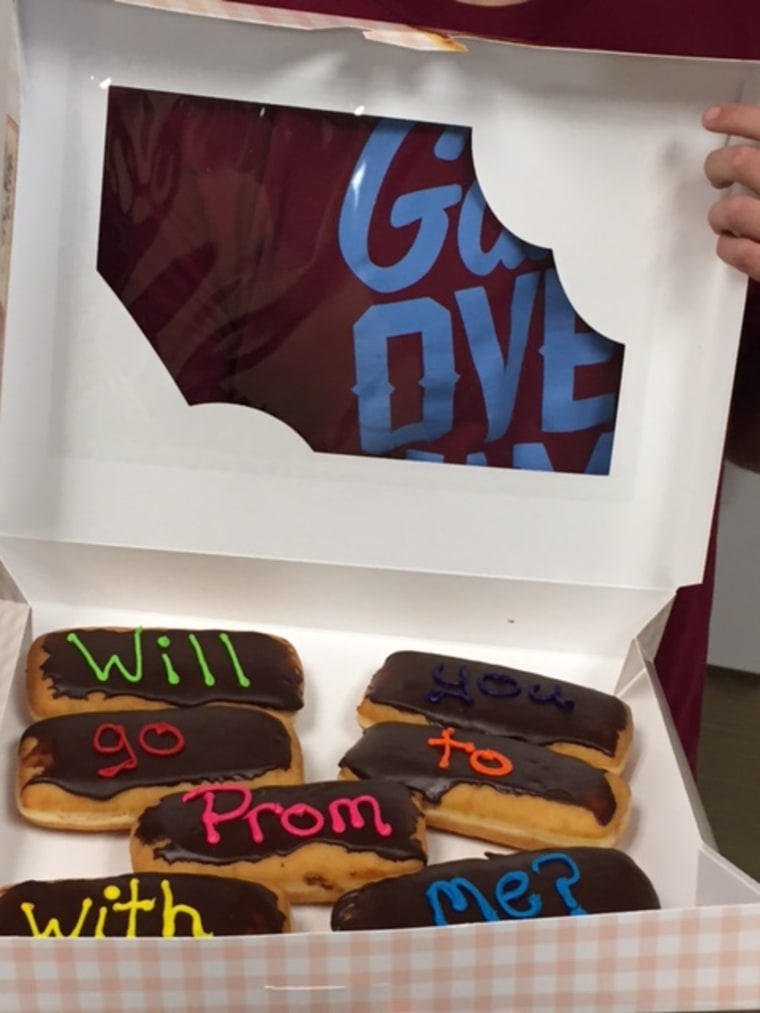 "When I realized what he was doing, I said, 'Are you sure you want to go with your bald old mom?'" Kerry Huffaker, 59, told TODAY. "He responded by telling me I'm going to be the most beautiful one in the room."
With the help of Melissa Rowe, a social worker at the tumor institute, the community came together to help make the night as memorable as possible.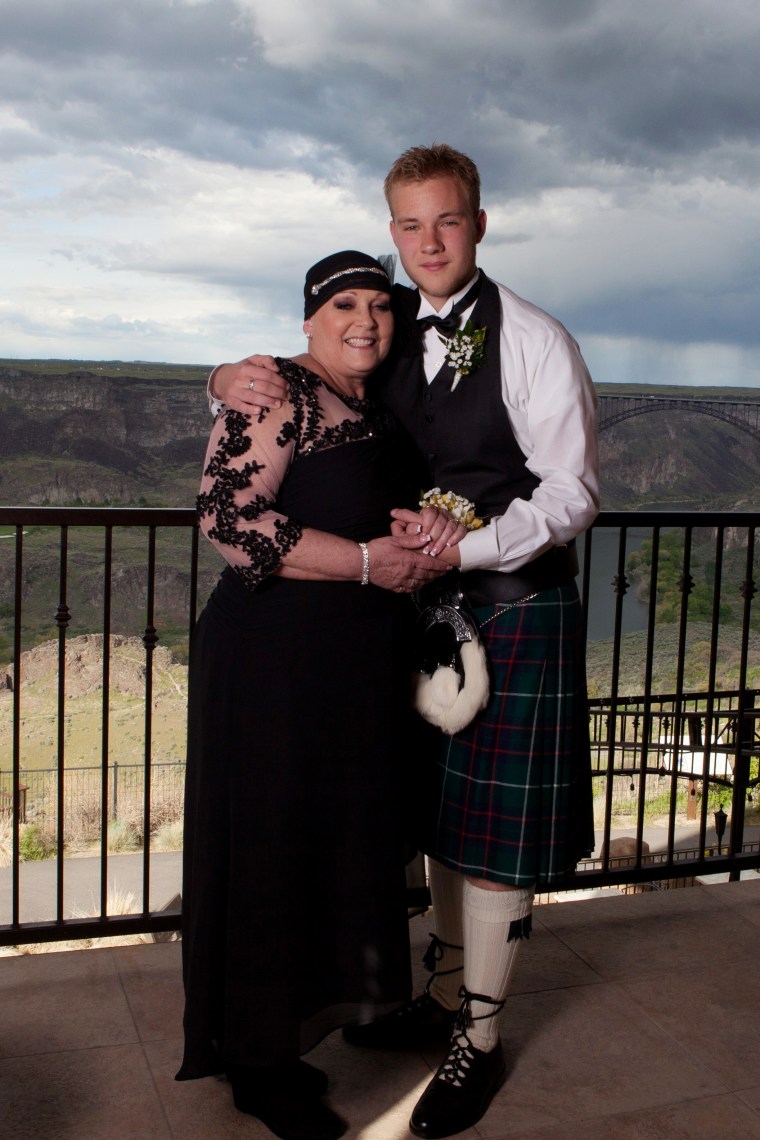 Rowe contacted Gregg Middlekauff, who owns a local car dealership. Not only did he donate an SUV for the night, but he also paid for her dress and their dinner.
RELATED: Mom experiences the prom she never got to attend — thanks to her son
"It was the most beautiful dress I've ever worn in my life," Huffaker said.
While they had a car, they still needed a driver. That's where Mike Fenello, CEO of St. Luke's Magic Valley Medical Center, where Huffaker is being treated, comes in. Not only did he donate his time to drive them around the entire night, but he even threw in a boutonniere and corsage.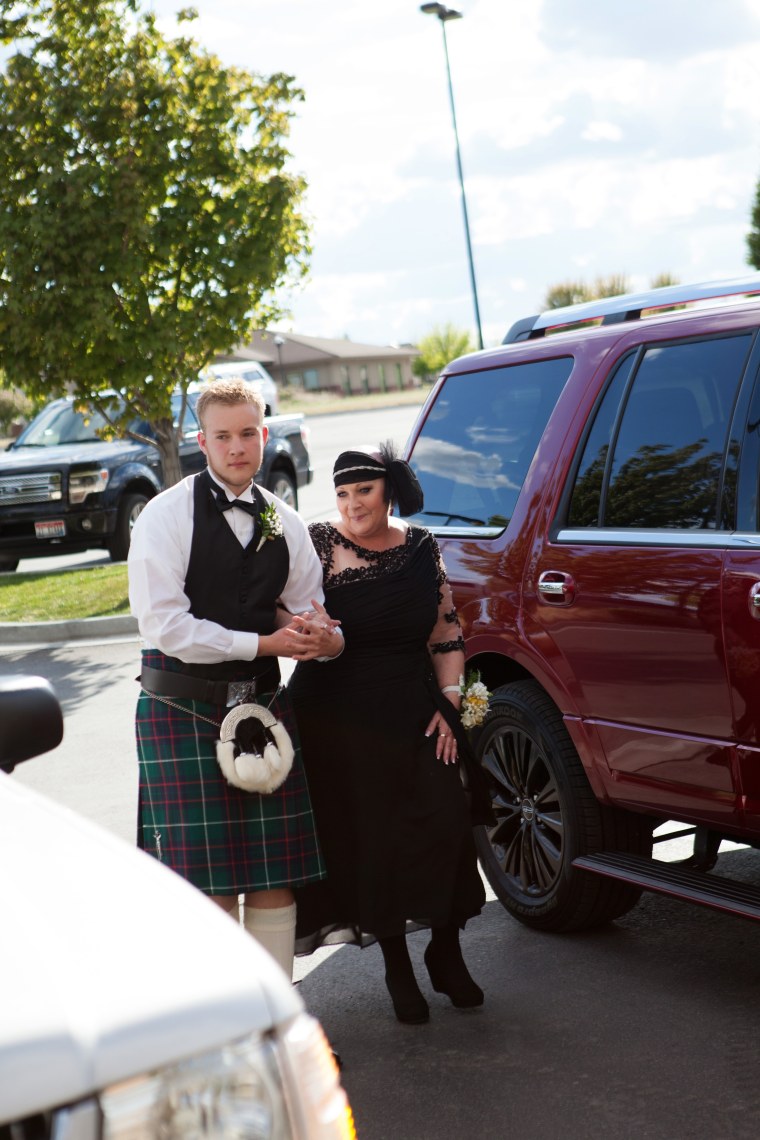 The high school senior picked his mom up and took her to dinner, where a photographer was waiting to capture the moment.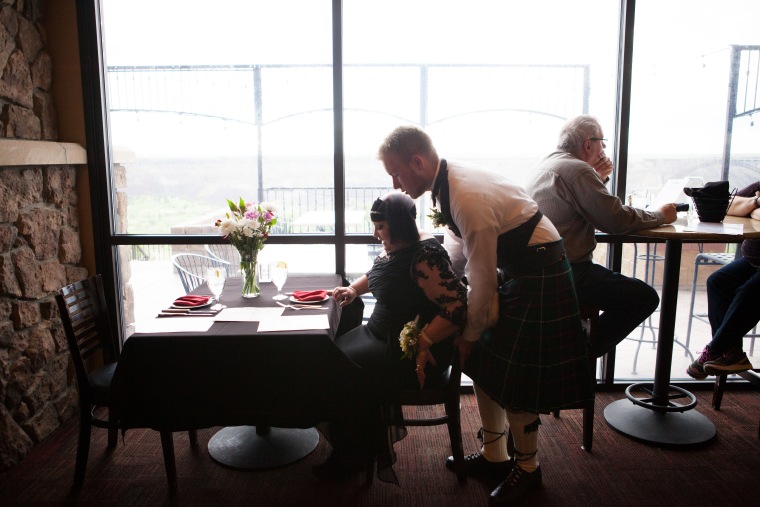 RELATED: Teen asks his terminally ill sister, 10, to high school formal
But the real magic was yet to come, when the DJ cleared the dance floor and said there's someone who would like to dedicate a song to his mom.
As the pair danced to Garth Brooks' "The Dance," which has lyrics that speak to what they are going through, Kerry Huffaker couldn't help but think about how she wouldn't be there to dance with her son at his wedding.
"I may not physically be there with him, but I'll be there in his heart," she said.
Before the dance ended, all the students joined in.
"It was touching, but very emotional for everyone dancing with us," she added. "When the song was over, I had people I didn't know coming over to hug us."
Instead of attending an after party with his friends, Dylan Huffaker went home with his mom to watch a movie. But they never got around to watching anything because they were too busy reliving the excitement of the night.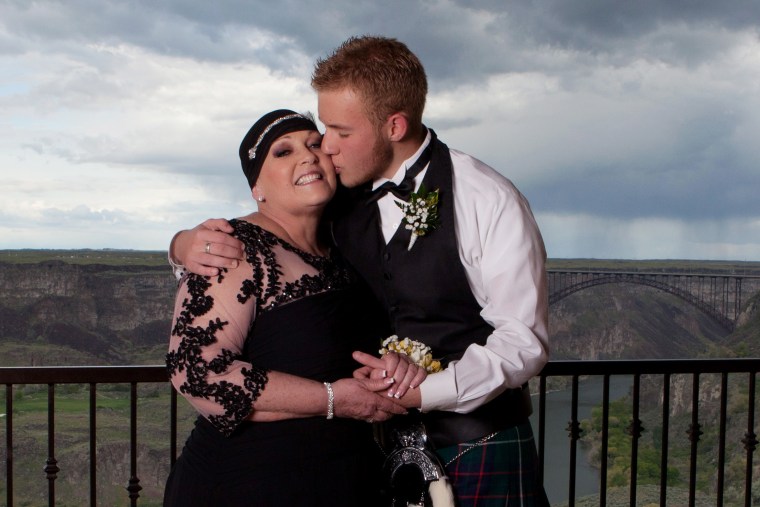 "When we are about to lose someone or have lost someone special in our lives, we often worry that others will forget about that person," Rowe told TODAY. "I feel like this hospital and this community came together to help ensure everyone has the opportunity to hear what a special bond this mother and son have — and she will always be remembered."