/ Source: TODAY Contributor
Halloween is a time for a good scare and a bit of spookiness, but for parents of kids with food allergies, the holiday can be frightening for serious reasons.
So last year, FARE (Food Allergy & Research Education) launched the Teal Pumpkin Project as a way to keep children with food allergies safe, while still allowing them to participate in Halloween night festivities.
"With 1 in 13 children in the U.S. affected, there is a good chance that a child on your block or in your neighborhood is living with food allergies," said Veronica LaFemina, vice president of communications at FARE. "Learning about and participating in the Teal Pumpkin Project encourages empathy and a sense of community. And, the smile on a child's face when they see that a neighbor has given them a treat they can enjoy is really something special."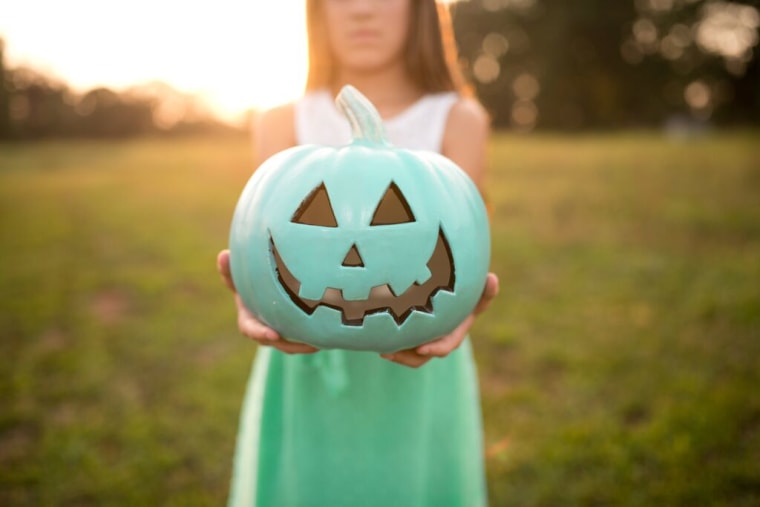 The concept behind the Teal Pumpkin Project is simple: participants paint a pumpkin teal and place it outside their home, as a way to indicate that they have non-food treats available. Participants who don't have time to paint a pumpkin teal can print out a free sign from FARE's website, and place it outside their home as an indicator that their house is a safe place for kids with food allergies to trick-or-treat.
Heather Krieger's 5-year-old son, Kaiden, is allergic to peanuts, eggs, wheat and lentils. Because trick-or-treating can be a dangerous time for Kaiden, Krieger says she decided to participate in the Teal Pumpkin Project last year. The Kennett Square, Pennsylvania, mom says she was surprised to see the impact that her participation had on other kids in their neighborhood.
"It made my night last year when a little boy and his dad came to our house — the little boy grabbed a couple of stickers and was so excited. His dad explained the boy had food allergies and each year they ended up donating all of his candy. He went on to say how excited his son was to have something he could keep…the look on the little boys face was something I'll never forget," said Krieger.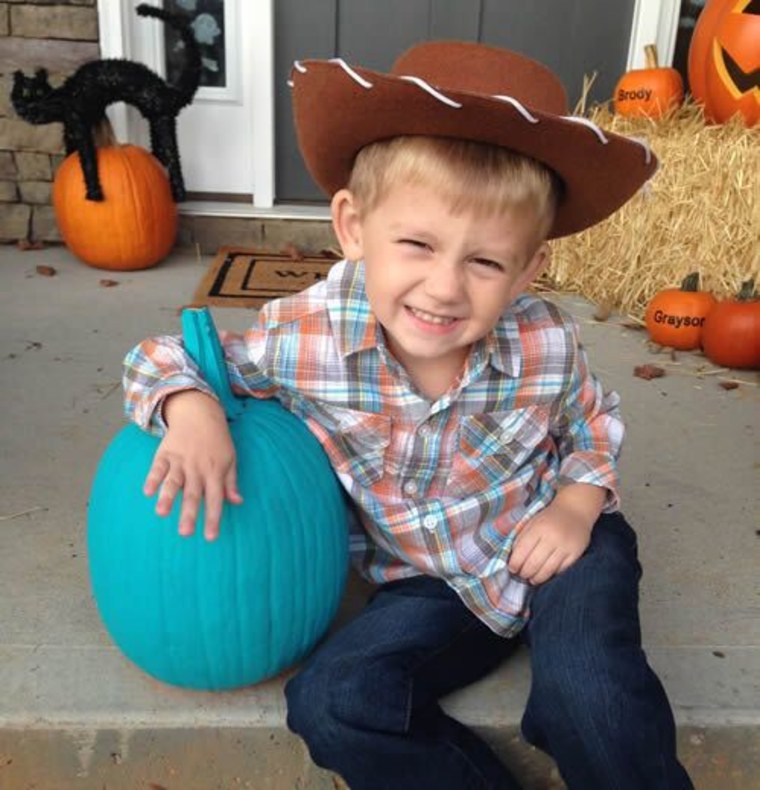 LaFemina says it's important to remember that the purpose of the Teal Pumpkin Project is not to change Halloween by taking away candy.
"Halloween is a fun, community holiday and the Teal Pumpkin Project is building on this spirit of community by making Halloween a safer and happier experience for all," LaFemina told TODAY Parents.
"Dollar stores, craft stores, and major retailers have a wide assortment of inexpensive and popular non-food treats such as bubbles, glow-sticks, pencils and stickers to hand out. It's a simple way to make a big difference for the children in your community who are living with food allergies or other conditions that mean candy is not an option."