Second grade teacher Brandy Young gained national attention in 2016 when a note she wrote to her class parents was posted on social media.
"There will be no formally assigned homework this year... rather, I ask that you spend your evenings doing things that are proven to correlate with student success," she wrote. "Eat dinner as a family, read together, play outside, and get your child to bed early."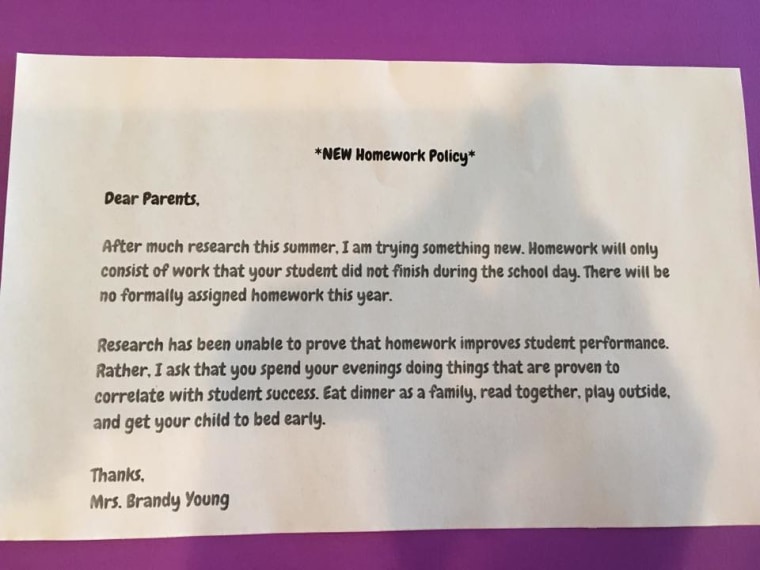 Two years later, Young is teaching second grade at a new school, A.G. Elder Elementary School in Joshua, Texas. She is still not assigning formal homework — though she has tweaked her policy a lot, she told TODAY Parents, since she wrote that note.
The no homework policy has worked great, she said, but it has been a learning process for her. Young found out that some of her students really do want homework, for one thing. She will also send work home with a child who needs more practice on a specific skill from time to time, but when she does, she communicates with the parent and sends an answer key to ensure the practice will be effective.
"Also, not assigning homework doesn't change the fact that the kids who need extra practice the most usually don't have the necessary support at home," said Young, who has three young boys of her own with her husband Klint. "It's a battle that educators are used to fighting, and it isn't going away any time soon."
Never miss a parenting story with the TODAY Parents newsletter! Sign up here.
Young said her experiences in the classroom for the past two years have only reinforced the idea that effective teaching is all about relationships.
"I want my students to know that I care about them at every second," she said. "I want parents to trust me and let me into their family. I want open communication lines between us so that I can better understand their children and help them succeed."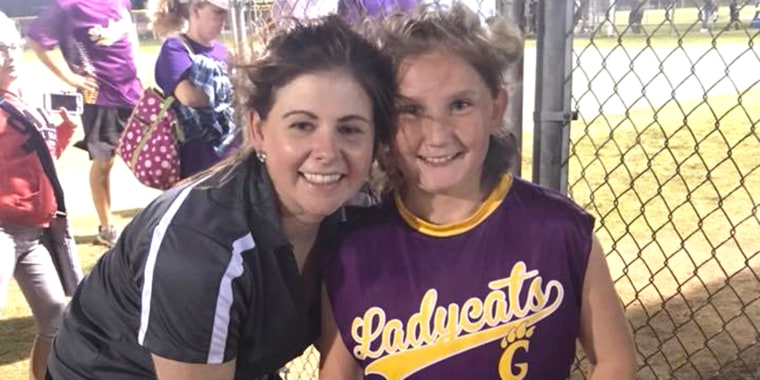 For that to be possible, Young said, "Student work, regardless of when and where it's done, should be meaningful, engaging, and relevant. No packets ever. Period." Her second grade students approach learning enthusiastically as a result — even at a Title 1 school where nearly 70 percent of the students are eligible for free or reduced lunch prices.
"Kids can conquer mountains when given encouragement, choices, and support!" said Young. "They want and need to be nurtured as a whole child. I believe the no-packet theory supports that effort."
Young was not the first nor the last teacher to implement a classroom policy eliminating homework. In 2017, Marion County, Florida, School Superintendent Dr. Heidi Maier announced she was banning homework for the 31 elementary schools throughout her school district. At the time, Maier said her plan called for "no traditional homework, no work sheets, no endless pages of workbooks. Instead, our children are reading aloud with their parents at least 20 minutes a night."
A year later, the Ocala Star Banner reported that under pressure from her teachers — 86 percent of whom did not support the ban — and school board members who called the policy "micromanaging" and blamed poor test results in part on it, Maier loosened the guidelines. She is asking that any homework be "meaningful" and not "busy work."
However, Alfie Kohn, author of "The Homework Myth," told TODAY Parents, "It is important to realize that no research has ever found any advantage to any kind of homework before kids are in high school — and newer studies are questioning whether it's necessary even in high school."
Kohn — who has written 14 books covering parenting and education and lectures on those topics at universities, parenting groups, and corporations — is a well-known critic of homework. He said that though some defend the concept of homework as having non-academic advantages like teaching kids responsibility, work habits, or independence, "To the best of my knowledge, not a shred of evidence supports those claims."
What evidence does show, he said, is the disadvantages of homework, some of which parents are already familiar. "It causes frustration, unhappiness, and family conflict; it often makes children less excited about learning and leaves them with less time to pursue other interests and just enjoy their childhoods," he observed.
"But we seem to assume it's worth it to force them to work a 'second shift' after they get home from a full day in school," he said. "We take on faith that the academic benefits must outweigh the substantial costs."
Though many parents support homework, others say they would love for their children's teachers to adopt no-homework policy. Omaha, Nebraska mom Ashley Austrew said she is relieved her first grade daughter has less homework this year than she did in kindergarten.
"Her only homework is whatever she doesn't get done in class, which I believe is the teacher's way of saying she doesn't give homework," she told TODAY Parents. "I am a fan of no homework policies because I think its mostly busy work at this age level and they work hard enough all day."
Julie Burton from Overland Park, Kansas, said she gets annoyed with her fourth grade daughter's math homework even though it is usually just one sheet a night. "If she ever has a question, sometimes we are stumped too," she said. "I feel bad emailing a teacher in the evenings. I'm slightly annoyed at homework in general because I don't know what the teacher taught."
Kohn said that even small amounts of homework can still be frustrating and damaging to children's attitudes about learning for reasons like Burton's. "The bottom line is that research fails to support the practice of giving any amount or any kind of homework to a 12-year-old, let alone to a 6-year-old," he said. "Making kids unhappy about learning is more likely to undermine than to promote academic excellence."
He encouraged parents to speak up on behalf of their children. "If your child's teacher never assigns homework, take a moment to thank them for doing what's in your child's best interest — and for acknowledging that families, not schools, ought to decide what happens during family time," he added. "If your child is getting homework, organize a bunch of parents to meet with the teacher and administrators — not to ask, 'Why so much?' but, given that the research says it's all pain and no gain, to ask, 'Why is there any?'"