Students jumped with joy, hugged one another and squealed with delight as teachers at their South Carolina elementary school revealed hundreds of custom-made bicycles beneath parachutes normally used for P.E. class.
The new set of wheels Thursday came courtesy of first-grade teacher Katie Blomquist.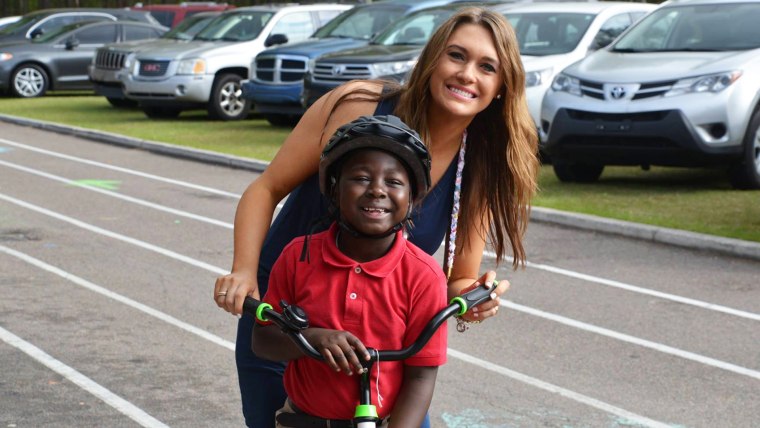 "I made a really conscious effort to watch their faces and let it soak in and imprint in my brain when those tarps went up," she told TODAY. "It was that moment I've been waiting for seven months."
But the idea originated more than a year ago.
Blomquist, 34, teaches at North Charleston's Pepperhill Elementary School, where many of the students live in poverty. Last year, one of her students mentioned how much he wanted a bike for his birthday. His parents couldn't afford to buy him one, and neither could she.
"I started thinking about all the other kids who might not have bikes. We take a lot for granted and we forget that there's a large category of kids out there who don't have bikes," she said. "That was such a large piece of my childhood memories, and I immediately thought, 'oh, they're not getting that!'"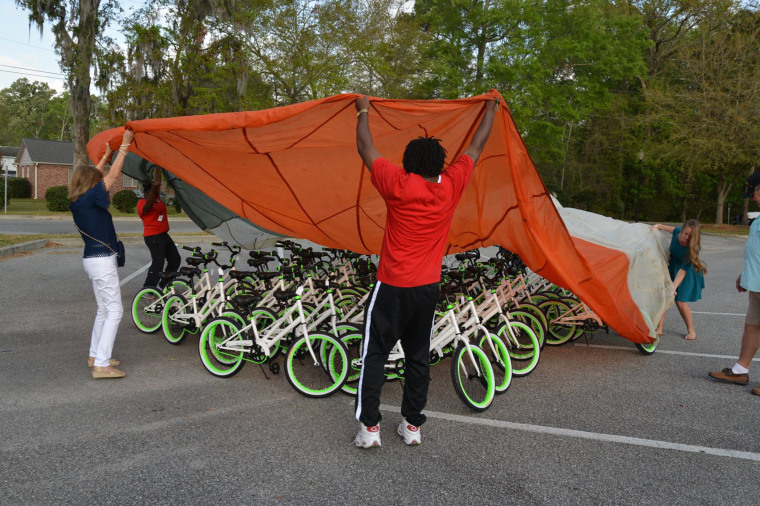 She thought about raising money for the boy, but then thought about her other students — and then the kids from previous years. Eventually, she included the entire student body, even if some already had bikes.
"I don't want to leave anybody out," she said.
RELATED: Watch inspiring 'Handshake Teacher' give TODAY anchors personalized handshakes
In September, Blomquist started a "Every Kid Deserves a Bike!" GoFundMe page and set a $65,000 goal, enough to buy bikes and helmets for the 650 students at Pepperhill. Within three months, she had raised more than $82,000.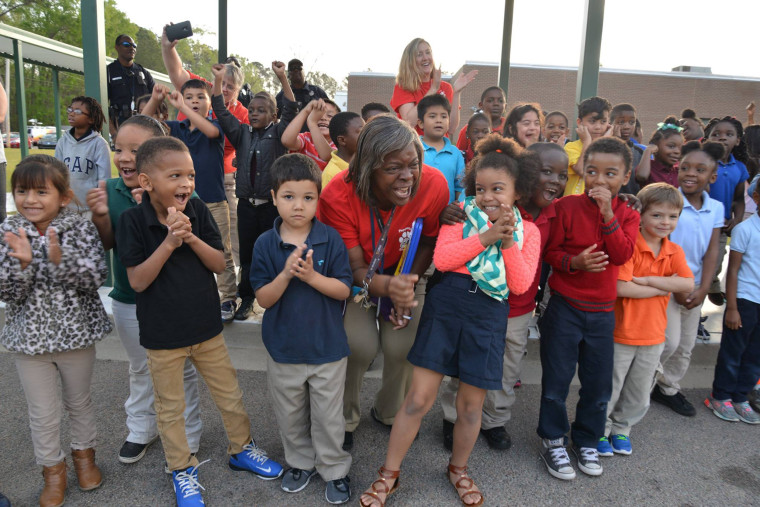 Blomquist wanted to give the bikes away at Christmas, but she underestimated how massive the project would become.
"This was an entire second job for me, when I got home from work until midnight every night," she said.
Radio Flyer donated 100 big-wheel tricycles and training bikes for the pre-school students, while a local business, Affordabike, worked with Blomquist to customize the remaining 550 bicycles, each one named "The Future" and adorned with "Let's go places." Affordabike donated bike locks and bells.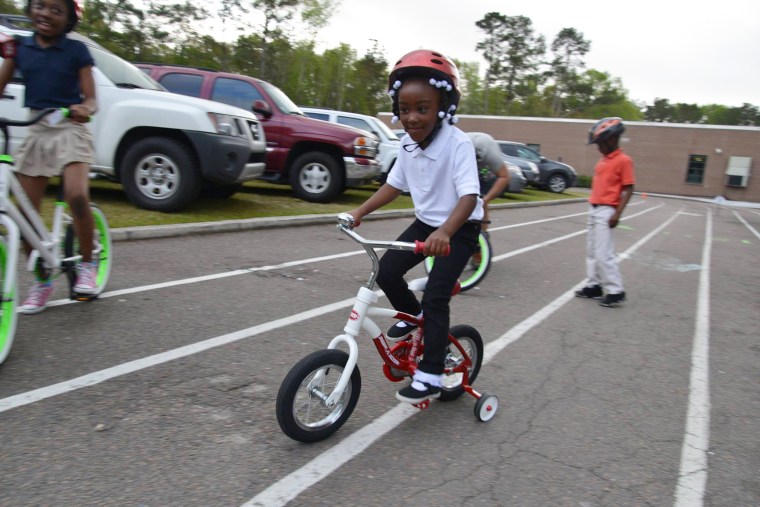 Although the project took nearly four months longer than planned, school principal Tanya Underwood knew Blomquist would be successful.
"I just knew it would happen for her because she's one of those spunky people who gets things done," she said. "She's bubbly, energetic. Loves her students. She's an out-of-the-box thinker. She's full of life and energy and she shares that with her kids every day."
RELATED: See why these students are all smiles after getting pulled out of class
Blomquist's campaign not only earned bikes for students, it won a GoFundMe contest and a $10,000 donation for the school, which applied it toward professional training for the teachers.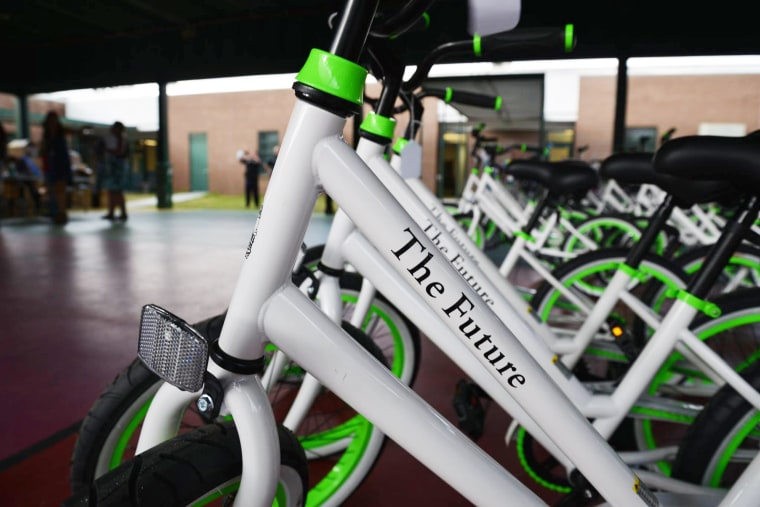 Beyond the children's reactions — and the hugs from parents as they picked up the bikes —Blomquist said she's enjoyed the sense of community created by strangers around the nation who donated to the campaign. It was support she hadn't anticipated.
"I just thought this would be a nice thing to do. Then things started rolling. It was first local, and then it became this country-wide thing," she said. "All these people who don't know our kids, who don't know our school, gave their hard earned money. It was actual people's dollars."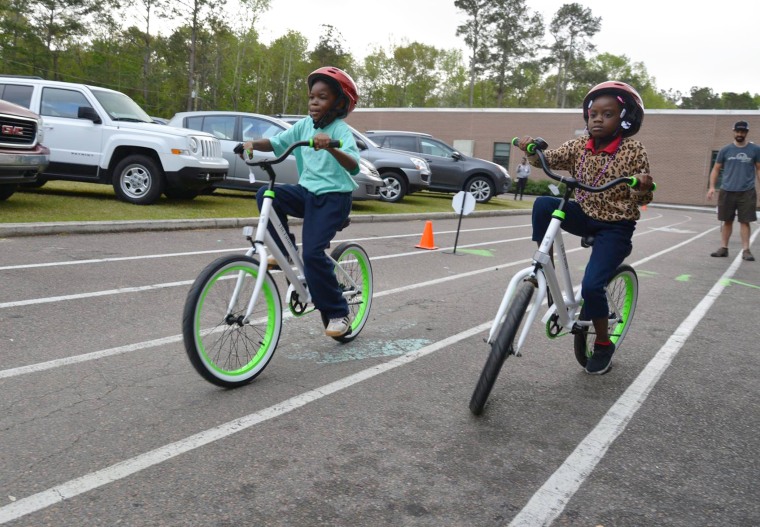 She tried to relay that idea to students at the unveiling, even though she knew they probably were too young to understand.
"But maybe one day when they're adults, they'll know that this gift, it wasn't from me. It was from our community and our country," she said.
On Thursday, Blomquist also announced a new fundraiser for a non-profit charity she created, Going Places, to continue her mission of providing children with bikes and "other forms of joy," such as swim lessons, summer camp, Halloween costumes.
"It's about bringing happiness and joy to people who deserve it. All children deserve that."
Follow Eun Kyung Kim on Twitter or Facebook.