/ Source: TODAY Contributor
Editor's note: This story includes a frank discussion about Santa Claus. While we at TODAY know that Santa is absolutely real, we would not want to end up on the Naughty List by divulging any sensitive information to younger audiences. So please take care before reading this story.
For more than 20 years, Scott Diethorne has been playing Santa Claus at local shopping malls, restaurants and photography studios. In fact, the father and grandfather is so in character, he has the words "naughty" and "nice" tattooed on his forearms.
But it's those tattoos — and a few well-timed wrestling moves — that are causing a controversy.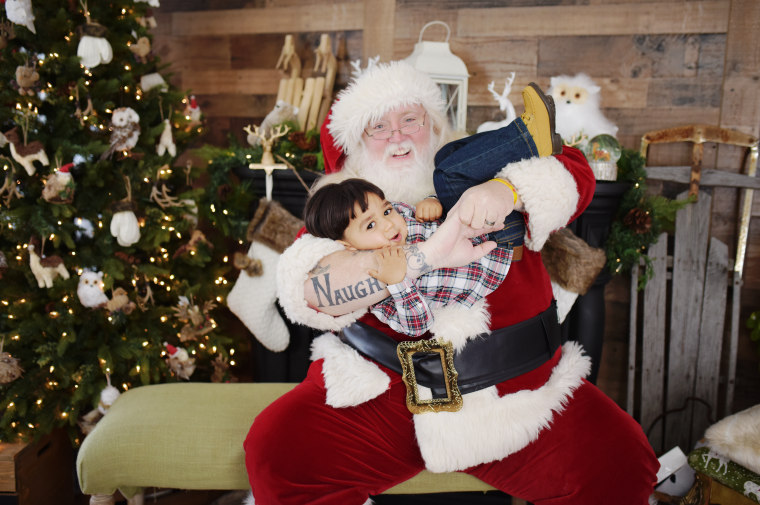 Amanda Nagy and her boyfriend, Bob Kelly, have been taking their pet reptiles to visit Diethorne — known by his fans as "Santa Scott" — at the Oxford Valley Mall for the last few years, but were disappointed this year when they learned Diethorne could no longer show his tattoos in photos.
"He explained to us that he unfortunately wasn't allowed to show them any longer, so we took our photos without them," said Nagy. "We chatted with him a bit afterward and discovered he also wasn't allowed to do playful poses anymore — like hanging kids upside down or lifting them up...I was so disappointed in the changes, and in the fact that he wasn't allowed to be himself."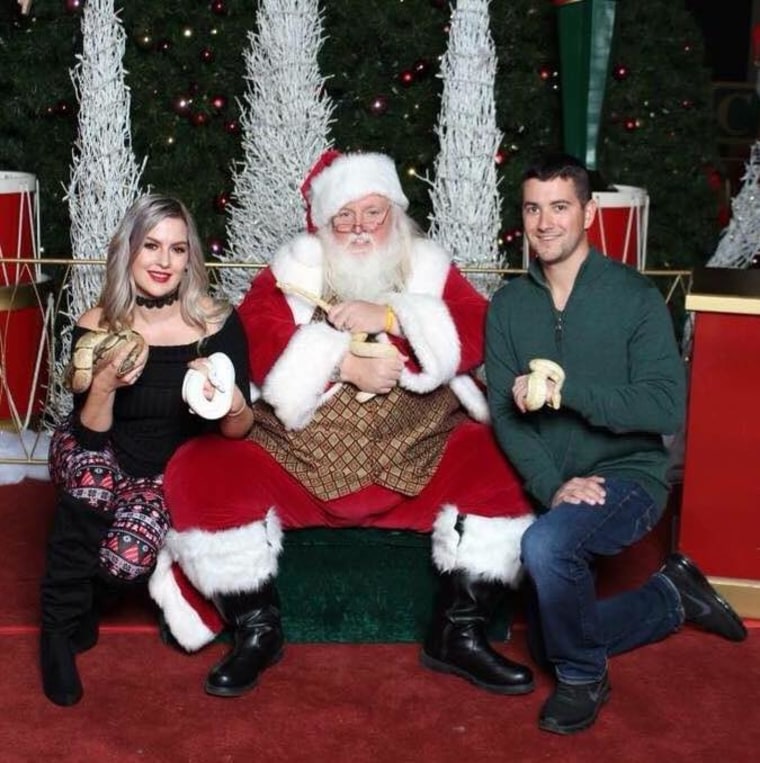 Nagy posted on Facebook about the change in policy, asking fans of Santa Scott's playful ways to contact the company responsible for the policy change, Cherry Hill Programs.
Nagy's post went viral, with parents and fans from across the Bucks County, Pennsylvania area sharing it and commenting that Christmas would not be the same without Diethorne's iconic photo poses.
Never miss a parenting story with the TODAY Parenting newsletter! Sign up here.
Alyssa Kitchenman and her husband, Ross, have been taking their three children to see Santa Scott for the last eight years.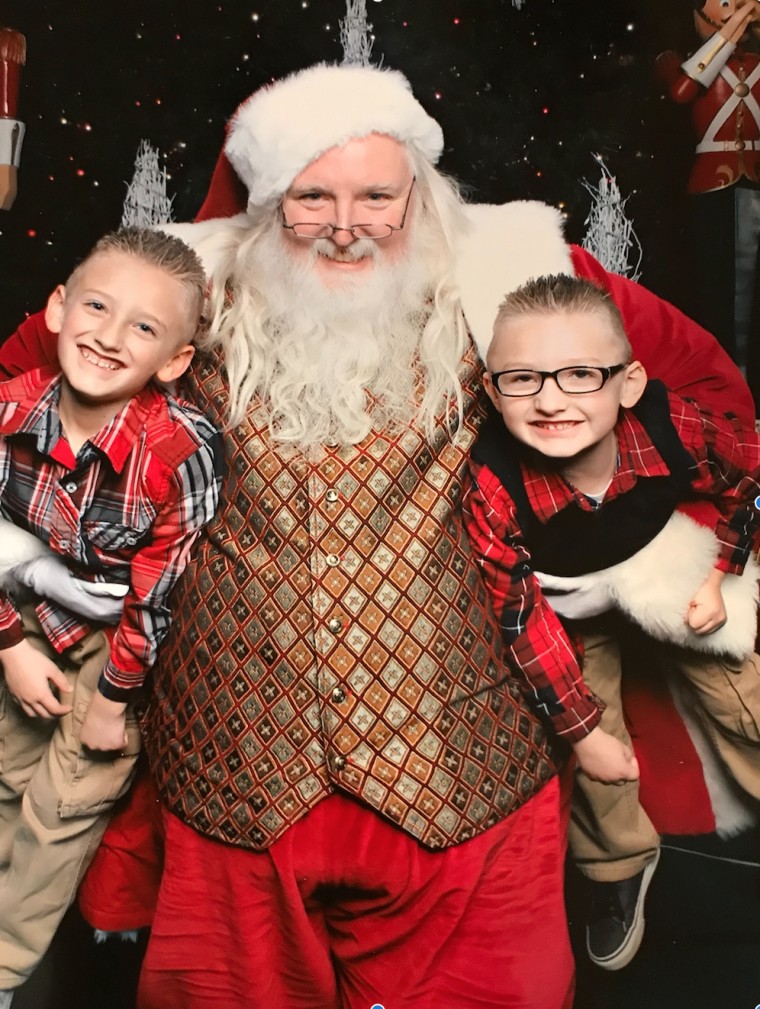 "Poses we have participated in range from your typical family Santa photo to silly, and even high-flying, fun or pointing to naughty and nice tattoos," said Kitchenman. "Although we will always go to see Santa Scott because it is truly a tradition...limiting him to just your traditional photos takes away the magic and fun that each experience with him brings."
Maggie Dunham, who visits Santa Scott each year with her 9-year-old son, Will, says when it comes to tattoos or no tattoos, the decision should be left up to the individual parent.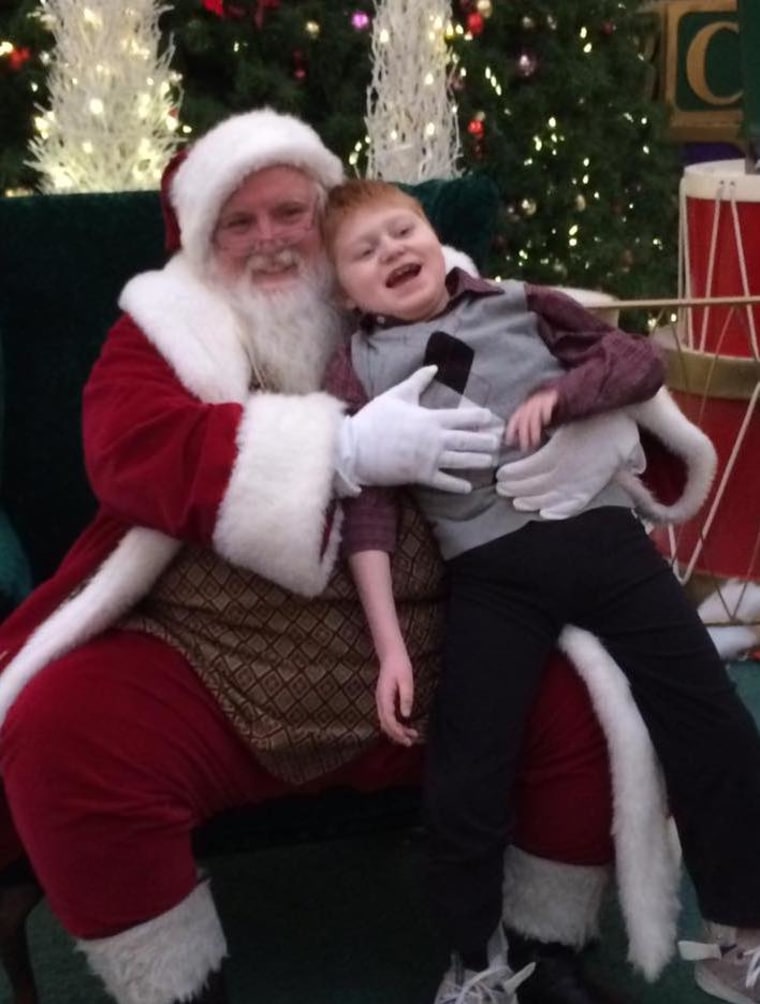 "Children are exposed to tattoos on a frequent basis...if the parent or adult getting their picture done wants that, where is the harm?" said Dunham. "I understand what the mall is trying to do — traditional Santa pictures and all — but the world has moved beyond the typical 1950's Santa."
While Santa Scott was unable to comment on the new rules put into place by Cherry Hill Programs due to his contract with the company, the 50-year-old says playing the role of Santa at all of his places of employment are what brings happiness to his holiday season.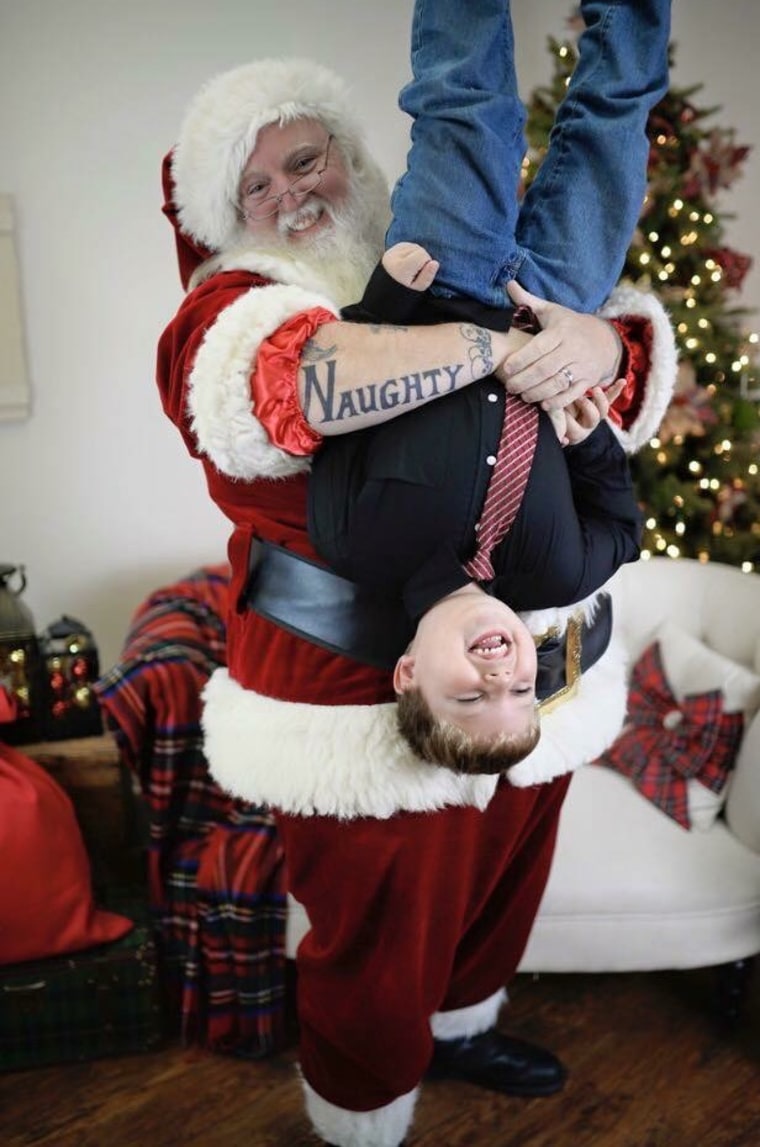 "I love being Santa and bringing joy to everyone during the season," Diethorne told TODAY Parents, recalling a joyful memory from his own childhood where Santa Claus lifted him on his shoulders to help him reach a candy cane on the Christmas tree. "That's what I want the kids I see to have — a great memory of seeing Santa."
While Cherry Hill Programs did not respond to TODAY's request for comment, in a statement provided to the Philadelphia Inquirer, the company said they are, "dedicated to preserving the tradition and image of Santa with authentic holiday visits for every guest."
But not all photographers are prohibiting Diethorne from being his tattooed, mischievous self.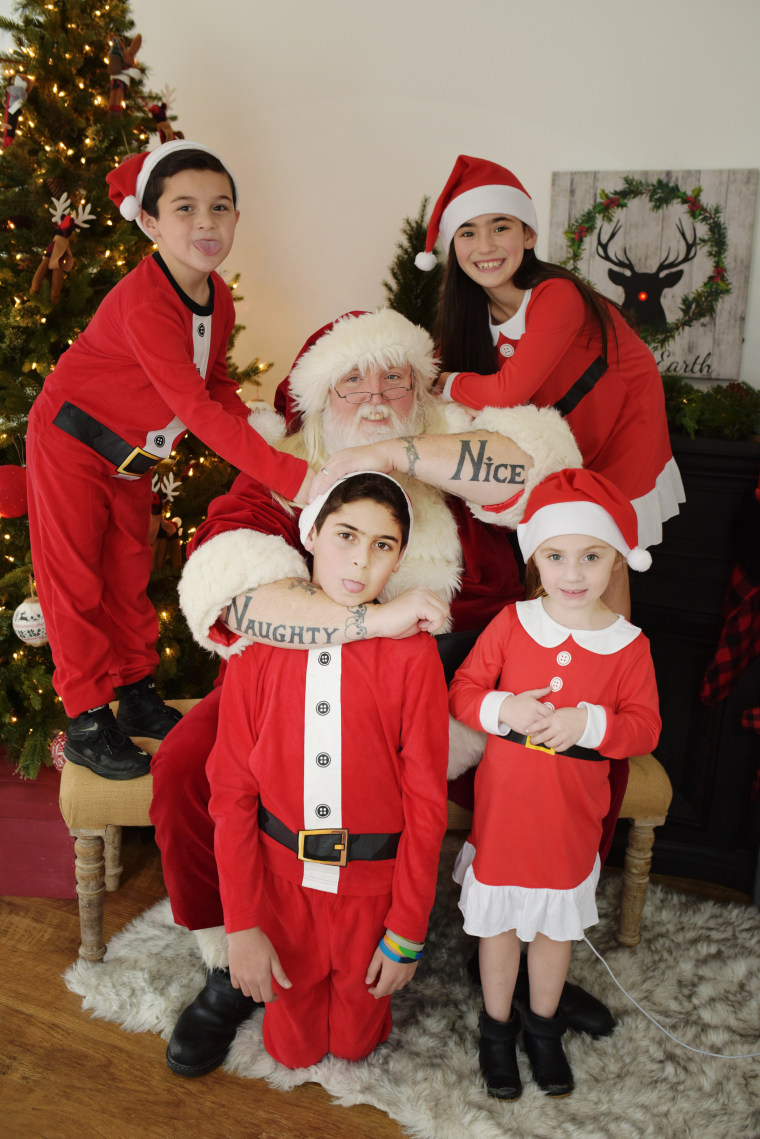 Allicia Leaper, owner of Crush Photography Studios, has been holding "Santa Scott Uncensored" photo sessions for the past six years, with no plans of stopping the events.
"He's more than just fun and exciting — he's magical," said Leaper. "He's amazing. He knows every toy — what color they come in and what size and shape — and when the kids walk in the door, he says hello to them and remembers their name from previous years."
"I'm a non-traditional photographer," Leaper continued. "And, when clients come to me they usually want non-traditional photos. Santa Scott has become more than just a guy I take pictures with that's fun — he's a good dad and an amazing grandfather and he's become a part of my family as well."