Mom Stephanie Giese loves Target. That's why, when she discovered some differences in their clothing sizes for young girls, she pointed them out in an open letter to the discount-store chain. Giese recently ran the post in her blog, Binkies & Briefcases, and it was later published by The Huffington Post.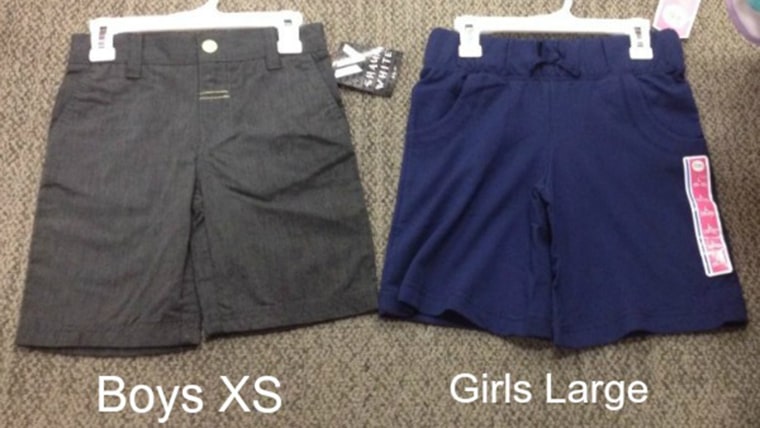 "I'm sure you already know this, but your size 5T shorts are actually smaller than many size 2T shorts made by other brands," Giese wrote. "Why are you offering my kindergartner clothes that are sized for children less than half her age?"

Giese posted a series of photos that quickly got the blogosphere buzzing, comparing shorts she said were from Target to other brands' shorts to display the stark difference in sizing.
"Every time the grandparents ask what size her sister is wearing so that they can spend their money at your store as well, I wind up passing down some brand new, too short for their label hand-me-downs to my smallest child," the Pennsylvania mom of three wrote.
And Giese says Target listened. In a followup post, the mom reported that representatives of the store's Minneapolis corporate headquarters had reached out to her and asked her to offer her feedback on Target's clothing choices.
"Thank you Target for hearing our voices and taking our concerns very seriously!" Giese wrote.
A Target representative spoke with TODAY and confirmed that the store had reached out to Giese and was listening to her feedback, and that of other buyers. The representative did note that one of Giese's claims in her initial blog was inaccurate because the shorts in question were an older pair and the sizing has since changed. The store also clarified that they are not working with Giese in a formal partnership, but are listening to her as a consumer.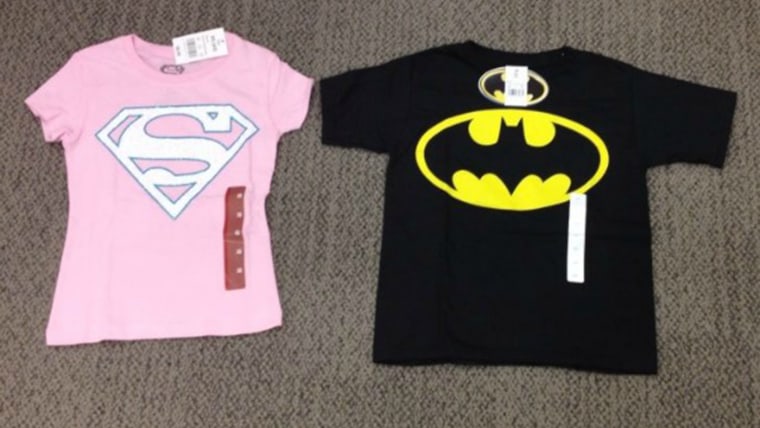 In her followup post, Giese documented a return trip to Target where she focused on comparing children's sizes rather than the toddler sizes she began with, since toddler sizes are made to go over diapers. She still found numerous striking differences. A pair of shorts in boys' extra-small appears to be the same length as a girls' large pair. A boys' Batman shirt is squarely cut and much larger than a nipped-at-the-waist pink Superman shirt for girls.
"I have no idea why an XS shirt (size 4-5) needs to curve like that to show the shape of a young girl's body, a body that hasn't even developed the curves that a woman's shirt in that same cut would be trying to feature," Giese wrote.

But she also had some good news to report about Target's offerings, praising them for offering superhero and Ninja Turtle shirts for girls as well as boys, and "Frozen" shirts for boys as well as girls. And another store fared even worse, in Giese's estimation.
"If we want to crown a winner of gender stereotyping the clothes in the children's department, Kohl's won by a landslide," she wrote, reporting that Kohl's offered no superhero or comic-book character shirts for girls. Kohl's too offered a huge difference between girls' and boys' shorts lengths.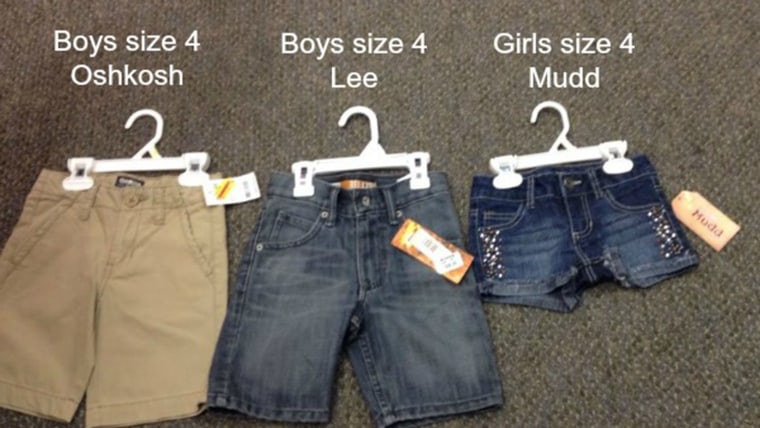 It's not the first time a mom has pointed out clothing issues to a major retailer. In August, a New Jersey mom complained that Lands' End only offered science-related shirts for boys, and the company quickly responded by adding science-themed options for girls as well.
"The good news is that Target is listening to us," Giese wrote. "They recognize that there is a problem. And they have promised to start working with me to fix it!"
Follow Gael Fashingbauer Cooper on Google+.