After the baby is born and you spend every day obsessively taking photos and videos, the "you have no space" symbol on your phone becomes quite annoying.
At least, it did for me.
And while the hundreds of subpar photos I had snapped (seriously? 43 photos of my baby just sitting there?) were partly responsible, it was the video that gobbled my phone storage. I was fine with deleting all the blurry shots, but erasing video made me irrationally sad. So I started editing those videos together on my computer and this allowed me to free up lots of space on my phone, organize the memories and then turn them into a link I could then share.
In the process, I've made and shared plenty of videos, so much so that other parents constantly ask me questions about cameras, software and techniques. (And, yes, as a video producer for the TODAY show, I've applied a lot of job knowledge to my memory mashups.)
My biggest advice for making videos is to stay organized with your files. Here are nine easy tips for creating fabulous video memories of your kids:
Tip 1: You don't need a fancy camera.
I shoot mostly on an iPhone 6 or my Samsung Galaxy 4. If I do shoot with a professional camera, it's usually when I am at home and I want to film something specific. Like this. But when you're chasing your kids all over the place, my nice camera is not as practical and I end up missing the moment because I'm messing with the settings.
Tip 2: Record video with your phone horizontal and not vertical.
Shooting vertically means all of your video will have big black bars on either side when you view it anywhere but your phone. This is what your video will look like if you record vertically. We want the video to fill up the entire space...so get in the horizontal habit!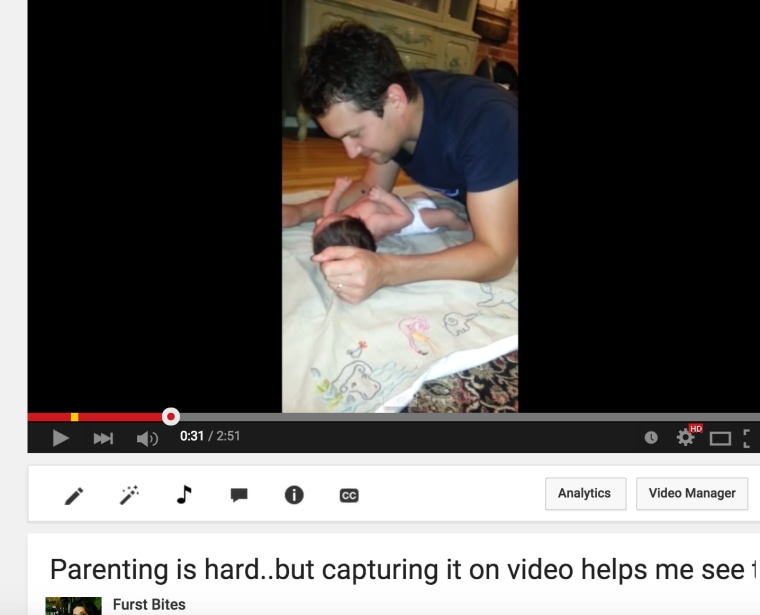 Tip 3: Shoot a bit more than what you intend so you have options when you edit.
Know that on most phones, it takes a few seconds to record so even though you press play, it doesn't really start for a few seconds. I've missed many a precious moments because I was too late in hitting play, but then I just record a bit extra on the back end.
Tip 4: Unload the videos from your phone and organize them.
THIS IS KEY!! I also automatically send my videos to the Google Plus cloud, but I find I retain more video quality if I directly transfer the videos from my phone to my computer. Buy a hard drive (or three) that has a lot of storage. I have been using a hard drive that has 500GB of memory and it contains all the video I've ever taken of my son.
Every few weeks, I plug in my phone and the hard drive to my computer. I then make a new folder on the hard drive and title it according to a specific event and I pull all the appropriate videos into that folder from my phone and delete the files from my phone. This may seem like a lot of work, but once you get into a habit it only takes a few minutes and you will be so glad you took the time to do this.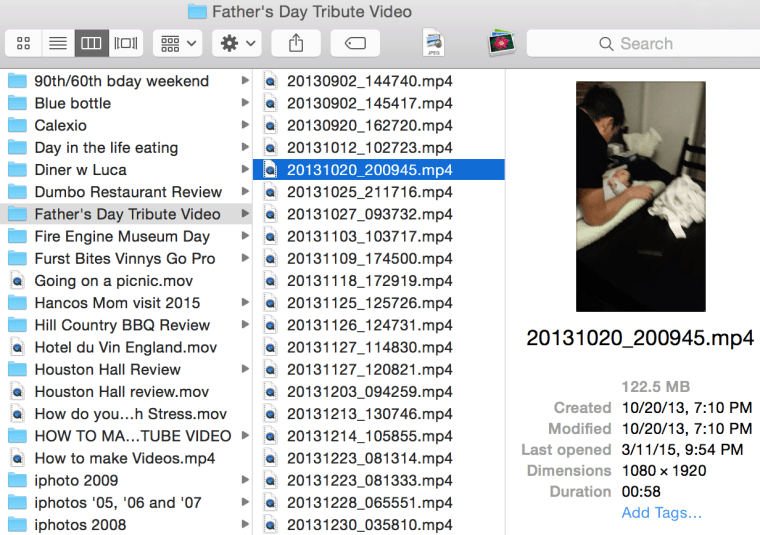 Tip 5: Edit your video
I have iMovie that came with my Mac Book Pro so I just use that. At work I edit on Avid which is amazing, but it's really expensive to buy for personal use. I will be most likely be upgrading to either Apple's Final Cut Pro X or Adobe Premiere Pro as iMovie is almost too basic! But if you're just starting and you want a cut-and-paste-type editing program with templates and text already built in, iMovie works. All the videos you see on my YouTube channel were all edited on iMovie. While I won't get into how you edit as that is a whole other post, if you organize your files beforehand, you just need drag to the appropriate folder of videos into the editing program and you can start creating your masterpiece.
Tip 6: Decide what you want to do with your videos.
Are they just for you and your family to see? Do you want to start a YouTube channel? Upload them to Facebook? Send them to your child over email so they can see them one day? First, I would set up a YouTube or Vimeo page, set the page privacy settings to what you want and export the finished movie file directly to the platform from your editing program. In iMovie all I do is hit "share" and it gives me options to send the link directly to the platform.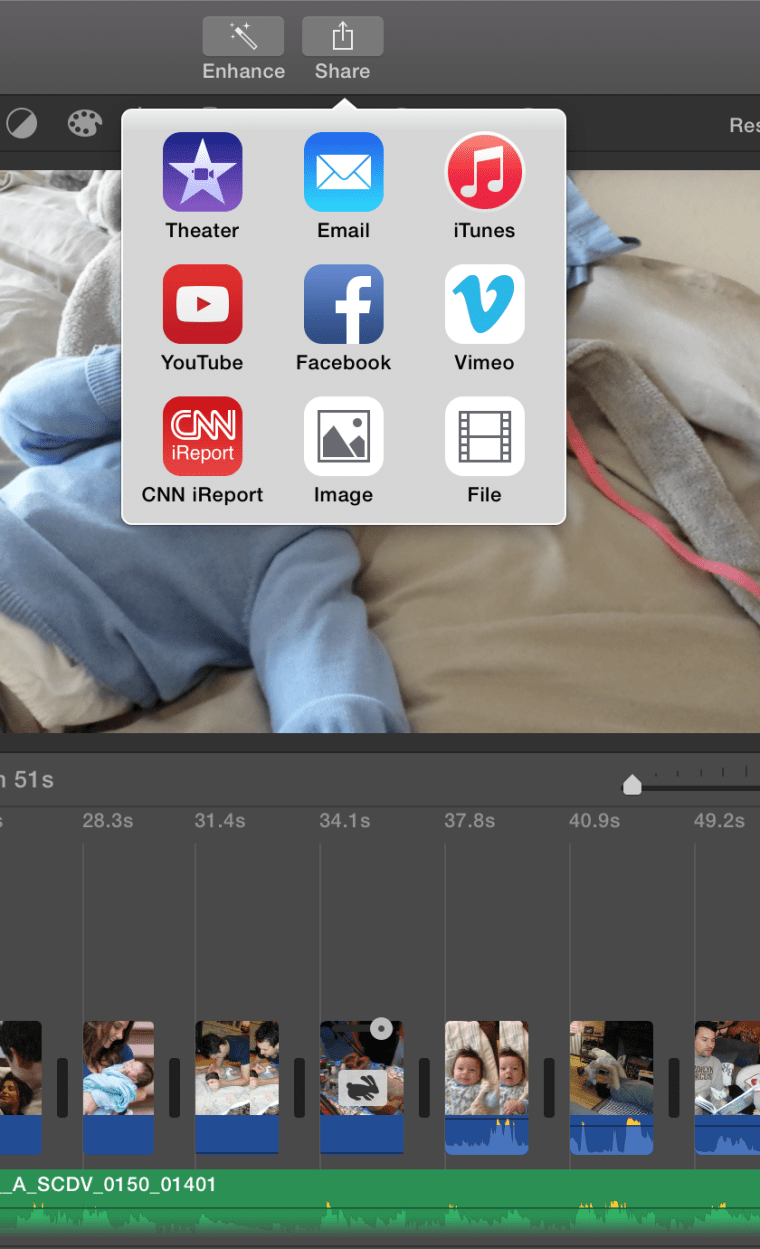 Tip 7: Keep your videos in the two-minute range.
Be mindful of how long your videos are. If you are sharing them on a channel, most people don't watch past a few minutes so anything past 2:30 will usually lose attention spans. And also remember that while you think your child is the cutest human...EVER, not everyone does. So it's safe to say you could probably shave 29 seconds off your kid eating an avocado.
Tip 8: There is no right way...Just do it!
Making memories with video is a lot of fun and the more you do it, the better you'll become. There is something innately satisfying at being able to send a video link to someone that you've created and put a smile on their face. Once you've mastered this, making customized movies makes great presents...here's what I put together this Father's Day!
Tip 9: Watch this video.
This is a behind the scenes glimpse into how I create my YouTube videos. If you have any additional questions on anything in this article, please send them my way in the comments section of the video.
Now, go out and create some memories!
Patrice Poltzer is a producer at the TODAY show and the author of the blog [Furst] Bites, where she and her 22-month-old son review restaurants from a family perspective. Subscribe to her YouTube channel and newsletter to see more parenting and food videos. Follow her on Instagram and Facebook. Suggestions for where to eat and what to make next are welcome!