Busy Philipps has been one of Hollywood's longstanding funny girls, known for roles in "Cougar Town" and "Freak and Geeks." But, it's her off-screen time as a mom to daughters Birdie, 8, and Cricket, 3, that has her laughing the most.
"(My kids) are so funny," Philipps told TODAY. "Cricket is such a magical person, but she doesn't believe in anything magical. My older daughter believes in fairies and elves, Santa and all of it. Not Cricket."
The 37-year-old actress even sent her tot to fairy camp (yes it's a real thing) over the summer in Los Angeles, hoping she would start to believe in magic. "The kids go on hikes in Griffith Park and search for fairies and they find fairy houses and all that stuff and Birdie loves it," revealed the actress. "I pick up Cricket after the first day and I am like, 'Did you love fairy camp, Cricket? Did you see so many fairies?' And she goes, 'No mom, there are no fairies out there. It's just woods. Fairies aren't real.' I was like, wait, what? What do I have to do to make you believe in fairies?"
Even with the holidays around the corner, Busy and her husband of nearly a decade, Marc Silverstein, tried the classic Elf on a Shelf in their home.
"Cricket is a very practical, literal kid and the first day of Elf on the Shelf this year, I asked, 'Do you see the elves? Did you see what they did?' She is like, 'Yeah, mama, those aren't real.' I was like, 'No they are! They set up those things at night and they come and do it and they fly back to the North Pole' and she said, 'Mama, no, they are not moving, they are not real.' I was like, oh god."
Philipps also revealed her youngest daughter doesn't even like Disneyland.
"We are hosting my husband's family in Los Angeles and I am taking the kids to Disneyland, minus Cricket because she has declared that she doesn't like Disneyland," she told us. "She just looked at me last week and goes, 'Oh no, mama, Disneyland is not for me.' I am telling you, she is so weird. I love her so much."
RELATED: Busy Philipps explains her daughters' names: Cricket and Birdie
Cricket does like presents on Christmas morning though. "When she watches live TV and sees commercials, every single toy commercial, no matter what it's for, what age, whatever gender, she says out loud, "Oh, I would like that please,'" joked Philipps. "I keep asking her, 'What do you want Santa to bring you?' And the things, the list is so funny. It's like everything from a small box of crayons to the Barbie Dream House. She says, 'I think he is probably going to bring me everything.' I was like, oh no kid, you're so in for it. He's not going to bring you everything. He's going to bring you like one big thing. That is what Santa does."
Meanwhile, her oldest has her cracking up because of her aloof nature. "Birdie is getting older and really coming into her own as a person and the funniest thing is, everybody wants Birdie to like them," revealed Philipps. "We had a parent-teacher conference and the teacher said to me, 'Sometimes I just look at Birdie and I just wonder if she likes me.' I was like, 'You got to let that one go, because that is what we are all thinking.' We are all wondering if Birdie Silverstein likes us. She is too cool for school."
Watching her children develop their individual personalities has been a blessing, and her New Year's resolution is enjoy time with them even more.
"Enjoying my children is a really important thing that I think sometimes we all forget to do," she told us at the Campbell's Well Yes! soup line launch in New York City on Dec. 20, where the famous soup company kicked off its #WellYesMoment campaign.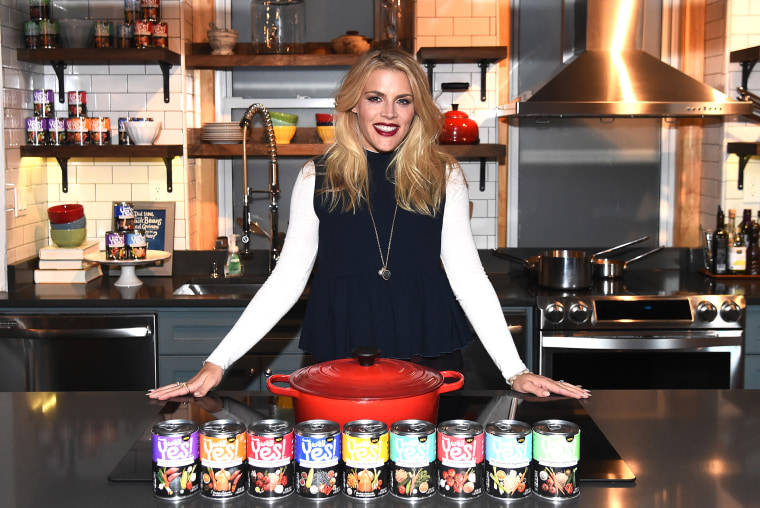 "We're so busy parenting and so busy showing up for the PTA and the morning assembly and the drop-off and the cookie drive and the library duty, or whatever, that you forget to actually take a moment and enjoy your kids, so that is another one that I am trying to work on."
The hilarious star couldn't help but throw in another super important resolution though. "Allowing myself to have chips and salsa and a margarita because I love it and it brings me joy," she said.