/ Source: TODAY Contributor
This 5-year-old Utah boy has that need for speed.
Callen Van Hise had been asking to go to a new skate park since it opened last fall, but bad weather kept him home. His wish finally came true on a beautiful April day, and he was thrilled as his dad pushed him in his wheelchair up and down the ramps.
"He was smiling ear to ear," his mom, Paula Van Hise, told TODAY. "That hour was probably the most fun he's had. He was very joyful."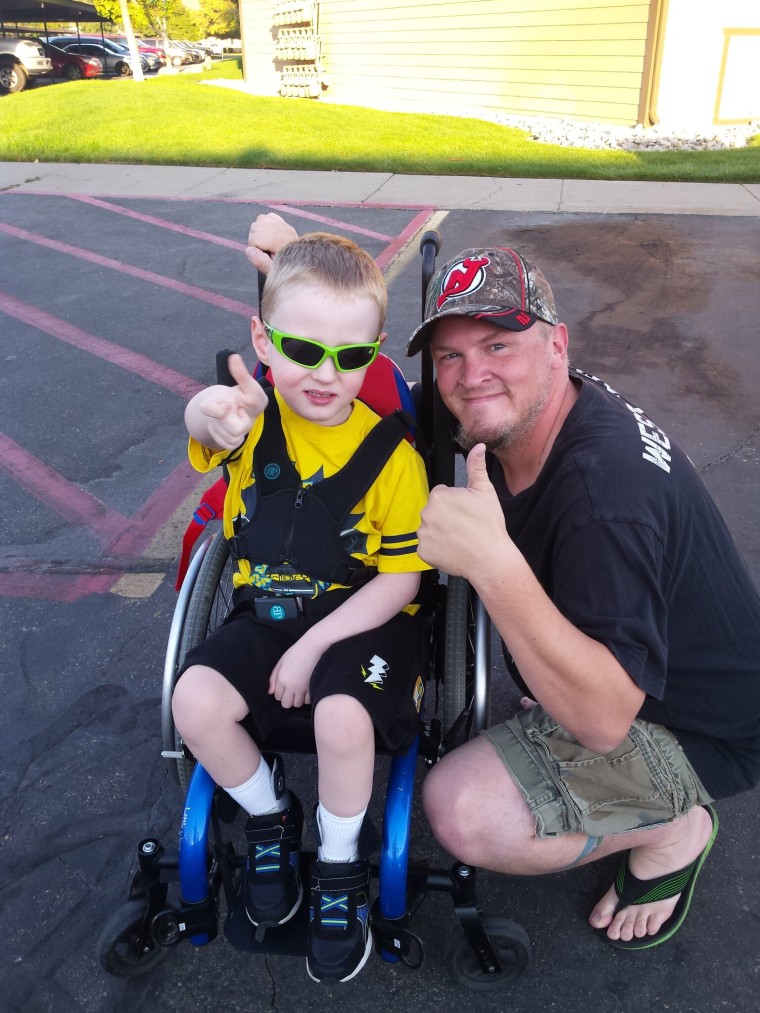 As her husband, Philip, ran through the park with their son, and Callen asked to go again and again and faster and faster, she captured their joy ride on a video that has now been viewed by hundreds of thousands of people online.
"The speed is probably what he enjoyed the most," said Paula Van Hise, of West Valley City, Utah.
"Philip's excitement was probably up there with Callen's," she added. "They were both just ecstatic to be doing something we were told would never be able to be done."
The couple struggled with infertility for a decade before Paula's surprise pregnancy with Callen. When her water broke just short of 24 weeks into her pregnancy, they were told the baby would have about a 5 percent chance of survival due to prematurity.
Callen arrived at 24 weeks and 4 days, weighing just a pound and a half, and he spent about four months in the hospital. He wasn't reaching milestones as a baby, and was diagnosed with cerebral palsy.
His mom says he's a fighter. Today, he's a kindergartner who loves books, cracking himself up by telling poop jokes and now, cruising through the skate park.
For Paula, seeing her son so happy was overwhelming.
"I cried," she said. "It makes me feel all warm and fuzzy."
"We were told there were all of these things he wouldn't do," she said. "He wouldn't be able to do typical things because of the prematurity, because of the cerebral palsy, but that's not true. All you have to do is adapt."
She shared her video on Parenting Special Needs Magazine's Facebook page to show other families just what's possible, and the video took off from there.
"A wheelchair or a walker shouldn't stop you from doing the things that you want to do," she said. "There's always a way. You just have to figure out what that is, and for us, that was Philip being the pusher."
Philip, who has asthma, kept on pushing his son, even when he when he was having a hard time catching his breath, Paula said.
"He would do absolutely anything for Callen," she said. "He really is the best dad."
Paula sees many more trips to the skate park in her son's future.
"He hasn't asked to go to the library this week," she said, "but he has asked to go to the skate park."
TODAY.com contributor Lisa A. Flam is a news and lifestyles reporter in New York. Follow her on Twitter and Facebook.