/ Source: TODAY Contributor
No question, the Arrowhead 135 is a grueling endurance race — a 135-mile trek across snow-covered Minnesota trails in January, when temperatures dip well below zero. Only half of the participants even finish the race, which takes at least 30 hours to complete.
Last year, Svetlana Vold placed second among women bike riders and soon after became pregnant. When she learned her due date was November 2015, she said to husband, Dan, "Now, I can do Arrowhead."
While many would balk at competing in an intense race so soon after giving birth, Vold felt she could compete.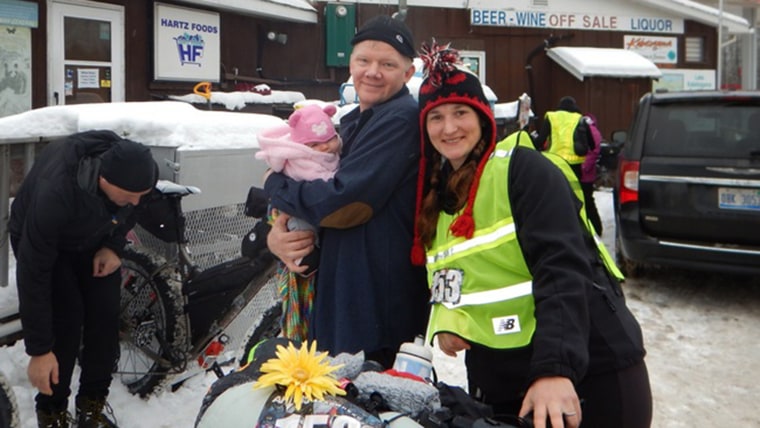 "Why not? I did it before. How hard the race is, is not not something new to me," she told TODAY.
Dan didn't dissuade her or call her crazy. He simply agreed.
"My husband knows that [racing] is very important to me," she said.
But not everyone thought that training for an ultra race while pregnant seemed wise. When Vold visited family in her native Belarus, people expressed alarm.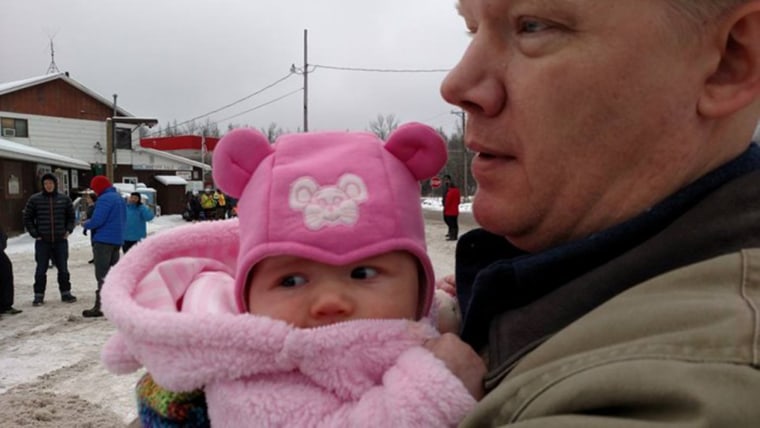 "They were telling me 'You are crazy — you are still riding a bike.' And I said 'Yeah, I am not sick, I am just pregnant,'" she said.
While most competitors train hard for the race throughout the year, Vold believed two months after birth gave her enough time to train hard enough to reach her goal of simply finishing. She had remained very active during pregnancy; she rode her bike daily for about 20 miles until the day before she gave birth. Two days after delivering daughter, Yeva, Vold started running with the baby in a stroller.
"It was hard. My whole body hurt. It was a slow run," she said.
Yet, she kept training, and completed a half-marathon and two 10-mile bike races, where she took second and third place. Placing in the races gave her the mental strength she needed.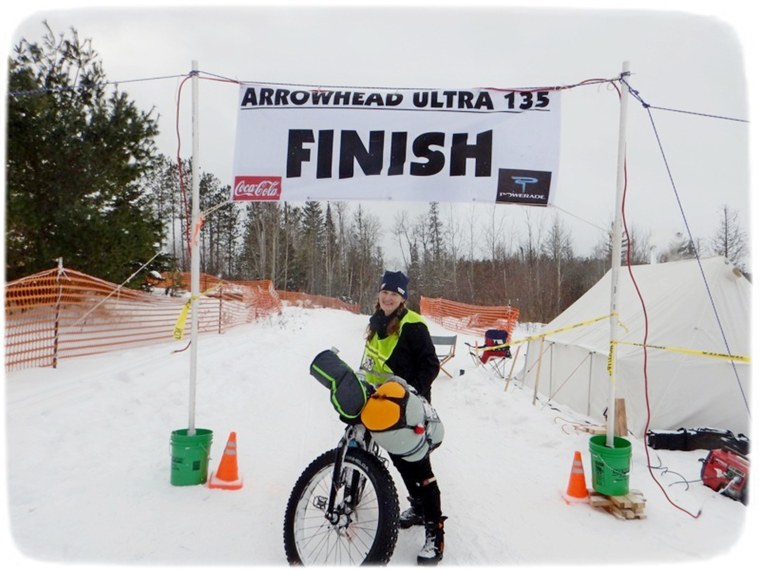 "I am in good shape if I can beat a woman who had not just birthed a baby. It is not so bad, I am ready," she said.
But Vold faced a problem — how would she pump? While she froze a store of milk for Yeva, she knew she couldn't go two days without pumping. Dan brought a heavily bundled seven-week-old Yeva to two of the rest stops, where Vold breastfed her; other times she used a portable breast pump. She stopped about seven times and each feeding or pumping session took 15 to 20 minutes. Her milk production dropped because she sweated so much, and she struggled to drink enough water, especially at night, when it froze solid inside her water bottle.
While pumping added minutes to her final time, she also faced tough race conditions. Temperatures of 25 degrees caused soft snow, meaning Vold had to push her bike more than usual. And after riding for hours, she experienced hallucinations, especially at night. She thought she saw a person standing on the trail, but realized it was a tree.
"It is very hard trail during the night, and also you want to sleep," she said.
But the night rides felt easier because, as a new mom, she was used to being sleep-deprived. When Vold arrived at the third checkpoint, she learned she was in third place, a position she held until the end of the race, which she finished in 31 hours and 44 minutes.
Vold attributes her success to the support of her husband. While she's pleased she placed, she's just thrilled she finished, and hopes she can serve as a role model to women who feel they can't be mothers and still be competitive.
"My experience can show … you can," she said. "You can still ride a bicycle and still can have a baby."