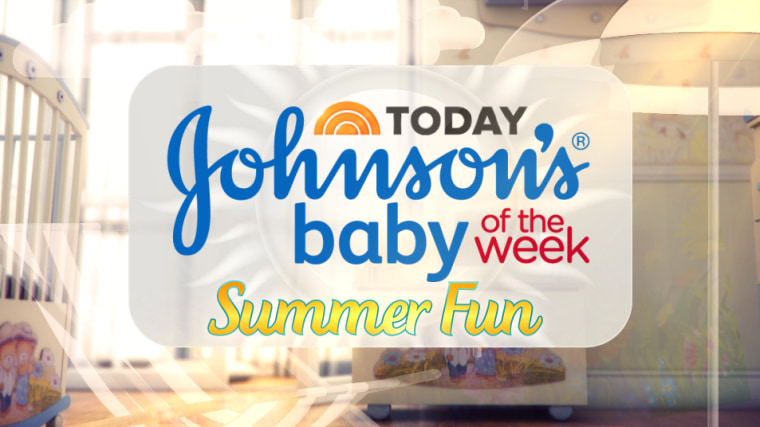 The early days of parenting are long and tiring, so it is no surprise that some parenting advice is best told in just a few words. That's what we learned from some parents of this week's TODAY's Babies of the Week. 
Sleeping—whether it is for baby or parents— is always a concern. But Elizabeth and Kyle Popiolek, parents of Nicholas Joseph, born June 4, give it straight: "You will eventually sleep." 

Taking pictures and chronicling every day can be overwhelming. Instead, Courtney and Jason Jewett, parents of Hunter Andrew, born May 27, suggest an easier approach. You don't have to document everything. Rather, just mentally "treasure every moment." 
And if the pressures of parenting get to you, step back and just look at that sweet baby of yours. As Shelley & Michael Terry, parents of Anne Catherine, born April 2, say: "Cuteness never gets old!"

Each week, Kathie Lee and Hoda select a few JOHNSON'S Babies of the Week to be featured on TODAY. And because your kids are way too cute to stop there, we choose more little ones for our online gallery. 
Next week, we are celebrating summer fun with a special babies of the week theme. You can submit a photo of your baby up to one year old celebrating summer! Your picture should feature a "Summer Fun" theme, whether that's playing in the backyard or chilling at the beach. 
Click on the "add photos" link to share your photo and be considered to be featured on a future show and online in an upcoming week.  Click here to see advice on the kind of photos we're looking for in this contest.
Click here for the official rules.
And here, some more cutie pies, including Nicholas, Hunter and Anne. Thanks to all who shared photos and happy weekend!